Notre Dame Basketball: Jack Cooley, Fighting Irish Brace for Indiana Hoosiers
December 15, 2011
Andy Lyons/Getty Images
The Notre Dame Fighting Irish basketball team has been off to a little bit of a slow start this season, and given the loss of Tim Abromaitis, some fans think they may be off to an even slower finish.
Yet in two recent home wins, much maligned Irish power forward Jack Cooley let it be known that perhaps the Irish will not go gently into the night. 
Cooley, who had previously been criticised for his lack of hustle and apparent absence of fire underneath the bucket, asserted himself during the Irish's brief two-game home stand.
Against the Maine Black Bears, Cooley scored 22 points and reeled in 14 rebounds. He also made some huge shots down the stretch while leading the Fighting Irish to an 87-78 win.
Two nights later, against an offensively-challenged Dartmouth squad, Cooley narrowly missed another double-double while pouring in 22 to go along with nine rebounds and four blocks while Notre Dame cruised to a 65-47 win.
Not the same type of pedestrian numbers he'd posted earlier in the season and good enough for the Big East Honor Roll. 
When the Irish were downed by Maryland in Washington DC December 4th, Cooley stayed home in South Bend, nursing an unspecified illness.
This led to speculation that he may have been under the weather for the entire early part of the season, as many Irish players—in particular starting point guard Eric Atkins—have also been.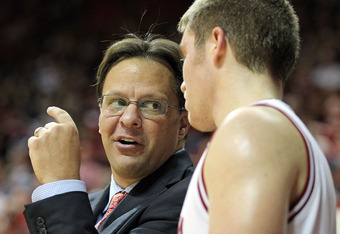 Andy Lyons/Getty Images
On Saturday the Irish will take a bus ride down to Indianapolis to take on the 18th ranked Indiana Hoosiers in what is being called the Close The Gap Crossroads Classic. With Cooley at full strength, the Irish will have a much needed inside presence. With better balance perhaps they can free up some of their outside shooters. Should the Hurrying Hoosiers be worried? 
Indiana has struggled in recent years, but now seem to be undergoing a renaissance under head coach Tom Crean. The program is abuzz with excitement after a stunning, buzzer-beating 73-72 victory over top-rated Kentucky.
IU now has a resurgent squad led by some real fine players like Washington, IN native Cody Zeller (brother of former Irish forward Luke Zeller) and Victor Oladipo. It is a balanced attack with five starters averaging double figures. Is a struggling Irish team going to be able to hang with the Hoosiers for 40 minutes? 
Although I think Notre Dame will play pretty well, I still have to say no. Indiana has too many offensive weapons and too much of an inside presence—even for a revitalized Jack Cooley; plus the neutral site of Indianapolis isn't exactly neutral.
Hoosiers 70, Fighting Irish 61