Los Angeles Angels of Anaheim Bullpen: Good as Is or Still a Piece Away?
December 16, 2011
Christian Petersen/Getty Images
There is no doubt that the Los Angeles Angels improved greatly this offseason with the additions of first baseman Albert Pujols and starting pitcher CJ Wilson. They also upgraded their catching situation by trading for Chris Iannetta, while shipping off the light hitting Jeff Mathis to the Toronto Blue Jays.
Looking a little deeper, there is still one more part of the team that could use some tinkering, the bullpen. Before the flashy additions of Pujols and Wilson, the Angels did ink relief pitcher Latroy Hawkins to one-year deal worth three million dollars, adding some depth, but is that enough?
Hawkins, who will be 40 by the time the new season starts, had a good year with the Milwaukee Brewers in 2010, tallying a 2.42 ERA and 1.24 WHIP. Another aspect that may have appealed to Jerry Dipoto was the astounding ground ball percentage of 61.7%, which should play well to the Angels strong infield defense. The GB% will mostly likely regress a bit, factoring in the switch from the National League to American League, but not to a point where he becomes an ineffective pitcher.
Other pitchers stashed within the Angels bullpen include Bobby Cassevah, Rich Thompson, and Hisanori Takahashi. Cassevah was a pleasant surprise in 2011, but will have to keep his walks in check—4.31 bb/9. Thompson has the highest ceiling of this trio, possessing a wipe out breaking pitch that is evident with his 9.33 K/9, and should be able to lock down a more critical role should he continue to progress in 2012. Takahashi is an uninspiring but nice lefty to have that is able to eat multiple innings if needed.
If Hawkins is the only relief addition this offseason, the Angels will once again be leaning heavily on Scott Downs and Jordan Walden to shut down games. Downs, a finesse lefty, is the most reliable reliever the Angels have and should be a rock in 2012, barring another unforeseen freak injury. He compiled an ERA under 2 and managed to pitch 53 innings despite missing some time with a broken toe.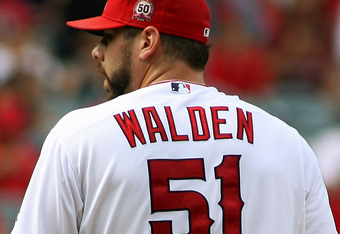 Jeff Golden/Getty Images
Walden on the other hand, is a different kind of animal that can hit triple digits on the radar gun. Looking at the statistics alone, there is not much to hate, ERA under 3, an astounding K/9 at 9.99, with opposing batters just hitting .223 against him. He is also dirt cheap to the Angels, still two years away from hitting arbitration.
Unfortunately, Walden brings about Francisco Rodriguez type memories at times, losing any semblance of control for his pitches, leading to walks, and ultimately blown saves. Walden blew 10 saves in 2011, the most for any relief pitcher in the American League.
The bullpen as a whole blew 24 games, and the Angels finished 10 games out of first in the AL West, and just five out of the wild card. Walden has to become more consistent with the control of his pitches; otherwise it might be more of the same old story with him. Lights out one game, and random clunkers mixed in throughout the season.
If the Angels were to decide to spend a tad more this offseason, there are a number of arms still available that could stabilize the pen. Lefties Darren Oliver and Mike Gonzalez should not command much more than what Latroy Hawkins received, or they could surprise again and go big with Ryan Madson whose price probably has gone down a bit, with most teams already set at the back end of their bullpen.
However, a cost efficient move may be to slide Garrett Richards into a relief role should Jerome Williams win the battle for the fifth spot in the rotation. He profiles well with a mid 90's fastball and slider, and allows him to get a taste for big league pitching without totally throwing him into the fire.
At the very least, the bullpen is deep if left alone and should be fine as long as the key cogs perform up to usual standards. Should they need another arm during the season, new general manager Jerry Dipoto has let it be known that he is not afraid to make a trade.