Idaho Potato Bowl 2011: TV Schedule, Live Streaming, Radio, Game Time and More
December 15, 2011
The Ohio Bobcats and the Utah State Aggies meet Saturday December 17 in the Famous Idaho Potato Bowl in Boise, Idaho of course. 
Both Ohio University and Utah State had strong seasons and even stronger finishes that led them to where they are today.
Ohio won five of its last six, the only loss coming to Northern Illinois in the MAC title game. Utah State won its last five by the slimmest of margins (a total of 19 points).
The Bobcats and Aggies have a lot to play for come Saturday afternoon, and the excitement of the big stage will definitely elevate both programs and give the fans in Bronco Stadium and at home something to cheer for.
Where: Bronco Stadium, Boise, Idaho
When: Saturday, Dec 17 at 5:30 p.m. ET
Watch: ESPN/ESPN3
Listen: ESPN Radio
Betting Line: Utah State—1.5
Key Storyline
Both programs are lacking tradition and history when it comes to success in bowl games; the Bobcats and Aggies are a combined 1-11 in bowl matchups.
Ohio coach Frank Solich is hoping to turn the page with his Bobcats program. Solich is 0-3 in bowl games since taking over in 2005.
On the other side of the field, Utah State coach Gary Andersen is not as desperate for a bowl win as Solich, but he happily will take one nonetheless. To help ensure his squad's victory, Andersen will rely heavily on his star running back, Robert Turbin.
Turbin, the WAC offensive player of the year, leads the Aggies sixth-best rushing attack in the nation at 277.5 yards per game.
Turbin himself ran for over 1,400 yards this season, netting 118 per game—the 10th-best per-game mark in the nation. He also found the end zone a total of 23 times. 
Who Might Not Play for Ohio University
Bobcats fans will rejoice at the fact that their entire team is healthy and ready to go come Saturday afternoon. Not missing any key components to their game plan will certainly help their odds in all three facets of the game.
Who Might Not Play for Utah State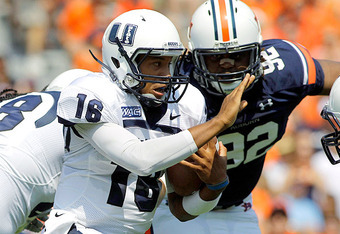 Utah State also comes into the game in pretty good shape. Their team is also healthy minus one minor blemish.
Aggies quarterback Chuckie Keeton left the field in a game in early November with what seemed to be a nasty back injury, but Keeton is back and will be on the field fighting alongside his teammates Saturday.
Aggies fans will keep their fingers crossed that the lingering pain from the injury does not hinder his ability to run around in the pocket, something he loves to do. 
What It Means for Ohio University
The Ohio program has a lot riding on the outcome of this game.
The Bobcats are 0-5 all-time in bowl games and current head coach Frank Solich is 0-3 in his tenure. This will be the Bobcats' third consecutive appearance in a bowl game, none of which will matter if the team comes up empty-handed yet again.
Bobcats quarterback Tyler Tettleton would like to finish the season on a high note and erase fans' memory of his performance in the MAC title game, when he threw three interceptions and for the first time all season didn't throw a touchdown. 
A victory Saturday would give Ohio a 10-win season and cement them as serious contenders in the MAC entering the Spring and Summer of 2012.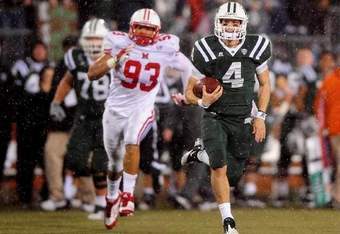 What It Means for Utah State
The Aggies don't have a much better bowl season resume.
The last time they won a bowl game, Tiger Woods was 21 and the youngest Masters Champion ever. They are 1-5 all-time in bowl games, with their only victory coming over Ball State in the 1993 Las Vegas Bowl.
Despite Utah State stepping onto the field Saturday at a mediocre 7-5, they have a lot to be proud of this season and a lot they look forward to displaying on the national stage.
With an explosive offense both running and passing the ball (though mainly running the ball), the Aggies will try their best to showcase their star power for all four quarters—and in doing so make a push for future dominance of the WAC. 
What They're Saying
Bobcat head coach Solich spoke to the media about what this game means for his conference and his team, saying all the right things:
"For the past two years, this has been one of the premier bowl games for the Mid-American Conference. I couldn't be happier for our team and our 17 seniors, who have given so much to this program."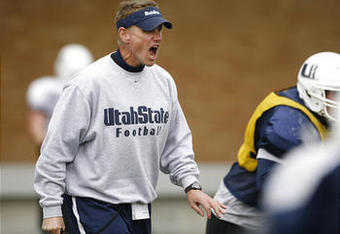 Aggies coach Andersen spoke kindly of his opponent, saying:
"I have tremendous respect for coach Frank Solich as a head coach and his program; they are very well-coached, and we will be facing a big, fast, physical football team."
Ohio University Player to Watch
Ohio quarterback Tyler Tettleton, as mentioned earlier, had a dismal performance in the MAC title game but had a strong season overall. He threw for over 3,000 yards while completing 63.6 percent of his passes. 
Tettleton is somewhat of a dual-threat quarterback; he ran for over 600 yards this season and found the end zone via the ground nine times. 
His ability both to throw and run the ball for serious damage will present quite a challenge for coach Andersen and the Aggies. 
Utah State Player to Watch
What more needs to be said about Aggies running back Robert Turbin?
He was the anchor for the Aggies offense all season long. His commanding presence in the backfield and ability to make plays on any given snap make him an incredible asset for any team to have.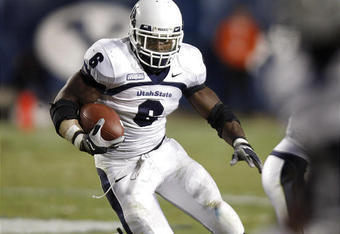 Turbin was the 10th-leading rusher in the nation, running the ball for 118 yards a game, seven of which were rushing efforts of 100-plus yards.
Turbin and his legs face a bit of a challenge Saturday: The Ohio defense held opponents to 126.4 yards per game and kept two of their last four opponents under 70 rush yards.
Key Matchup: Utah State Rushing Game vs. Ohio University Rushing Defense
The Aggies ran the ball as a team for over 275 yards a game all season long. Led of course by Turbin, the team had six different players rush for a touchdown and as a team they run the ball for an average of 5.8 yards per carry.
Lining up opposite them and the ball stands the Bobcat defense—athletic, physical and thirsty for bowl-season glory.
The game will have plenty of offense that stems from successful passing—but the to the victor go the spoils, and the victor of this game will earn his spoils at the line of scrimmage.
Prediction: 
Utah State 24, Ohio 17