Tim Tebow and the Denver Broncos Are Not God's Favorites
December 15, 2011
Justin Edmonds/Getty Images
Let's get this straight people, right off the bat. I don't presume to speak for God, but one thing is very clear: God is not a  Broncos or Tim Tebow fan. At least not any more than he is a fan of any other team or player in the NFL who has a great love for their God. God doesn't pick sides in a football game.
So people need to get over all this silliness when it comes to the string of victories Denver has experienced over the last few weeks. As surely as there have been victories, there will be defeats.
And then what will that "prove" about Tebow or the Broncos when it comes to divine intervention?
Nothing. Just like the victories prove nothing. I know those of us who are sports crazy would like to think football is all that important, but I'm going to take a chance here of incurring the wrath of readers by saying God must have way more important things to worry about than who wins a football game.
Besides, I imagine God would be like a parent who has kids on both teams on the field, not wanting to pick a side but simply hoping both sides play well and no one gets hurt.
Because here's the thing all you Tebow supporters surely must know: Tebow is not the only religious person playing football. He isn't the first to openly express his love for God or to kneel and pray before, during and after a game.
So why people are all worked up over Tebow—to hear so many people claim the Broncos' winning streak, generally against lesser teams, is a sure sign that the divine is at work—and his faith is somewhat of a mystery to me.
The great problem with this silliness is that it ignores that the Broncos defense has been playing out of this world. I don't recall seeing Tebow making any tackles or picking off any passes.
It ignores how well the running game has worked, how the backs have broken tackles and gained yardage crucial to those victories.
And I don't recall Tebow kicking any field goals for those last minute victories.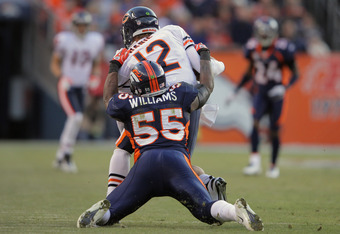 Doug Pensinger/Getty Images
I don't say this to discount the contribution Tebow has made, in giving the team confidence, in making key plays at critical times. But football is the ultimate team sport. Unless Tebow is playing all the positions, he is not the reason the team has pulled out these recent victories.
Maybe God is on the side of the other players as much as Tebow.
Or maybe he/she is on the side of the other teams and wants them to learn from defeat. Or maybe, just maybe, what happens on the field is the natural outcome of all the players and coaches utilizing their God-given talents towards an outcome that is free of God fixing it.
Tim Tebow is a talented athlete. But all this added hype is ridiculous. Good for him that he is so religious, but let's stop making him out to be more religious than many other athletes who may not be so obvious a choice to be the poster boy for the religious athlete.
And let's give credit to the other players who have played as key a role in Denver's resurgence as Tebow. Some of whom may not be religious at all.
The streak of victories will end, likely this weekend against Tom Brady and the Patriots. And you know what? I suspect God won't be manipulating that outcome. It'll just be the case of the better team winning. Nothing more. Nothing less.