NBA Rumors: Are the Golden State Warriors Bound for San Francisco?
December 14, 2011
If there is one thing we should know about Golden State Warriors owner Joe Lacob, it is that he means business.
Since taking over the team from former owner Chris Cohan in 2010, Lacob has fired Don Nelson, replaced him with Keith Smart, replaced Smart with Mark Jackson, acquired David Lee, added a couple good draft picks and rid this franchise of the bad mojo it had carried for decades.
Now, Lacob is onto something else.
He and several others from the Warriors organization met with San Francisco Mayor Ed Lee and representatives from the San Francisco Giants organization last week, and talked about possibly moving the Warriors from Oakland to San Francisco before the 2017-18 season. 
Mayor Lee organized the meeting.  To be more specific, the City of San Francisco wants the Warriors to build near AT&T Park, not the other way around.
Genius.
The Warriors, who call Oakland's 40-year-old Oracle Arena their home, have been rumored to be in the market for a new arena for some time now. 
Oracle Arena is currently the oldest venue still in use by the NBA, although it did undergo a renovation that lasted about a year in 1997.
This is the second professional Bay Area team looking to leave the city of Oakland for greener pastures.  For the past year, the Oakland A's have seemed determined to leave Oakland Coliseum for San Jose.
But Oakland Mayor Jean Quan stands in the way of either team leaving town. 
Quan, who is in the middle of a potential recall of her job by the city of Oakland, has claimed there are plans to build a new stadium for the A's near Oakland's Jack London Square by 2016.
However, it's tough to stop a train in its tracks, and the Giants and Warriors are running full steam ahead in the right direction lately.  A partnership between the two would only fuel the fire.
Even worse for Oakland, Giants CEO Larry Baer and Lacob are two owners making moves with their respective teams.  They are two determined men willing to spend the money to make their franchises better. 
Having them work together is almost a guarantee this move will happen.
The Warriors moving to San Francisco will happen.  The timeframe of their potential move is not evident yet, but the move seems too perfect—with the right decision-makers at the helm—for it not to happen.
Golden State President Rick Welts mentioned that the potential home for the Warriors' new arena in San Francisco would be very close to the Giants' AT&T Park.
In 2010, the Giants organization was looking into the possibility of joining the Warriors organization in a partnership between the two Bay Area teams, so there has been a good amount of discussion.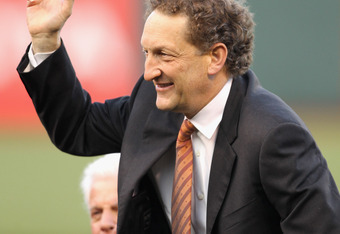 Ezra Shaw/Getty Images
What's more, SFGate.com reported in 2010 that the Giants "won a competitive process that gives them the right to negotiate with the Port of San Francisco to develop 27 acres of port-owned land in the Mission Bay project south of the baseball stadium."
No word on how those talks are going these days.
With the amount of firepower behind this move, it is hard not seeing a project like this getting done.  Lacob has said he wants change in Golden State, and what better way than to move it out of Oakland?
Of course, the fan base in Oakland is what would hold this deal back. 
The Warriors draw a large audience nearly every night, their die-hard fan base simmering over the potential of their team making the playoffs. 
And now that the new ownership is willing to make moves for big players, interest in the Warriors may be higher than ever.
For that reason, this move will be postponed for awhile.
The renovation of Oracle Arena in 1997 bought this team some time in terms of having to build another arena. 
But make no mistake, if they build a new one—given all the big players and influences in on this potential project from both teams—it will be in San Francisco.
I cannot see this move happening before 2015, but a relocation of the Warriors to San Francisco before 2020 is not impossible to imagine.
If you like this article, check out my Bay Area Sports Talk blog.