WWE Opinion: Why Undertaker vs. Kane Needs to Happen at WrestleMania 28
December 14, 2011
Now, if you're not a fan of rematches, then I must say you need to turn your TVs off all year when it comes to sports. I mean, Alabama and LSU are playing for the BCS National Championship, and we've seen countless rematches in the NFL and NBA. So why not see something one more time?
Undertaker vs. Kane has happened numerous times at WrestleMania and in other PPVs and shows as well over the years. So it's not shocking to see it as stale or unneeded.
Normally, I'd be with the standard fan when it comes to seeing rematches in this aspect of things. But, here's why I feel 'Taker vs. Kane will be a great idea for WrestleMania 28.
First off, this will be Undertaker's last WrestleMania according to many reports. He really cannot handle much more ring time and due to this, and as a result he'd want to take on one of his best friends and man he respects a lot in Kane.
Second, this is not the same Kane we've been accustom to seeing. Kane came back on RAW a few nights ago and looked terrific. Yes, this is the same Glen Jacobs' Kane for those who are wondering. Kane looked to be in great shape and kind of had a look he did back in 2002 when he became a monster heel.
His mask being back on makes older fans happy and gives Kane new life. Then add in that his look is awesome and fans are excited to see what he brings and you have a character that will be hot.
That said, the only man to stop the monster would be his brother, the undead Phenom known simply as The Undertaker. So, the story leading up to the match would be epic.
You have the man who wants to end the streak just like every other, with a new look, new body, and overall unhuman abilities taking on a man who he has been in the shadow of for his entire career.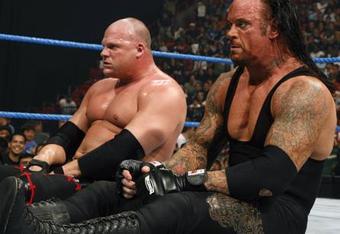 The story makes for good TV if you ask me. So why not?
Word has it that WWE is thinking about Undertaker/Triple Part 2. But to me, it's just not as good a story as Undertaker vs. Kane. Also, this would be Trips' third time to take on The Undertaker and while it would be similar for Kane, we've already seen HBK take on Undertaker two years in a row, why would we want to see Triple H do it and lose yet again?
I want to see something new I guess you could say. And while some would say Undertaker/Kane is nothing new, I say it would be in comparison to HHH/Taker. We just saw this last WrestleMania and I think even though Kane has been the opponent for the Deadman before, it hasn't happened at WrestleMania in years and this is the last one for Taker most likely.
Why not go out against Glen Jacobs' character, Kane?
It would be a good thing to see with Kane coming back looking better than ever, and I want to see a great last story for Undertaker. What about you?
Would "The Game" be a better choice to take on Taker at Mania over the new look "Big Red Machine"?
Let me know your opinions below!