Indiana Pacers: Free Agents the Pacers Should Pursue That Are Still Available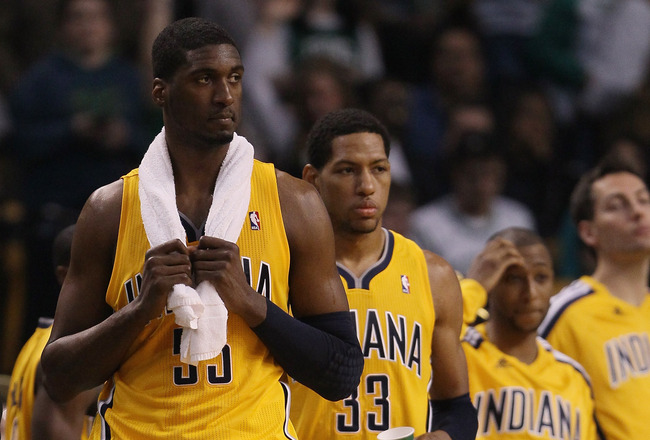 Elsa/Getty Images
The addition of David West to the Pacers was a great signing. He adds veteran leadership, scoring and the postseason experience that the young team desperately lacks.
After signing West, Larry Bird made it clear he wasn't through with adding to an already-deep team. The Pacers pursued another trade for O.J. Mayo, who once again proved elusive.
The attempt at acquiring Mayo was an indication that the Pacers are missing one more piece.
Indiana is on the verge of becoming a very complete and dangerous team. They might be there already, but to be sure, the Pacers need a quality shooting guard and another scorer.
With O.J. Mayo off the market, the Pacers made a half-hearted attempt at acquiring Jamal Crawford. While Crawford wasn't a great fit anyway, the Pacers' interest shows they are still eager to find another scoring guard.
Here are the best of the rest in terms of available free agents that would be the right fit in Indy and why the Pacers should take a look at them.
1. Arron Afflalo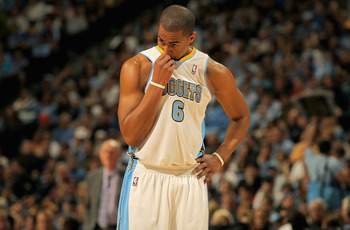 Doug Pensinger/Getty Images
Every indication is that the Nuggets are going to re-sign and keep their starting guard. And they should.
Afflalo has good size, good athleticism and is a good shooter from outside (hitting .408 percent of his threes), all qualities that make for a successful starting two-guard and all qualities that the Pacers in particular covet in their attempts to round out the team.
At only 26 years of age, the Pacers should make a serious run at Afflalo, and, frankly, I am surprised they haven't.
He is unselfish offensively and plays aggressive defense, both of which are traits that are becoming a hallmark of the Pacers under new coach Frank Vogel.
It's not too often that a team should purposely overpay for a player, but in this instance Indiana should. They need what Afflalo brings to the court and have the money to entice him.
That being said, the likelihood that Afflalo stays in Denver is still pretty high.
2. Carl Landry with the Intent on Landing Rudy Fernandez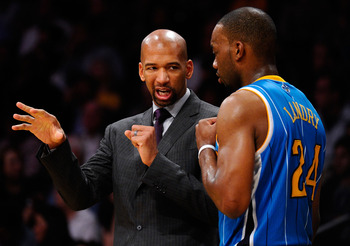 Kevork Djansezian/Getty Images
Carl Landry?!?!? We just re-signed David West and we have a great backup in Tyler Hansbrough. Why do we need Carl Landry?
We don't. At least not on our roster. The Pacers are indeed set down low, but this year's class of shooting guards is insufferably thin.
So the Pacers should work out a sign-and-trade to land Rudy Fernandez.
One team that makes a lot of sense as a trading partner would be the Denver Nuggets. Unfortunately, Afflalo wouldn't be included in the deal, but the Nuggets still have trade pieces that the Pacers might desire.
Earlier in the week, the Nuggets acquired guards Rudy Fernandez and Corey Brewer in a trade with the Mavericks. Denver's original intention was probably to protect themselves should they lose Afflalo, but now with Afflalo looking like he will remain in Denver, the Nuggets have an overabundance of guards.
Fortunately, they also have a dearth of big men. Even with Nene back in Denver, the Nuggets are undermanned up front, and Landry would be a perfect compliment.
For the Pacers, Rudy Fernandez would be a quality addition and much needed pure shooter. Fernandez is still young and wasn't given the chance to really flourish in his three years in Portland.
While he isn't known for his defense, if the Pacers could land Fernandez inexpensively, he'd be a nice compliment to Granger, West and Hibbert.
3. Michael Redd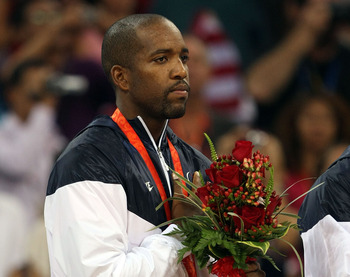 Jed Jacobsohn/Getty Images
The Pacers need someone to close out games, make the big shot and spread the court. Michael Redd was one of the NBA's best at all three.
Unfortunately, injuries have taken their toll in a big way on Michael Redd.
He's played in just 61 games in the past three years after blowing out his ACL and MCL in his left knee and then re-injuring it the following year.
Usually a guy with that injury history (especially over 32) is someone you want to stay away from. But, in the Pacers' case, signing Redd might make sense.
Word is that Redd is determined to come back and play at a high level. Of course, nobody is expecting the 26.7 ppg that the one-time 3rd Team All-NBAer put up, but at least Redd would give the Pacers confidence going with Paul George as shooting guard, and letting the Pacers know that when they needed a clutch bucket Redd would be ready and waiting on the bench.
The Pacers need a pure shooter, and Redd is one of the game's best.
Because of the injuries, he has hasn't garnered much attention and could be signed cheaply, perhaps even to a veteran's minimum. If—and only if—that's the case (or close to it), the Pacers should take another look at Redd and offer him a one-year deal with an option for a second year.
Having played his whole career in Milwaukee, Redd might not want to leave, but if he is willing, the Pacers should work to make Indiana his next home.
4. Nick Young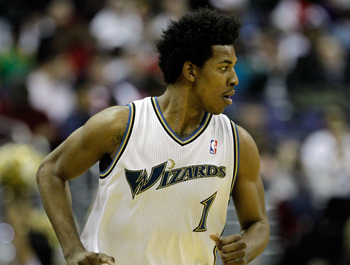 Rob Carr/Getty Images
When I'm writing about Rudy Fernandez, Michael Redd and now Nick Young, it's obvious that it's not a very strong year or deep class of free agent guards.
That being said, Nick Young could be an interesting fit. For one, he can score and shoot, which, if you've read this far or have seen the Pacers play, is their biggest weakness.
The down side to Young is that at times it looks as if he doesn't take the game seriously enough, especially defensively. Usually that would be a problem, but the Pacers have a strong locker room and high character blue-collar type players.
It's hard to imagine that at least some of the intensity and effort won't rub off on Young, who is still a young and impressionable-type player.
Even if it doesn't, he can shoot, and he averaged 17.4 points per game last season.
5. Wait for the 2012 Free Agent Class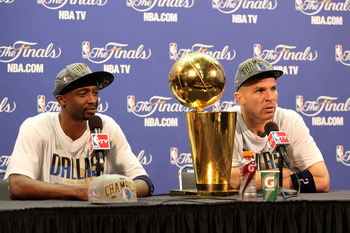 Mike Ehrmann/Getty Images
To be honest, all of the guys mentioned—other than Afflalo, who likely isn't leaving Denver—are quick fixes that the Pacers shouldn't commit to long-term.
Adding Mayo or Afflalo would be ideal, yet even if those two players don't end up in Indy, the Pacers already have a deep and talented roster.
Adding West was a big step towards taking the next step to becoming an elite team, and the Pacers accomplished that goal without sacrificing their financial leverage and cap flexibility in the future.
Guys like Marc Gasol and Kris Humphries are available, but with Hibbert, West and Hansbrough, the Pacers are set.
If the Pacers can land Rudy Fernandez or Michael Redd for a year, great. But can they compete with Paul George playing out of position? Absolutely. Is it ideal? No, but certainty not too much of a burden.
The biggest reason, however, as to why the Pacers should continue to preach patience is next year's class of free agents, which is as talented and deep as any in recent memory.
Here are a few headliners for that class:
Russell Westbrook, Ray Allen, Derrick Rose, Danilo Gallinari, Courtney Lee, Eric Gordon, Michael Beasley, Kevin Love, O.J. Mayo, Darrell Arthur, Kirk Hinrich, Jason Kidd, Jason Terry, D.J. Agustin, Andrew Bynum, Jameer Nelson, Tim Duncan, Robin and Brook Lopez, Anthony Randolph and Leandro Barbosa, to name a few.
Knowing some of those guys will be available, the Pacers should be careful not to spend money unless they feel they can get an impact player in return.
Keep Reading

Indiana Pacers: Like this team?