Tim Tebow: Sports Illustrated Cover Provides Fuel for NFL MVP Talk
December 14, 2011
Justin Edmonds/Getty Images
Tim Tebow is one of the most polarizing figures in NFL history, and he hasn't even been a starter long enough to amass any stats that are impressive. Besides his win total, that is.
Since taking over the downtrodden Denver Broncos, Tebow has led the team to a 7-1 record and has them in playoff contention.
No one felt they would be there when Tebow took over at QB.
While it's true that Tebow's passing skills aren't the best in the league—or even in the top 20, for that matter—what he has is a will to win like few others in NFL history have ever had.
Mainstream media has now started to catch on to Tewbowmania, which is sweeping across this great nation of ours. Sports Illustrated, in fact, have even tweeted the cover of their latest edition: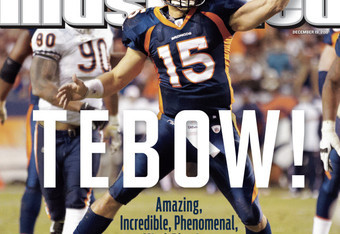 All of these facts mean one thing, and that is that Tim Tebow deserves to be the NFL MVP.
While Aaron Rodgers and Tom Brady are nice picks, there is no player that means more right now to their team's success than Tebow does to the Broncos.
Of course, it's true that the Broncos defense is playing well and the coaches are putting the team in position to win. However, Tebow is the man in the trenches who is pulling off these last-second victories.
Tebow will never have the statistical numbers of the top QBs in the NFL, but guys like Brian Urlacher of the Chicago Bears—who think that Tebow is a glorified running back—need to look up at the scoreboard.
Tebow wins games. Last time I checked, that's what the NFL is all about.
If Denver makes the playoffs after their atrocious start to the season and subsequent shift to Tim Tebow as their starter, there will be no player in the NFL this season that deserves the MVP honor more than him.
Anything less would be highway robbery.
Check back for more on the National Football League as it comes, and check out Bleacher Report's NFL Page to get your fill of all things football.