Neymar: Breaking Down the Santos Star's Key Attributes
Lintao Zhang/Getty Images
Neymar is a very talented player and has some key attributes that make him fun to watch.
He added to his reputation just this morning by opening the scoring as Santos reached the final of the Club World Cup tournament.
Neymar's ability has not been in question since he first burst onto the World stage but his physical stature has led to some questions as to whether he would eventually be able to handle the rigors of European football.
Neverthless, time and again, Neymar continues to excel on the field. However, he is by no means a finished product and could still get better in all areas of his game.
Here is a breakdown of the key attributes to Neymar's game.
Speed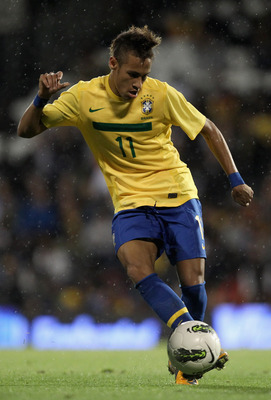 Clive Rose/Getty Images
Neymar is a very fast player. Probably due to the fact that his build is so slight, but still, he is fast. When you add Neymar's speed to some of the other attributes on this list, you can see why he is so good.
Neymar is able to break away from defenders on a counterattack or slip behind them for a through ball, and in many instances, he gets to the ball first. Speed can hurt the best defenders and Neymar has a lot of it.
First Touch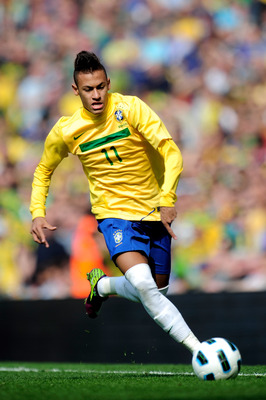 Jamie McDonald/Getty Images
Neymar needs a good first touch to set up his moves that dazzle both crowds and defenders and he has one.
With teammates like Ganso and Elano on Santos, Neymar can also take advantage of one-two's to get behind the defense as his first touch allows him to make quick one touch passes in hopes of getting the ball in return.
Neymar is able to make his moves, whether that be making a pass, dribbling or shooting, much quicker with his good first touch.
Technique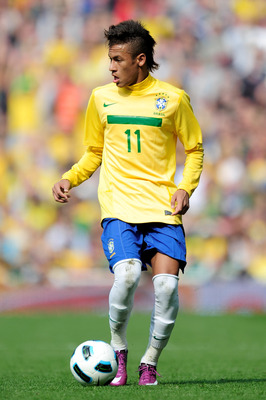 Jamie McDonald/Getty Images
Neymar has good technique in just about every area of the game involving his foot. In order to do all the things he does so well, first touch, dribbling, shooting and even passing—he has a good amount of assists to his name—he has to have good technique.
Some players have better technique than others and Neymar certainly isn't the best, but it is one of the key attributes of his game.
Dribbling
Neymar doesn't just dribble. He dribbles with an enormous amount of flair. Flicks, back-heels, step-overs and so on are just what you expect to see when he plays.
Neymar's dribbling can be a delight to watch for everyone except the opposing defenders. His dribbling allows him to wiggle out of tight situations and create space for himself to shoot or pass.
Finishing
Neymar has scored eight goals in 15 appearances for Brazil and has 81 goals in 158 games for Santos. That is a pretty solid haul for someone just starting their career.
Neymar has the ability to finish well with both feet and that makes him a very dangerous opponent.
As you can see in the video, all the other attributes in this slideshow play a part in his goal-scoring abilities. His speed takes him past defenders, his first touch is generally very good, his technique is good and his dribbling speaks for itself.
Keep Reading