Showboat, Punk, Necessity: Why the Eagles Need DeSean Jackson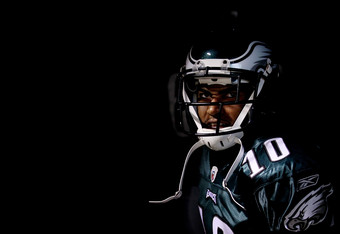 Nick Laham/Getty Images
With ridiculous touchdown celebrations and 50-yard catches being waved off for pure cockiness, DeSean Jackson isn't exactly the best role model for aspiring athletes. His on-field antics land him new critics at every turn.
From the moment Eagles fans saw him drop the ball on the one yard line in celebration his rookie year, it was evident he was going to be handful. Despite the headaches he gives to fans, announcers and football purists alike, he is a necessity for the Eagles to succeed in the future.
The first time DeSean Jackson suited up in an Eagles uniform in 2008, everyone knew he was something special. In his very first game, he snagged six passes for 106 yards. For the first time in what felt like eons, it seemed the Eagles had a legitimate deep threat that defenses actually needed to plan around.
The very next week, DeSean showed what many believe to be his true colors. After hauling in a 60-yard bomb from Donovan McNabb, Jackson mistakenly dropped the ball on the one-yard line in celebration. Naturally, the play turned heads and had many fans questioning whether or not the Eagles had picked themselves up a "Mini T.O."
The Birds scored on the very next play, but the pure lack of sense left many fans of the NFL questioning exactly what kind of player D-Jax was.
Since 2008, there have been many plays from DeSean that leave fans scratching their heads and asking themselves "What was he thinking?"
There's no question about it, DeSean Jackson is a complete bonehead. But as long as he's producing, fans can overlook the antics and the mouth running. And that is where the criticism is coming from.
Mike Ehrmann/Getty Images
After a stellar 2009 campaign that included nine receiving touchdowns (seven over 35 yards), DeSean's numbers dropped slightly. 62 receptions and nine touchdowns in 2009 moved to 47 receptions and six touchdowns in 2010. Those numbers aren't exactly a big deal, especially when one considers the emergence of young wideout Jeremy Maclin. But fans still had to wonder if DeSean's production was really falling.
Fast forward to 2011. 47 receptions, 757 yards, and three touchdowns aren't exactly numbers to sneeze at, but they're not the numbers of an elite receiver, especially not one who has attitude problems and wants Larry Fitzgerald money. It's become more than just numbers—DeSean's attitude has been in a downward spiral and his impact on the game just isn't apparent anymore.
Or is it? When the numbers are analyzed, things get interesting.
Since entering the NFL, DeSean has missed just four games for the Eagles. In his absence, the Eagles' record is 1-3. The one win of the four games came against a weak Chris Redman-led Falcons team who was in desperate need of any kind of help. One of the losses came against the Cowboys in a week 17 matchup that meant little to the Eagles. DeSean and many others sat the game out.
However, the two other losses really stick out. In the seventh week of the 2010 season, the Eagles faced a 4-2 Titans team. The Eagles offense was lackluster at best. Kevin Kolb completed 54 percent of his passes, going 26-48 in the game with a touchdown and two picks.
LeSean McCoy was held to just 48 rushing yards in the game, and no receiver had over 60 yards receiving. The Eagles managed just two touchdowns and 19 points. They imploded in the fourth quarter and ultimately lost to the Titans 37-19. Without DeSean Jackson, the Eagles offense was a non-factor.
More recently, against the Arizona Cardinals in Week 10, DeSean Jackson was benched for missing a team meeting. This, naturally, led to more outcry from the fans for Jackson's removal from the team.
Without Jackson, Michael Vick and the Eagles offense looked simply lost. Vick was clearly affected by the loss of his No. 1 deep threat, completing just 16 of 34 passes with no touchdowns and two interceptions. No receiver managed more than 53 yards and there were no touchdowns through the air.
The offense accounted for just one touchdown, courtesy of LeSean McCoy. Shady managed to rack up 81 yards on the ground despite getting just 14 carries. If it weren't for the NFL's leading rusher, the game wouldn't have been close.
If that's not enough reason for keeping D-Jax in town, here's some more: In the past two seasons (2010 and 2011), the Eagles are 8-1 when DeSean Jackson catches a touchdown. Their record when DeSean is kept out of the end zone, you might ask? It's 8-12, folks. That's as plain as it gets.
Despite the headache, the cockiness and the plays where it seems he's dogging it, the Philadelphia Eagles need DeSean Jackson. Michael Vick, Jeremy Maclin, Brent Celek and LeSean McCoy are all top players at their position, but DeSean is the piece that holds the offense together, like it or not.
Give the man a contract.
This article is
What is the duplicate article?
Why is this article offensive?
Where is this article plagiarized from?
Why is this article poorly edited?

Philadelphia Eagles: Like this team?