Arsenal News: Denilson Will Not Be Returning After Loan at São Paulo
December 14, 2011
Denilson, remember him? Arsenal's underachieving midfielder who has had to go back to Brazil on loan to former club São Paulo? Yes, that Denilson, whom many Arsenal fans are not very keen about.
Well, he's not so keen about them or the club, either.
In an interview with Radio Globo, he has expressed his desire to remain at São Paulo. The reason, though, isn't exactly because he is on fire for his new (old?) club. In fact, Denilson has endured a torrid season so far, amassing three red cards in the few games he has managed to play. So why does he want to stay?
Personally, I am very sad that the season will finish this way. Of course there is still a game remaining and there is hope for the Libertadores.  
He is referring to the three red cards and to the state of his relationship with the São Paulo fans, who, like Arsenal fans, haven't found much to admire in the 23-year-old. On the contrary, the Daily Mail had reported earlier in October that the midfielder was having a love-hate relationship (mostly hate, actually) with the fans.
Denilson has endured a rough ride at his new club, sparked by two red cards in his first three appearances, the second which was for a show of dissent that caused rifts between the ambitious 23-year-old and the fans, a divide which widened this week when Denilson branded some fans who were protesting against boss Adilson Batista 'very, very annoying'.Supporters are now calling for the man Denilson was defending, Batista, to never allow the former Brazilian youth team captain to play for the team again.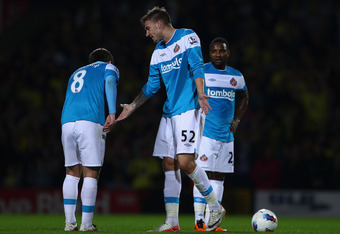 Julian Finney/Getty Images
The Mail had then thought Denilson should return to Arsenal to help with our defensive issues!
Yes, I can see the horror on your faces. Since that report, Denilson has picked up another red card. But not to worry, Denilson is not very keen on coming back.
I still have six more months, I hope to cool off a little, enjoy the holidays with my family, to return more professional and get things right next year. 
It's a shame his holiday is not in Argentina; he could have used the opportunity to play golf with Carlos Tevez and perhaps seal a move to PSG. No, there's no harm in dreaming.
In the interview referenced above, he is more emphatic about not wanting to come back. It is a wish to which many Gooners will supply a resounding and relieved amen.
We should note, though, that this is the second Gunner on a loan in as many months who doesn't want to come back.
Nicklas Bendtner, another Gunner—the back of whom many Gooners will gladly see out of the Emirates (definitely no statue for him)—had told Sky Sport in emphatic tones earlier this November:
As I have said before, I will not return to Arsenal. I never really got the chance and then I was unfortunate with injuries. But now I will hopefully have a good season at Sunderland and with a fantastic European Championship ahead, it looks positive. I want to play in the Champions League.
Amen, say Gooners, one and all. The worrying thing though is the delusional shroud that still hovers over Bendtner—remember the deal about being one of the top strikers in Europe? Now he wants to be rid of Arsenal so he can play the Champions League with Sunderland!
Yours truly must confess he's lost on....