Why the Vancouver Canucks Should Trade Roberto Luongo to Tampa Bay Lightning
December 14, 2011
Rich Lam/Getty Images
Now, before you get too far into this column, let me preface this by saying this is not an official trade, this is merely what I think the Vancouver Canucks should do.
The Canucks should trade Roberto Luongo to the Tampa Bay Lightning, and here is why. 
First and foremost, Luongo can't trigger a trade until sometime around 2015, but that doesn't mean he won't waive his no-trade clause to go to the right situation. Past precedent has shown that if a player is offered the right opportunity, they would waive their no-trade clause. Tampa Bay would be that opportunity for Luongo.
Luongo has family that lives in Florida, and they go back there during the offseason. So there would be a huge appeal to playing a lot closer to family and home.
As we saw last playoffs, the Lightning made a nice run and are close to being a contender. However, they are in desperate need of a goaltender. With superstars like Steven Stamkos, Martin St. Louis and Vincent Lecavalier, along with young stars like Brett Connolly, Victor Hedman and Teddy Purcell, the Lightning have a team that is ready to contend.
It appears that age has finally caught up to Dwayne Roloson; his numbers have dropped off from where they were last season and throughout his career. Roloson's 3.67 GAA is the highest of his career, and his 0.882 SV% is the lowest of his career.
Roloson is better suited as a veteran backup.
Tampa Bay needs to make a move now before the hole gets too big. They are currently sitting 13th overall in the Eastern Conference and just five points out of a playoff spot.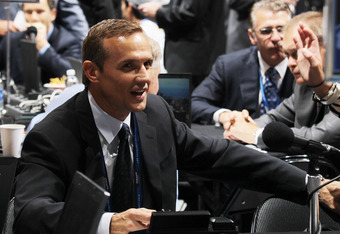 Bruce Bennett/Getty Images
Over the last 10 games, the Lightning are 3-7-0. The Lightning stars are either in their prime or entering their prime, so now is the time to contend.
Tampa Bay needs to address their goaltending, and Luongo would be a great fit.
Don't forget that Luongo already has a relationship with GM Steve Yzerman from the 2010 Olympic Winter Games.
The Canucks will have to address their goaltending this season, as Cory Schneider has proven that he is ready to be a starter in the NHL and his contract is up. Schneider will be a restricted free agent this off-season, but you can count on several teams making large offers. Canucks can't afford to keep both goalies, forcing them to move one.
So what would the Canucks want for Luongo? 
The Canucks are in need of a big power-forward, and Ryan Malone would fit that bill. Malone is 6'4" and 224 pounds; he would be a strong force in front of the net. Malone has five 20+ goal seasons and brings a vast amount of playoff experience, including a run with Pittsburgh to the finals in 2008. Malone could line-up with the twins on the first line, where he would create havoc for the goalie while the twins are cycling the puck.
As nice as it would be to be off the hook for the remaining years of Luongo's contract, it would take more than Malone.
Tampa would need to add some youth into the deal. Connolly is not an option, as he was Yzerman's first draft pick as the Lightning GM. Hedman isn't going anywhere, either, as Yzerman knows firsthand how valuable an elite No. 1 defenseman is. But a player like Carter Ashton would be available. 
Elsa/Getty Images
Ashton is a 6'3", 215-pound power-forward prospect. Ashton can play both wings, which is important for the Canucks, who are deep at center. Ashton was a scoring machine in the WHL, scoring 30 or more goals twice despite playing for three different teams. Ashton has shown the same scoring ability in the AHL where he has 13 goals and 22 points in 27 AHL games.
The Canucks would want a veteran goalie to back-up Schneider, so adding Mathieu Garon to the mix would give them a goalie with 10 years of experience. Garon has proven to be a very reliable backup that would help develop Schneider into an elite goaltender.
Cap-wise, this deal works for both teams. Tampa Bay, according to capgeek.com, currently has around $3,000,000 in cap space. Luongo's remaining cap hit is just over $3,000,000, so the deal could work.
Remember that even though Luongo may be an elite goaltender, the package in return for him may not involve an elite player going back to the Canucks. Part of the appeal for trading Luongo would be getting out from under his 12-year contract.
The deal would look like this: Luongo for Malone, Ashton, Garon and a draft pick.
This deal makes sense for both sides. The Canucks move Luongo and his big contract while promoting Schneider as their new No. 1. Vancouver adds a big net-presence and power forward that will line-up with the twins, as well as a power-forward prospect. Tampa Bay gets an elite goalie to get them over the hump. Luongo still gets to play for a contender while being close to home. 
It's a win-win-win deal.
Like I said, this is not a real deal, just something I think would help both teams involved. I am looking forward to seeing what transpires with the Canucks' goaltending situation.
 -------------------------------------------------------------------------------------------------------------------------------
Aaron Brouwer is the co-creator of www.fantasyhockeycoach.com.  FHC is a free fantasy hockey service that developed a ranking system combining post-lockout statistics, current factors and our own hockey knowledge.  Brouwer writes about fantasy hockey on Bleacher Report. You can contact Coach Brouwer at brouwer@fantasyhockeycoach.com.