An 'Abrasive' Addition in San Jose
December 13, 2011
Bruce Bennett/Getty Images
NHLPA.com - Chris Lomon
 It's not often you're referred to as "abrasive" and it's the ultimate compliment. But that's exactly what San Jose management meant when they spoke of the June trade that landed them defenceman Brent Burns.
When the Sharks made the deal that landed Burns and a second-round selection in the 2012 NHL Entry Draft from the Minnesota Wild in exchange for Devin Setoguchi, Charlie Coyle and a first-round selection (28th overall) in the 2011 NHL Entry Draft, it was evident they were elated to bring the strapping blueliner into the fold.
"Brent is an elite first-pairing defenseman that is just coming into his prime," said former NHLPA member, San Jose's Executive Vice President and General Manager, Doug Wilson. "We feel that he gives our blue line tremendous depth and versatility and will augment our existing core. He combines a dangerous offensive prowess with an abrasive presence in the defensive zone."
Burns, 26, who was named to the Western Conference All-Star Team in 2010-11—appearing in 80 games and posting 46 points (17 goals and 29 assists), which tied for 14th most amongst all NHL defencemen—was equally enthused about the opportunity to come to San Jose.
"You feel a little of everything," said Burns, in reference to the trade that brought him to the Sharks. "You're a little nervous, you're excited and you also have that desire to get out there and start contributing. The players were great, not just to me, but my family, when I first arrived. Having that comfort level gives you a ton of confidence."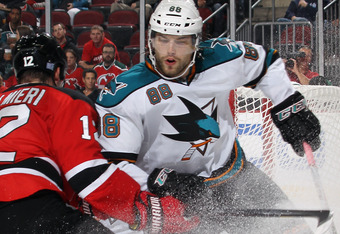 Bruce Bennett/Getty Images
It also helps when you are familiar with the men calling the shots from behind the bench.
Burns played for the Houston Aeros of the American Hockey League during the 2004-05 NHL lockout season under Sharks Head Coach Todd McLellan and Assistant Coach Matt Shaw. That season, Burns posted 27 points—including 11 goals—in 73 games played.
"Matt and I have a great familiarity with Brent from our time spent together in Houston," offered McLellan. "His ability to combine his elite offensive abilities with his size and defensive awareness makes him one of the top defenceman in this League and he will be for years to come."
A native of Barrie, Ontario, Burns—now in his eighth NHL campaign—came into this season with 183 career points (55 goals and 128 assists) in 453 games played. He has also appeared in 11 Stanley Cup Playoff games, posting three points (all assists).
He's hoping to for the opportunity to add more games to his post-season resume.
"For any player, the chance to get into the playoffs and then have a shot to win the Stanley Cup is what you live for," said Burns, who was originally selected by Minnesota in the first round (23rd overall) of the 2003 NHL Entry Draft. "You look at this roster, this group we have, and you feel good about what you can hopefully achieve."
Burns, who has made multiple appearances with the Canadian National Team including two World Championships (2010, 2008) and one World Jr. Championship (2003-04), is hoping he can complement a strong San Jose back end and add some timely offensive punch.
"Everyone knows their role and everyone is aware that we need to build throughout the season to get to where we want to be," said the 6'5", 230-pounder. "Hopefully, I can play my part in making that happen."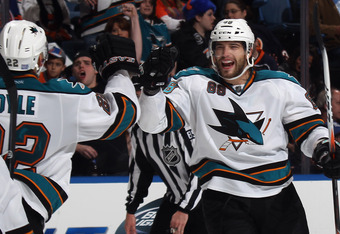 Bruce Bennett/Getty Images
He's shown his commitment to the team in other ways, too.
Burns and teammate Martin Havlat, who also played together in Minnesota, both invested in a lease to utilize one of HP Pavilion's Citrix Suites for the 2011-12 season and are donating the seats to benefit others from local Bay Area communities.
The defenceman is also continuing his charitable program that he founded in Minnesota, "Burnzie's Battalion," providing the suite to members of the Armed Services and their families.
Burns is a long-time supporter of "Defending the Blue Line," a non-profit organization created by soldiers with the spirit of keeping hockey alive for the children of U.S. military heroes.
Defending The Blue Line's works to ensure that children of military members are afforded every opportunity to participate in hockey by providing free equipment for military kids, hockey camps, special events and financial assistance for registration fees and other costs associated with hockey.
"It's an honour for me to be able to support the people who give so much of themselves," said Burns. "They are willing to put their lives on the line every day."
In a much different arena, Burns is hoping he can help make a difference in his own way.
"Success is always built around how the team does," said Burns. "Whatever I can do to contribute, I will work hard to do that."
Visit NHLPA.com for more player news and videos.
Unless otherwise noted all quotes were obtained first-hand.