Boston Bruins: 5 Reasons Claude Julien Is the Best Coach in the NHL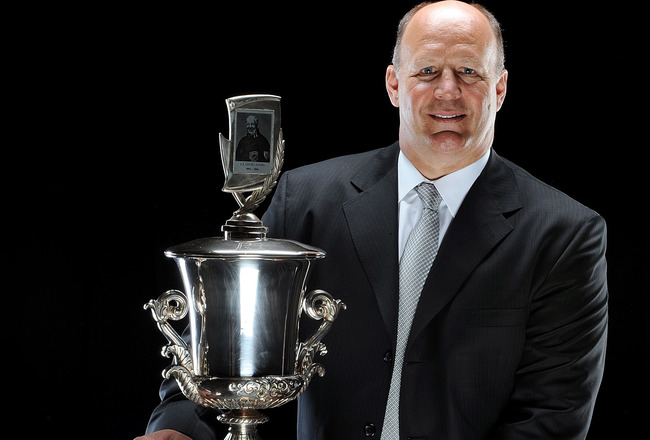 Harry How/Getty Images
No one has lasted longer as the Boston Bruins' head coach than Claude Julien since Gerry Cheevers, who spent four years, plus 56 games behind the bench, in the first half of the 1980s.
If Boston reaches at least the second round of the 2012 playoffs, Julien will be the first coach to help the Bruins win a playoff series in each of four consecutive seasons since Don Cherry.
Considering what Boston has already been through and subsequently overcome this season, it should not surprise anyone if Julien soon joins Jacques Demers (Detroit, 1987 and 1988) as the only other man to win two Jack Adams Awards with the same team.
A team simply does not spend the first month of a season exhibiting one of the most egregious cases of post-Stanley Cup hangover and then recompense everything the very next month without a significant dose of inspiration from its skipper.
In this ongoing season and through much of the previous four, Julien has constantly demonstrated a multitude of qualities that all but give him a peerless aura. All of what is detailed here is plenty to make him a front-runner for the billing of the NHL's top coach in the 2011-12 campaign.
Lighting a Fire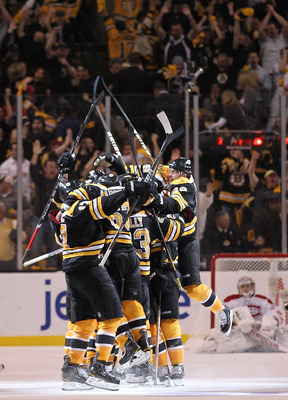 Jim Rogash/Getty Images
It seems every time local fans and talk show personalities approach critical mass with their "Can Claude" campaign, the Bruins unhesitatingly stifle those calls with their next performance.
A classic example occurred a little less than a year ago when, after a 3-0 falter to the Anaheim Ducks and two subsequent days of rumors, the Bruins returned to the Garden ice on Dec. 23 and ensured a more restful holiday respite with a physical 4-1 triumph over Atlanta.
The following spring, Julien's team flexed its resilience to an even greater extent when it deleted a pair of 2-0 playoff series deficits to surmount the oft-parasitic Montreal Canadiens and the top dogs, Vancouver Canucks.
This season, the Bruins hit their nadir especially early upon finishing the month of October at 3-7-0 and at the bottom of the Eastern Conference. All they have done since then is go 12-0-1 in November and hustle to the upper tier of the standings.
Time Well Spent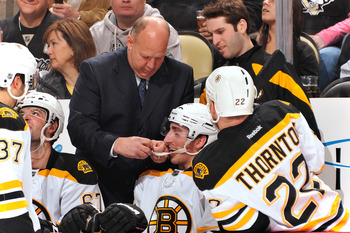 Jamie Sabau/Getty Images
On multiple occasions this calendar year alone, the TD Garden masses have seen Julien salvage a winning effort by using his timeout at often-unconventional points in the game.
On March 24 of last season, a game against Montreal was barely half over when the Bruins iced the puck, allowing the Habs to elevate their threat to cut into what was then a 3-0 lead for the home team. Instead, by stealing some rest for his pupils, Julien deflected the tide and watched as Boston ultimately cruised to a 7-0 triumph.
Similar occurrences popped up twice a month ago. With more than four minutes remaining in an eventual win over the New York Islanders, the Bruins' coach used his breather voucher after a penalty kill and subsequent icing that forced the same exhausted quartet to extend its shift.
In a bout with Edmonton three nights later, Julien sacrificed his timeout under similar circumstances with 8:11 left in the second period and a 4-2 upper hand. The Oilers' offensive onslaught subsequently tapered off and the Bruins paced themselves to a 6-3 victory.
Maturity Maven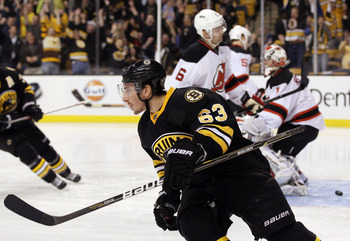 Elsa/Getty Images
Twice in as many months, Julien has reprimanded a top-six sophomore with a temporary cessation of ice time rations and then reaped a little productivity from him after restoring normalcy.
After taking two penalties before the halfway mark of a Nov. 15 game versus New Jersey, Brad Marchand was benched for the better part of 10 minutes, seeing only one shift in that span. When permitted to reassume his normal spot on the wing to commence the third period, he scored six seconds off the opening draw to give Boston a 3-2 advantage.
More recently, Tyler Seguin was scratched and publicly called out for missing a team meeting on the morning of a road game in Winnipeg. Although the entire team was stifled by Florida's Jose Theodore in their next game, Seguin made a critical contribution in the Bruins' next road outing in Columbus. His secondary assist played a role in Joe Corvo's go-ahead goal and eventual game-winner at 6:44 of the third period.
Living with Limits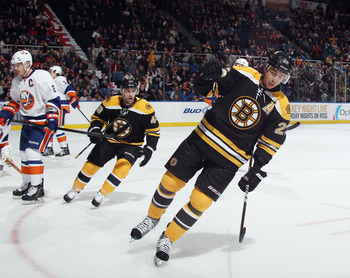 Bruce Bennett/Getty Images
Other than the Vezina-caliber goaltending of Tim Thomas and the Norris-caliber play of Zdeno Chara, Julien's Bruins have not been afforded much in the way of bona fide star power.
Seguin is steadily evolving, to be sure, but a major celestial body has not been seen ever since prolific playmaker and clutch goal-getter Marc Savard was belted by Pittsburgh's Matt Cooke.
And yet, in Savard's absence and through the 25 games he played last year even when he was still out of sorts, Boston has generated enough output to contend for and win championships.
Julien has simply been handed a fairly balanced depth chart by general manager Peter Chiarelli and, in turn, pulled out a sufficient supply of cumulative productivity from every constituent. In particular, everyone has collaborated to make the Bruins a peerlessly formidable even-strength team, which compensates for its somewhat inherent shortage of sharpness on the power play.
Because of that, within the past three seasons, the Bruins have supported their stingy defensive corps well enough to claim two Northeast Division titles and six playoff series victories. And a third divisional banner this season is as convincing a possibility as it was last year.
Sticking With What Works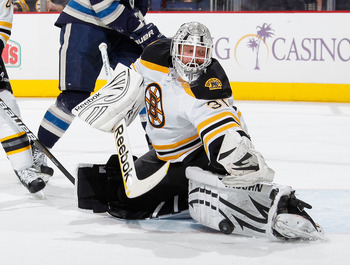 Gregory Shamus/Getty Images
Most observers should have entered this season logically inclined to assume that Thomas would neither be close to his championship form, nor be able to start as regularly as he has in recent seasons.
But being among the few with a thoroughly inside look and the power to make informed decisions, Julien clearly recognized through observation, and perhaps even conversation, that Thomas could maintain normalcy even on short rest after last season and summer.
There has since been little, if any call for regret in the way of goaltending.
Through more than two months of regular-season action, Thomas has started and finished 18 of the Bruins' first 28 games. In that time, he has won 13 decisions and retained key stats akin to his numbers from last season.
By the same token, Julien has rightly removed Thomas in favor of backup Tuukka Rask whenever the switch has been warranted.
Last Saturday's come-from-behind, 5-3 triumph in Columbus was a perfect microcosm of Julien's handling of the tandem in its two-plus years of existence. Thomas gave way to Rask at the second intermission with a 3-3 tie in hand and the cold, yet fresh-legged backup put forth a scoreless third period and earned credit for the win.
Keep Reading

Boston Bruins: Like this team?