Arkansas Razorback Football: Paul Haynes and the Future of the Razorback Defense
December 13, 2011
Wesley Hitt/Getty Images
Well, it's official.  Arkansas fans have gotten what they've been begging for: Willy Robinson is no longer the Hogs' Defensive Coordinator, and a young, fiery up-and-comer has taken his place.
While he wasn't exactly the big-name guy some were hoping for, Paul Haynes may just be that "diamond in the rough" hire that could make Bobby Petrino look like a genius in the long run.   That is, if you consider Ohio State as "the rough."
Haynes joins Arkansas' staff after spending the past seven seasons on the Buckeyes sideline.  He was responsible for coaching defensive backs under former head coach Jim Tressell, and was promoted to co-defensive coordinator when linebacker coach Luke Fickel was promoted to head coach on an interim basis for the 2011 season.
Though it is unclear whether or not Haynes would have retained a position on new head coach Urban Meyer's staff, it would be appropriate to assume his résumé would have led to consideration for open positions on other defensive staffs around the country. 
Instead, Bobby Petrino flew to Columbus last week to spend several hours discussing defensive philosophy with Haynes, and upon leaving the meeting he knew he had found Arkansas' next defensive coordinator.
Haynes' hire was announced on Saturday, and he was formally introduced to Razorback Nation in yesterday's press conference.
Now for the real questions: Who is Paul Haynes, and what does he bring to Arkansas that could transform their defense into one of the SEC's best?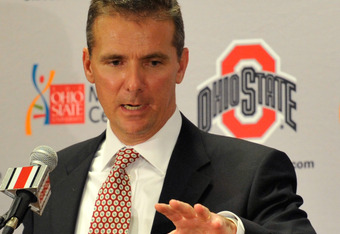 Jamie Sabau/Getty Images
Arkansas fans must first look at his experience. 
Some might suggest a lack thereof due to his minor role in play-calling (he called some second downs and all third downs at Ohio State last season) and his minimal involvement in game-planning.  They must first understand that Ohio State's organizational structure on defense hasn't been one that most would consider traditional.
Ohio State Defensive Coordinator Jim Heacock sought more of an authoritative role in organizing game plans and delegating coaching duties.  Position coaches handled the responsibility of teaching their player groups each week's changes and adjustments, and the entire defensive staff collaborated to call plays on game day.  This gave Haynes a chance to participate in all aspects of running a defensive unit while remaining focused on developing the fundamentals and techniques of the young men in Ohio State's defensive backfield.
So while Ohio State's system may not show an abundance of experience for Haynes on paper, his time spent in Columbus was filled with valuable lessons in developing and running a championship-caliber defense.
Another valuable component in assessing the Haynes hire is looking at the scheme he is expected to bring to Fayetteville. 
As stated in his introductory press conference, he prefers a four-man front (same as Willy Robinson) and likes to base his coverages around a quarter-quarter-half look.  In somewhat layman's terms, that means there will normally be four down linemen, two or three linebackers, and four or five defensive backs with a two-high safety look (from which the coverage can stem to multiple other coverages pre- or post-snap).
In other words, Haynes' base defense will be a rather simple, standard look. But where the defense thrives is on versatility and mismatches within the front seven.  The Buckeyes defense regularly showed a tendency to develop what has become known in the football world as "hybrid" players, and it has proven to be beneficial in their ability to create one-on-one circumstances in which the defender has an advantage.
For example, instead of a traditional look of symmetry on the defensive line, Haynes might flip-flop his personnel to the strong (tight end side) and weak sides of the line.  The strong side will feature a larger-than-normal defensive end (Cameron Heyward-esque) who can hold the point against the run and push the pocket towards the quarterback on passing downs, and the weak side will be manned by a more athletic, "hybrid" defensive end/linebacker.  He will often be standing and will split time between rushing the passer off the edge and dropping into zone coverage.
As offenses try to exploit the "weaker" side of the defensive line by running the ball in that direction, linebackers must be sound in filling gaps and backside defenders must swarm to the football.  Either way, this philosophy often creates a strength in numbers to both the strong and weak sides for the defense and is usually effective against the run if executed properly.  Facing teams like Alabama and LSU every year, Arkansas must improve its run defense and its physicality at the point of attack.
On the linebacker level, the inside (or "Mike") linebacker will need to be an extremely talented, physical ball hawk.  Ohio State has been blessed with several beasts at that position over the years, and it has proven to be crucial in the production of their defenses.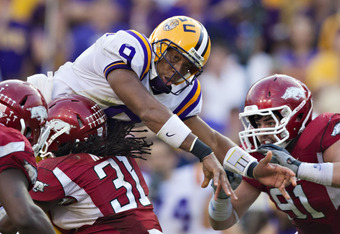 Wesley Hitt/Getty Images
Surrounding the Mike will be two more hybrid types.  On one side will often be a smaller, more athletic safety/linebacker  whose responsibilities will closely mirror those of a Jerico Nelson-type.  He'll often be asked to cover slot receivers and tight ends and could be an edge blitzer when the weak side defensive end drops into coverage.  Often times this position is played by a converted safety.
On the other side is more of a hybrid linebacker/defensive end-type of player.  He's athletic and fundamentally sound enough to cover the flat, hook/curl zones or tight ends in man coverage, but he's also a talented speed rusher who can create mismatches for opposing offensive tackles (and/or guards when the defensive linemen stunt, which they'll often do).  Think of a guy like Courtney Upshaw for Alabama when picturing who would be perfect for this role.
In the secondary, the philosophy is to avoid big plays.  On run plays it's vital for defensive backs to run to the football and be solid tacklers, even for the cornerbacks.  Sometimes the defensive philosophy leads to offenses putting a "hat on a hat" in the front seven and requires defensive backs to make one-on-one tackles on larger, more physical running backs.  It's important for these guys to win those battles.
If the scheme up front succeeds in making the quarterback uncomfortable, the defensive backs should always be in position to make reactionary, opportunistic plays in the passing game, thereby forcing a few turnovers.  The idea is to keep everything in front of you, keep it simple, react instinctively and make plays on the ball.
One thing Haynes' defensive backfields have always proven to be is sound fundamentally.  They always have fluid hips and well-trained eyes, and they catch the football when given the opportunity.  He stresses simplicity in coverage which allows players to react more instinctively and avoid over-thinking.
While it may seem complex in writing, the defensive philosophy of Paul Haynes is more vanilla than the one Arkansas has been running the previous four seasons.  Its core values revolve solely around effort and preparation.  Haynes believes that a defensive unit who works together, trusts a simple scheme and exerts maximum effort will be successful in this conference or any other.
As far as personnel is concerned, Haynes loses several key contributors to graduation, but a plethora of talent also returns.  First team All-SEC defensive end Jake Bequette, second team All-SEC middle linebacker Jerry Franklin, and multi-year starters safety/outside linebacker Jerico Nelson, safety Tramain Thomas and cornerback Isaac Madison all move on to graduation or the next level.
But thanks to strong recruiting during Petrino's tenure at Arkansas, the cupboard is far from bare.  Haynes could use defensive ends Tenarius Wright (6'2", 252 lbs) and Chris Smith (6'3", 251 lbs) in the hybrid defensive end/linebacker roles, and rotate four or five guys in the remaining spots on the defensive line.  Candidates for the strong side defensive end position could be D.D. Jones (6'5", 307 lbs) or Trey Flowers (6'4", 245 lbs) after he adds weight in his first collegiate offseason program.
At tackle, the Hogs return Byran Jones (6'2", 312 lbs) after a productive 2011, highly-touted JUCO transfer Robert Thomas (6'3", 308 lbs) and hole plugger Alfred Davis (6'1", 326 lbs).
Filling Franklin's spot at middle linebacker will be tough, but expect Alonzo Highsmith (6'1", 229 lbs) to be the man for the job.  In his first season at Arkansas after transferring from junior college, Highsmith amassed 73 tackles, 10.5 tackles for loss and 3.5 sacks.  If he can add weight and continue to improve, he should be the man in the middle.
Ross Rasner (6', 209 lbs) should be a more-than-worthy replacement for the departing Jerico Nelson at the safety/outside linebacker position.  Splitting time with Nelson this season, Rasner collected 50 tackles and 2 sacks.
In the secondary, Arkansas will return part-time starters Tevin Mitchel (6', 185 lbs) and Darius Winston (6', 191 lbs).  Both were highly-recruited out of high school (Mitchel was a 4-star and Winston was a 5-star), and should continue to improve under Haynes' guidance.
At safety, the Hogs lose Tramain Thomas and part-time starter Elton Ford, but Eric Bennett (6', 200 lbs) returns after a solid sophomore season in which he totaled 69 tackles and three interceptions.  The other safety spot will be filled by Darrell Smith (6'3", 203 lbs), Daunte Carr (6'3", 220 lbs), Ryan Farr (6'1", 195 lbs) or Alan Turner (6', 212 lbs). All will be entering their third year on campus.
Haynes understands the obstacles he'll face and the challenges he'll be forced to overcome in the process of improving Arkansas' defense.
With a potent, quick-scoring offense, it puts added pressure on a defense to be well conditioned and fully focused against teams whose intention is to wear you down physically and mentally by keeping you on the field.  Haynes must stress the importance of being in good enough shape to grind out tough games against the conference's most physical opponents—something they failed to do against Alabama and LSU this year, albeit both games were on the road.
Simply stated, you have to stop the run, put pressure on quarterbacks and take advantage of opportunities as a defense in the SEC, or you won't have a consistently competitive program. Haynes seems to place those priorities high on his list.
He must also understand what it takes to instill confidence into a defense that has previously lacked the success that naturally breeds confidence.  Watch teams like LSU and Alabama on defense and notice their tenacity and fearlessness.  They take the field with an arrogant chip on their shoulder, and their goal is to scare offenses into making mistakes.  That's the kind of attitude Haynes is used to at Ohio State, and success will come if he can instill that type of environment at Arkansas.
So as stated earlier, Hog fans got what they've been looking for.  They can look forward to a few changes on defense and some added fire in their locker room.  Will Paul Haynes prove to be final piece in Bobby Petrino's BCS National Championship puzzle?
Guess we'll just have to wait and see