Johnny Wilkinson: A Tribute to the Career of an England Rugby Legend
December 13, 2011
David Rogers/Getty Images
England Rugby's favourites son, Johnny Wilkinson, has announced he will retire from international rugby today. Wilkinson's career spanned 13 years and included 97 tests, including six for the British and Irish Lions. 
It was as an 18-year-old that Wilkinson debuted for England, coming off the bench in a 35-17 win over Ireland at Twickenham.
But it wasn't long before he was promoted to the starting lineup, taking to the field in the No. 10 jersey in his second test against the Wallabies in Brisbane two months later. The game wasn't a happy one, as an England team missing a handful of its stars was trounced by the Australians, 76-0.
A similar result followed two weeks later as what was arguably the worst All Black team of all time dispatched them 64-22 at Carisbrook. 
It was a tough introduction to the big time, but maybe it was these early failures that helped Wilkinson become the player he would go on to be.
After failure at the 1999 Rugby World Cup, England entered arguably its best ever period, losing just three games in the next four years, with Wilkinson playing a key role in this success.
During this period he would become the most recognised player in world rugby, perhaps best known for his iconic kicking style. But soon enough the success this kicking style would bring eclipsed this and Wilkinson earned a reputation as a deadly accurate goal kicker, right up there with anyone who has ever played the game.
In 2002 he would deliver what could have been his very best performance, in a display of all round excellence against the All Blacks. England would win this game 31-28, with Wilkinson contributing a dropped goal, three penalty goals, two conversions and a try. Next to his exploits at the following year's World Cup, this try would arguably be Wilkinson's greatest individual play, showing superb vision to put a chip kick in behind the All Black defence and great desperation to re-secure the ball and score the try.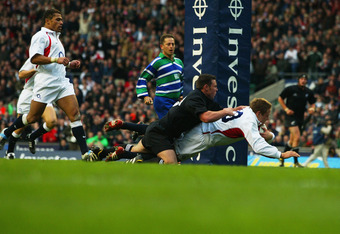 Ben Radford/Getty Images
The following year England would travel to New Zealand and defeat the All Blacks on the back of four penalties and a dropped goal from Wilkinson. The win remains the only time England has defeated the All Blacks in New Zealand.
But it was his actions later that year that would secure his place in history. Entering the 2003 Rugby World Cup, Wilkinson was seen as England's great weapon, behind an experienced pack including Lawrence Dallaglio, Jason Leonard and captain Martin Johnson. They were favoured by many to take the cup home, with the All Blacks being their main competition.
After some good form in the pool matches and quarterfinal, Wilkinson kicked 24 points, including three dropped goals to beat France in the semifinal to take England to their second World Cup final.
The great threat, the All Blacks, had succumbed to the Wallabies in their semifinal, meaning that it was the hosts, Australia, that stood in the way of England and World Cup glory.
What unfolded was a classic and has gone down as one of the greatest games ever played.
England shot out to a 14-5 lead at halftime, but an Australian fightback saw that the score was locked at 14all at full time.
The two sides traded penalties in Extra Time and with time almost up the score remained at 17-all.
It was the English who found themselves in possession within kicking range with the game on the line. The ruck was on Wilkinson's bad side and many assumed England would work their way across the field to give their kicking maestro the best chance of landing the dropped goal.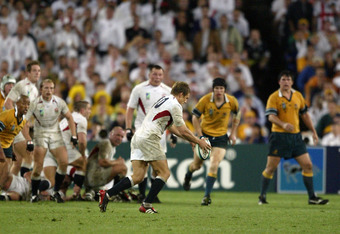 Stuart Hannagan/Getty Images
But they didn't. Wilkinson called for the ball and off his least-favoured right foot, slotted the now-famous dropped goal that would win England the Rugby World Cup. The win was and remains, the only one for a northern hemisphere team in a World Cup final.
The next years would be frustrating for Wilkinson, as various injuries saw him sidelined for lengthy periods of time, seeing he would only play three internationals, all for the Lions, between the 2003 World Cup and February 2007.
After some solid performances finally back in the white of England, Wilkinson was named in the squad for the 2007 Rugby World Cup. Many south of the equator questioned his ability to still perform at this level, but England showed faith in their hero from 2003.
It was a slow stuttering start for England, but they picked up momentum as the tournament progressed and after an upset of Australia in the quarterfinals thanks to four Wilkinson penalties, it was yet another semifinal against France that stood between England and consecutive World Cup finals.
Here, Wilkinson was nothing short of brilliant as a late dropped goal saw England secure a 14-9 win.
Ultimately it was too much to ask to get up over the Springboks a week later, but the 2007 England team were seen as great over-achievers and Wilkinson deserves much of the credit for this, showing just how important he was to this England team.
The next four years saw England have their share of win's and losses, with Wilkinson seeing far more time on the field than the previous four years.
But by the time he arrived in New Zealand for his fourth World Cup this year, he was a shadow of his former-self. Despite this, he was given the job of being England's top No. 10  showing little confidence in Toby Flood whom they had preferred earlier in the year.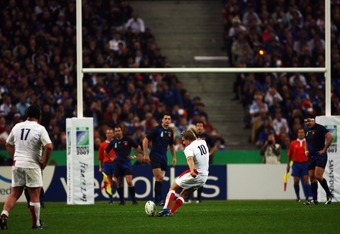 Alex Livesey/Getty Images
It wasn't a happy time for Wilkinson as he struggled with the boot and England exited the tournament in the quarterfinals after a very average display of rugby during the tournament.
But this shouldn't take away from what the man achieved.
As a kicker there have been few better, with only Daniel Carter having scored more test points, although Carter's total includes 29 tries to Wilkinson's seven. As much as they love their master No. 10, even the most one-eyed New Zealander would have to concede Wilkinson's kicking at his best surpassed that of Carter. 
He was a brilliant tactician, often putting England in positions to win games and he had the vision and kicking expertise to put these tactics into effect.
His running game was underrated, particularly early in his career and perhaps suffered from being a part of an England team that didn't have the fire power out wide to allow Wilkinson to really show his full range of talents. Had he played for the All Blacks or the Wallabies it's possible we would talk of a free running player with the ability to put his men away, rather than a great kicker. Indeed when he did combine with Jason Robinson he was able to create magic.
Defensively he was very good as far as flyhalf's go, never shying away from contact and making his tackles.
Where does he rank amongst the all time greats of the game?
Well that is impossible to tell as comparing between era's is virtually impossible. But if one uses the logic that a great player in one era would be a great player in any era, Wilkinson would surely rank highly.
When you think of the all time great flyhalf's, the names of Barry John, Michael Lynagh, Hugo Porta and Grant Fox come to mind amongst others, while from recent years Daniel Carter and Stephen Larkham both surely fall into this category.
Wilkinson's record stacks up with any of these men and he will undoubtedly go down as one of the top flyhalf's to ever play the game.
But for now, lets just take another moment to reflect on what has been an outstanding career.