San Francisco 49ers: Big Trouble in Niner Paradise?
December 14, 2011
What do you get when you combine the best defense in the NFL with the worst red-zone offense in the league? 
The 2011 San Francisco 49ers.
If you read last week's column, you may be wondering if I am bipolar at this point. The truth is, I am starting to feel like it.
I mean, it was just last week when the 49ers looked like they were on the incline offensively, and I was complimenting everyone in a Niners jersey. But really, it's not me who is bipolar; it's these 49ers.
The 49ers remain on top of the NFL—defensively. They are leading in every important statistic. They dominate the run defense and the red zone. They lead the league in takeaways and in points allowed. They have essentially mastered the defensive side of the ball. 
Offensively, the 49ers are ranked 32nd out of 32 teams in red-zone scoring. Dead last.
Kicker David Akers is on pace to break Jerry Rice's scoring record. And it's not because he is a fabulous kicker (although he is); it's because the 49ers are allergic to the end zone.
Out of the last 15 times that the 49ers have crossed an opponent's 20-yard line, they have only scored three times. That's not going to win many games in the NFL, regardless of how well the defense plays.
Who is to blame?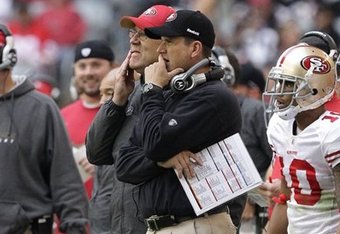 It's hard to pinpoint, but to me it looks like a group failure. 
The offensive line is obviously not holding up like they were midseason. The receivers are dropping some catches that they definitely should be making. Alex Smith is almost starting to remind me of why so many of us were begging for his removal during the offseason. And surprisingly, the amazing coaching staff—that we have all worshipped over the past few months—seems to be dropping the ball as well.
They have all but abandoned their bread and butter—the run.
I am not sure what is causing this offensive chaos and I don't want to jump to conclusions, but something has got to give. 
If the 49ers want to do anything more than show up in the postseason, they need to figure it out quickly. With three weeks remaining in the regular season, the 49ers have to be firing on all cylinders in order to make a long drive into the playoffs.
Many fans are taking the "glass-half-full" approach. They are "happy just to be nominated." 
Some, like me, would like to bring home the Emmy (Lombardi). 
Unless these 49ers can get it together—and soon—this glass is going to look half-empty heading into the final run.
Now, on that depressing note, let me say this: We have seen this team go from being last year's laughing stock, to this year's contenders. They obviously have the talent to turn it around, but it has to happen now. 
As fans, we just have to keep our fingers crossed, and have faith that Harbaugh can work his magic. We'll find out what this 49ers team is made of on Monday night.
This article was originally published in the Benicia Herald.
Thank you for reading. Please join me on Twitter @ryanthebroker and Facebook.