Toronto Maple Leafs Sale May Help Hamilton Get an NHL Franchise
December 13, 2011
Bruce Bennett/Getty Images
The recent sale of the Toronto Maple Leafs to arch-media rivals—Rogers and Bell, who own Canada's two major sports-television networks, TSN and Sportsnet—may finally open the door for Southern Ontario relocation/expansion.
It has long been this column's view that Southern Ontario has the most lucrative NHL market and is certainly capable of sustaining one if not two more franchises.
There are five possible candidates for an NHL team in the region: a second Toronto team, Hamilton, London, Kitchener and Oshawa.
So far, there are at least three possible bidders: a Markham group, a Vaughan group and Jim Balsillie in Hamilton.
Of these, only Hamilton has a small NHL-size arena already in place and is willing to spend the money to bring it up to the NHL median of 18,000-plus seats.
The biggest obstacle to placing another team in Southern Ontario is said to be the territorial issue.
Another team will be placed within the territorial boundaries of Toronto and possibly Buffalo, thus damaging the marketing capabilities of both teams.
Hitherto, the Leafs' opposition to a second Southern Ontario team was taken for granted because they had nothing to gain if another team entered the region, but that may not be true any more.
Rogers and Bell bought the Leafs because they each want more games on their television networks.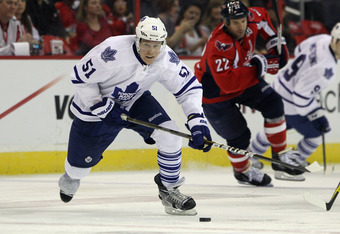 Bruce Bennett/Getty Images
But even with the new ownership, the Leafs' 82-game schedule would still have to be divided between them and with the CBC, which broadcasts all the Leafs' Saturday night games and playoff games.
How to get more games? Get the rights to the second most popular team in the region—Hamilton.
It's been estimated that a Hamilton franchise (or any new Southern Ontario team) could be the third most valuable in the NHL, behind only Toronto and the New York Rangers.
Now that the Leafs are owned by two media conglomerates, they could be persuaded to relent in their opposition to a Hamilton team if they were given the broadcasting rights to their games in exchange for agreeing to their admission to the NHL.
Naturally, any deal would have to guarantee Hamilton sufficient television revenue, but there is no reason why a backroom deal can't be worked out to satisfy all parties.
A Hamilton franchise would almost double the local NHL games that TSN and Sportsnet could broadcast in Southern Ontario. Instead of being viewed as a marketing a rival, Hamilton would be considered an indirect partner of a media team.
In spite of the recent legal battles with Jim Balsillie, the NHL saw fit to take his Blackberry money for television ads during the playoffs last year.
Commissioner Bettman then told him and Hamilton (like he told Winnipeg, Quebec and Hartford) to be patient.
But with the sale of the Leafs, perhaps one of the main opponents will have a change of heart, and Hamilton's NHL dreams will finally come true.