Carter's NHL Power Rankings: December 12: Bruins No.1 for Third Straight Week
December 13, 2011
Elsa/Getty Images
As each week of the hockey season passes, I continually believe that the Boston Bruins will be representing the Eastern Conference in the Stanley Cup Final. I've watched a couple of their games this week, seen highlights, seen the stat sheets and looked at their roster. I do this because I'm trying to find a weakness in them and I honestly can't find one right now.
They have one of the best offensive units in the NHL. The have the best goaltending in the league with not one but two great goaltenders, and have great special teams units and kill penalties very well. With that said, I have the Boston Bruins as my number one team in my NHL power rankings for the third week in a row.
Here's how I see the 30 hockey teams from best to worst. Enjoy the read and feel free to leave your thoughts on the bottom of the page.
1. Boston Bruins (18-9-1)
As I mentioned earlier, I look at the Bruins and I don't see much of a weakness with this team. Offensively, they have lots of talent with guys like Tyler Seguin, Milan Lucic, and Brad Marchand. They also have not just one, but probably the top two goaltenders in the Eastern Conference.
2. Detroit Red Wings (18-9-1)
Probably the best defensive team in the Western Conference. Having a fantastic goaltender like Jimmy Howard can help your defensive numbers a lot. Howard has 17 wins, a 1.85 GAA and a.931 save percentage. Did I mention he was a great goaltender?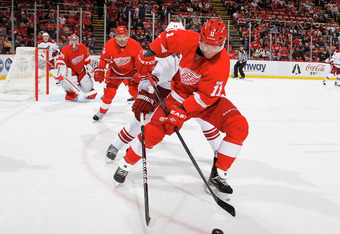 Gregory Shamus/Getty Images
3. Vancouver Canucks (18-10-1)
Like the first two teams in my rankings, the Canucks don't have much of a weakness right now. Obviously, it's not surprising that the Sedins are in the top five in points right now, so they are two of the biggest reasons why the Canucks are having so much success offensively.
4. New York Rangers (17-6-4)
A great defensive hockey team that has a great chance of making it a long way into the playoffs. They have only given up 60 total goals which is the second lowest total of any team.
5. Philadelphia Flyers (18-7-3)
Arguably the best offensive hockey team in the league. They are the first team this year to score over 100 goals. Entering Monday's games, they have 101 total goals this year.
6. Pittsburgh Penguins (17-9-4)
It's going to be interesting to see how the Penguins are going to do without Sidney Crosby again. I don't think the Pens are going to have too much of a tough time without him. I think without him, the Penguins will still be one of the best offensive teams in the league.
If they can get 38 points through their first 30 games and most of those were played without Crosby in the lineup, then I think they can do pretty well without him this time as well.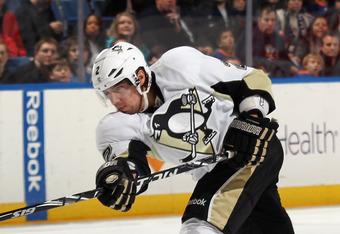 Bruce Bennett/Getty Images
7. Minnesota Wild (20-7-3)
I understand that most of you reading this are wondering why the Wild are not ranked number one. They have 43 points which leads the entire NHL and they are the first team to reach 20 wins.
Despite their having one of the better defensive teams in the NHL, the Bruins (number one team in my rankings) have scored more goals, given up fewer goals, and have a better power play unit, and a better penalty killing unit than the Wild.
8. San Jose Sharks (15-10-2)
Another great defensive hockey team. They have given up only 2.37 goals per game. Only four other teams have given up fewer total goals than the Sharks have.
9. St. Louis Blues (17-9-3)
Brian Elliott is one of the more underrated goaltenders in the league and is probably my favorite at this point to win the Vezina Trophy. He has a 12-2-0 record, a 1.46 GAA, and a .947 save percentage. Very impressive and is the key reason why the Blues have one of the better teams in the NHL this year.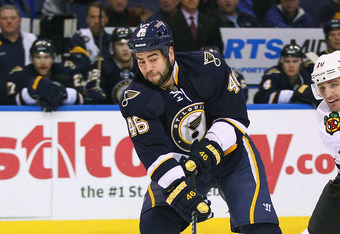 Dilip Vishwanat/Getty Images
10. Chicago Blackhawks (18-8-4)
The Blackhawks are the only team in the NHL to have four players with at least 29 points this season: Jonathan Toews (32), Patrick Kane (31), Patrick Sharp (30) and Marian Hossa (29).
11. Florida Panthers (16-9-5)
Like the Blackhawks in the West, The Panthers are the only Eastern Conference team to have three players with at least 29 points this season: Kris Versteeg (30), Tomas Fleischmann (30) and Stephen Weiss (29).
12. Edmonton Oilers (14-13-3)
After winning seven out of eight games dating from October 22 to November 8, the Oilers have only won five of their last 16 games.
13. Phoenix Coyotes (17-9-3)
Since scoring three power play goals in their first game of the season against the Sharks back on October 8, the Coyotes have not scored more than one power play goal in a game. They currently have only scored on 10.9 percent of their power play chances, which ranks last in the NHL.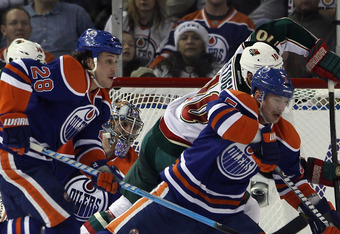 Bruce Bennett/Getty Images
14. Buffalo Sabres (15-12-2)
The Sabres have one of the best penalty killing units in the NHL, killing 85.8 percent of penalties this season. This ranks seventh in the league.
15. Washington Capitals (15-12-1)
After not scoring more than one power play goal in a game since October 22, the Capitals knocked in four power play goals against the Maple Leafs on Friday night. Last Monday, they were ranked only 21st in the league in PP percentage. They are now 10th, mostly because of going four out of six against the Leafs a few days ago.
16. Nashville Predators (14-11-4)
After losing seven of their last nine games, the Predators have won two games in a row. They have scored on 20.4 percent of their power play chances, which ranks fifth in the league.
17. Los Angeles Kings (13-12-4)
Imagine how good the Kings would be if they actually had a good offensive team. They have only scored 65 goals this season and are ranked last in the Western Conference.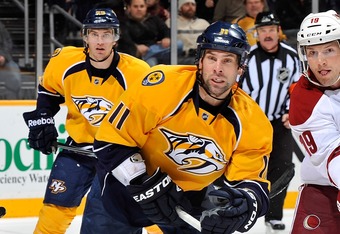 Frederick Breedon/Getty Images
18. Toronto Maple Leafs (15-11-3)
Is that Joffrey Lupul's name I see at the top of the total point leaders list this year? Why YES! Yes it is. Lupul has 33 points, 20 assists, and 13 goals this season. He is currently on pace to score 93 points. Not saying he will definitely reach that number, but anything can happen.
93 points will be 40 more points than his best offensive statistical season, which was the 2005-06 season in his first stint with the Ducks.
19. Montreal Canadiens (12-11-7)
The Habs have only scored on 11.8 percent of their power play chances, which ranks third-to-last in the NHL. They have only scored more than once on the power play in the same game on two occasions this season.
20. Dallas Stars (16-11-1)
With a mediocre offensive team, the Stars are lucky to even be tied for the division lead right now. They have scored only 73 total goals this season, which ranks 24th in the league.
21. Calgary Flames (14-13-2)
Since their three-game losing streak on Thanksgiving week, the Flames have won six of their last eight games and are currently on a three-game winning streak.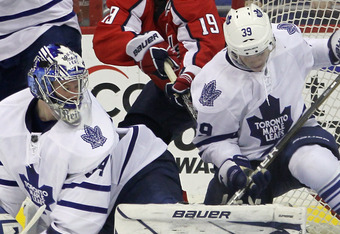 Bruce Bennett/Getty Images
22. New Jersey Devils (14-13-1)
The Devils have the absolute best penalty killing unit in the league. They have only allowed more than one power play goal in a game ONE time this season (October 22 against Penguins).
23. Winnipeg Jets (13-12-4)
Despite getting plastered by the Red Wings on Saturday night, the Jets have played very good hockey since the start of December. Their loss to the Wings is their only December loss in the five games they played this month.
24. Colorado Avalanche (13-16-1)
The Avalanche have one of the worst penalty killing units in the NHL. After allowing their opponents to score nine power play goals overall in November, they have already given up seven PP goals in December and they've only played five games this month.
25. Ottawa Senators (13-13-4)
It's no secret that the Senators have had goaltending issues this season, giving up 105 goals already.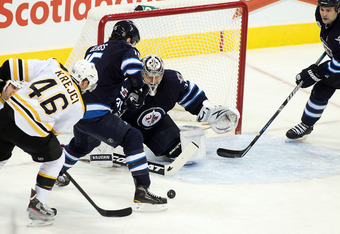 Marianne Helm/Getty Images
26. Tampa Bay Lightning (12-15-2)
The Lightning is another team with poor goaltending. They have already given up 96 goals through their 29 games. Mathieu Garon has only a 6-7-1 record with a 2.70 GAA (25th among goaltenders) and a .909 save percentage.
27. New York Islanders (9-12-6)
The worst offensive hockey team in the league, only scoring 62 goals in their 27 games (2.29 goals per game).
28. Anaheim Ducks (8-16-5)
Only two other teams have scored fewer goals than the Ducks have. Anaheim has also been outscored by a combined 28 goals this year in their 29 games. They only have two road wins this year.
29. Columbus Blue Jackets (8-17-4)
They have eight wins and 20 points through 29 games. They are averaging only 2.44 goals per game. They have already given up 99 goals in their 29 games. They have only killed 73 percent of their penalties. Their power play scoring percentage is only at 12 percent. They stink.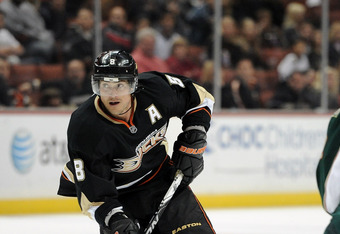 Harry How/Getty Images
30. Carolina Hurricanes (9-18-4)
Last week they couldn't defend their way out of a paper bag. This week they can't block my soda can sitting next to me. They stink too, just like the Blue Jackets.
Carter's 2012 NHL Award Leaders
Hart Trophy (Most Valuable Player)
1. Claude Giroux (Flyers): 39 points, 23 assists, 16 goals
2. Phil Kessel (Maple Leafs): 36 points, 18 goals, 18 assists
3. Daniel Sedin (Canucks): 34 points, 22 assists, 12 goals
4. Joffrey Lupul (Maple Leafs): 33 points, 20 assists, 13 goals
5. Henrik Sedin (Canucks): 33 points, 25 assists, 8 goals
Vezina Trophy (Top Goaltender)
1. Brian Elliott (Blues): 12-2, 1.46 GAA, .947 save percentage
2. Jimmy Howard (Red Wings): 17-6-1, 1.85 GAA, .931 save percentage
3. Tim Thomas (Bruins): 13-5, 1.92 GAA, .938 save percentage
4. Nikolai Khabibulin (Oilers): 10-6-3, 1.95 GAA, .933 save percentage
5. Jean-Sebastian Giguere (Avalanche): 4-4, 1.95 GAA, .923 save percentage
Norris Trophy (Top Defenseman)
1. Erik Karlsson (Senators): 25 points, 23 assists, 2 goals
2. Brian Campbell (Panthers): 24 points, 22 assists, 2 goals
3. Marc-Andre Bergeron (Lightning): 22 points, 19 assists, 3 goals
4. Shea Weber (Predators): 21 points, 15 assists, 6 goals
5. Alexander Edler (Canucks): 21 points, 16 assists, 5 goals
Calder Trophy (Rookie of the Year)
1. Ryan Hugent-Hopkins (Oilers): 32 points, 19 assists, 13 goals
2. Craig Smith (Predators): 22 points, 14 assists, 8 goals
3. Adam Henrique (Devils): 20 points, 14 assists, 6 goals
4. Matt Read (Flyers): 19 points, 11 goals, 8 assists
5. Luke Adam (Sabres): 19 points, 10 assists, 9 goals