Juventus and Roma Battle It Out In Showdown of Italian Superpowers
December 13, 2011
Paolo Bruno/Getty Images
Juventus F.C. and A.S. Roma are two of the best teams in Italian football. Indeed, they are part of the elite in Calcio, alongside A.C. Milan and Inter Milan. Historically, at least, those four constitute the usual Scudetto suspects. However, lately this has changed.
While only Inter and A.C. Milan have won the Scudetto recently, teams like Napoli, Lazio and Udinese are fighting their way into the upper heights of Serie A. Last year, Napoli spent most of the year towards the top of the table. In fact, until Inter (under Leonardo) recovered from their disastrous Rafa Benitez-led start to last season, Napoli was the second-place team.
The emergence of other clubs into the Calcio elite is not the only change. As anyone who follows Serie knows, Juventus suffered a precipitous decline in long-term form after Calciopoli. They have since recoverd under Conte, but nonetheless their place in Serie A has changed. Granted, they may be on the way back to their rightful place as ''the usual suspects'', but as of now they still have to prove themselves again.
Roma, too, has undergone changes recently. More specifically, the team got both a new owner and coach this summer. The new ownership brought in Barcelona ''B'' coach Luis Enrique, who started an ambitious rebuilding project. Enrique brought in players like Bojan Krkic and Fernando Gago. Bojan came from Barcelona (just like Enrique), while Gago came from Real Madrid, where he was out of favor. This new-look Roma has been attempting to try a Barcelona-esque style of game play, with heavy control of possession.
That said, they have struggled with their new tactics. While they have shown flashes of brilliance, they languish currently in the middle of the table. To make matters worse, three of their best players (Bojan, Gago and their phenomenal centerback Juan) received red cards in last week's 2-0 loss to Fiorentina.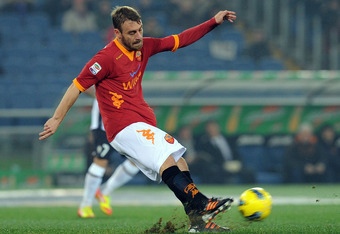 Giuseppe Bellini/Getty Images
Those suspensions, coupled with some injuries, left Roma with a pretty decimated backline. Daniele De Rossi, who is usually Roma's star midfielder, instead substituted as Roma's fine centerback. He performed pretty admirably for someone who was playing out of his usual position.
Regardless of how De Rossi played, going into the game, Roma was not favored by many. The assumption by some was that Juventus would plow through their feeble defense. I was a bit wary of the Roma attack, with Francesco Totti in particular giving me worry. Totti has a reputation as one of the greatest for a reason, and he was sure to show Juventus that.
Now, for the game itself. Roma came in knowing that they had to go on the offensive, as their main weakness was the backline. Juventus, meanwhile, were up to their usual ways, which was heavy possession and frequent attacking play.
It was a true game of monday night football, as the two sides battled for victory. The aforementioned Roma icon Francesco Totti gave Juventus some serious trouble, as he had a pretty big hand in Roma's first goal. His pass to Pablo Osvaldo led to Osvaldo drawing a corner, and then his short passing helped open up the Juventus defense for Daniele De Rossi's successful shot on goal.
Arturo Vidal had a chance to clear De Rossi's shot, but he completely whiffed it. It was an uncharacteristic mistake from the Chilean Sensation (as I like to call him), but he made up for it over the course of the game with his grit and ability.
Roma had done something that neither A.C. Milan nor Inter Milan could do: score first on Antonio Conte's Juventus. Roma may be struggling this year, but do not mistake their table position as a sign of the team's ability. As they showed today, Roma can tango with the big boys.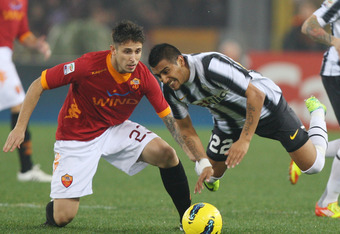 Paolo Bruno/Getty Images
Of course, this is Antonio Conte's Juventus. So the De Rossi goal was followed with two straight corner kicks for Juve. They were not that dangerous, but the point remains that the players did not get distracted by going down a goal, and plowed right ahead in attack.
Clearly, the players remembered the spirit and "grinta" of the Great Neapolitan Comeback. It was only a few weeks ago, so I'm sure they haven't forgotten it.
The first half continued with Juventus making chances for goals, but not scoring any. Both teams had a fair amount of attacking movements against each other, although Juventus looked the more dangerous.
The second half started off with a bang, or rather, a flare. More specifically, a fan threw a flare onto the field. Luckily, a wacky Italian firefighter was there. The friendly firefighter came to the rescue and put out the flare.
Juventus soon had a flair of their own. I'm not talking about the Nature Boy here, though Ric Flair is a great man. I'm talking about a Giorgio Chiellini header going straight into the Roma goal. The inexperienced hodge-podge Roma backline finally buckled under pressure from the Bianconeri. Chiellini was left unmarked, and pounced on the ball to head it goalwards.
Perhaps my favorite memory of the game was the team's celebration after the goal. The microphones were close enough that those of us viewing the game on television could hear the players shouting and celebrating. I will not lie, It gave me a pretty smile.
Still, Vidal currently remains the 2011-2012 season celebration champion. Until his ''shots'' celebration with Simone Pepe is surpassed, Vidal will remain champion. Pepe deserves credit too, but the move was extra ballsy for Vidal, given his troubles involving the Chilean national team.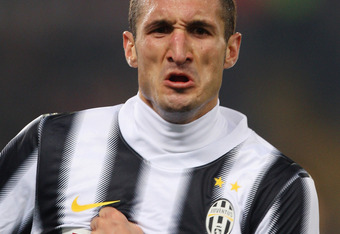 Paolo Bruno/Getty Images
Anyway, back to the match. Chiellini's goal was followed almost immediately with a penalty for Roma. Arturo Vidal took down Erik Lamela in the box, and the referee awarded Roma with the penalty. The dangerous Totti lined up to take the kick, but he was not ready to pass the Buffon Challenge. Buffon blocked the penalty, and Juventus were brought back from the edge of defeat.
Buffon made one more impressive play. In the 83rd minute, Juventus was protecting against a heavy Roma attack. Fabio Simplicio had the ball and was coming right towards Buffon, but Buffon covered him well without fouling him. There very well could have been a goal on that play, had Simplicio passed to Totti. However, Simplicio instead allowed Buffon to shut him down.
Fabio Quagliarella made another appearance. The man is now definitely considered a regular player for this Juventus side. I predict that he will start more games before the winter break, perhaps the game against Novara. Quags did not score, but he had several dangerous attempts.
The newboy Eljero Elia also made an appearance, off the back of getting a fair amount of playing time against Bologna in the Coppa Italia (sorry TIM). Elia is a very, very pacey winger. Indeed, if I were to give him a nickname (one like Mark ''The Sanch'' Sanchez) it would be, quite simply, "Pace." His speed led to one serious Juventus attack, although it quickly fizzled.
Elia, for all his speed and attacking ability, is not a great defender. He really struggled to help Lichtsteiner while defending. This mirrors the struggles last year of Milos Krasic, who excelled offensively (at first) but consistently struggled to cover the right flank on defense.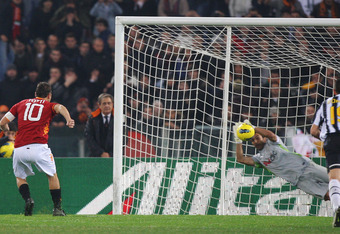 Paolo Bruno/Getty Images
Thankfully, the man who cleans up the mess this year is Stephan Lichtsteiner, one of the best right backs in Italy. Last year, the defensive absence that Krasic often left was supposed to be filled by Marco Motta. Yikes.
Juventus also subbed on Emanuele Giaccherini (though before Elia was put in the game), and he was definitely a game-changer. Though he did not score, he had several pretty serious challenges, including one placed shot that was incredibly close to being a goal. Giaccherini has earned much praise from Antonio Conte lately, and he is only getting better.
Even though there were six minutes of added time (more like Fergie Time in this context), Juventus could not get the winning goal. They spent plenty of time in Roma's half, even during the added time, but nothing came of it.
Antonio Conte said in his post-match press conference that he was pleased with the team. I had hoped that Juventus would score a second goal and secure the win, but I cannot complain with a hard-fought come-from-behind draw. Roma brought their A-game, but it was not enough to defeat Juventus.
Juventus remains the only unbeaten team in Serie A and in Europe. Manchester City were unbeaten in the Premier League for a long while (though they lost to Napoli in the Champions' League) until they lost to Chelsea today.
No one knows how long Juventus will stay undefeated. I have faith in Conte and his players, but the season is still young. This is no doubt one of the top teams in Italy, though.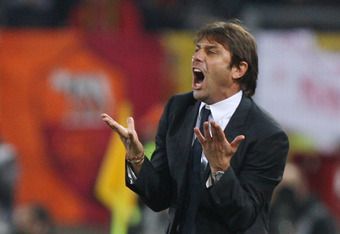 Paolo Bruno/Getty Images
Last year around this time, I made an unfortunate prediction. As Juventus had been riding an unbeaten streak for a while (though it was not nearly as impressive or strong as this year's unbeaten streak), I boldly proclaimed that they were my favorites for the Scudetto. Of course, they immediately capsized after the winter break, and finished in seventh place.
For that reason, I will avoid any bold proclamations at such an early time. The game next Wednesday against Udinese, who are now tied in first with Juventus, should be one more big test for Juventus. They have already successfully passed all of their previous tests, but we will have to wait and see what happens next week.
You can follow David Tenenbaum on Twitter: @DTenenbaum