Washington Nationals: Winter Meetings Review According to TPR
December 12, 2011
Mike Ehrmann/Getty Images
Ladies and gentlemen, we have reached the end of the road. The Nationals are last in the alphabet, only as Mike Rizzo has managed to build a very good farm system that is just beginning to percolate.
The Nationals were not particularly active during the Winter Meetings, but they have some important items on their to-do list.
More than anything, they have a hole in center field you could drive a Buick through. Rizzo has been on the phones looking for someone to plug in there, and his search keeps coming back to Tampa Bay and B.J. Upton.
Rizzo has been dancing so much, you would think they were on Dancing with the Stars. With the relievers the Nationals have, you would think there would be a fit they could find.
Infield
The Nats signed Adam Laroche to a two-year deal a year ago. His first season in DC was very forgettable. Michael Morse ended up taking over at first and blossomed into a great hitter.
The plan is for Laroche to resume his spot at first and for Morse to go back to left field. The best laid plans of mice and men often go awry as they say. Laroche is a superior defensive first baseman, so it would be better for all involved if he can remain healthy.
The rest of the infield is young and promising. Wilson Ramos and Danny Espinosa took over at their respective positions (catcher and second base) and performed very well.
Ramos had a very horrifying ordeal this winter when he was kidnapped in his native Venezuela. Fortunately for all involved, he came out unscathed.
Derrek Norris stands on the horizon, but Ramos should hold the position for another season.
Espinosa is a brilliant defender and had solid on-base skills. But many discount him because of a low batting average. He had a low BABIP, so that should turn around this season.
Ryan Zimmerman is ready to be a star if he can ever make it through a season unscathed.
That leaves Ian Desmond. He is a steady, if unspectacular fielder, but struggles at the plate. I'm sure the Nationals are hoping an upgrade comes in the next year or so.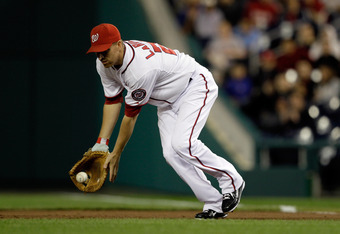 Rob Carr/Getty Images
Outfield
Jayson Werth's contract was the butt of every joke last offseason. Fortunately for Rizzo, there are new contracts to poke fun at. Last season was a down year for Werth, but he was still a positive impact player according to TPR.
Look for him to have a much better season. If he does, the Nationals will make some noise in the NL East.
The rest of the outfield is a bit unsettled. If Laroche is healthy, the Nats will be just fine with Morse in left field. If Laroche can't go, then the Nationals will have a very interesting question to answer.
Is Bryce Harper ready now or does he need more seasoning? Rizzo wants him to have more time down on the farm, but that might not be possible.
Center field is a mess. Rick Ankiel wasn't good overall, but he was strong defensively.
Roger Bernadina is penciled in as the starter, but he is really a fourth outfielder at best. This is a spot where Upton would really come in handy.
If the Nationals don't want to part with relief pitching or prospects, they should kick the tires on Coco Crisp. He isn't brilliant, but he would be an upgrade over Ankiel and would be a nice top-of-the-order hitter.
Starting Rotation
The Nationals hoped to get in on the C.J. Wilson sweepstakes, but it was too rich for their blood.
The Nationals have the makings of a very good rotation. If Stephen Strasburg can give them 180 innings, he could become a Cy Young candidate. He is joined by Jordan Zimmerman, John Lannon and Chien-Ming Wang.
Wang came back late last season and looked good in limited time. If he could somehow return to the form that allowed him to win 19 games in back-to-back seasons, the Nationals will surprise a lot of people.
Zimmerman was a positive impact starter as well, while Lannon could charitably be called average.
Still, average pitchers have value in this pitching-starved universe.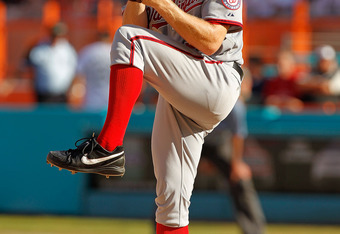 Mike Ehrmann/Getty Images
Ross Detwiler is penciled in as the fifth starter, but I wouldn't be surprised to see that change before pitchers and catchers report. Detwiler was uninspiring as a starter, but he could find a home in the bullpen as a swing man.
As everyone knows, you rarely make it through a season with your rotation intact.
Bullpen
This is the strength of the Nationals. Very few teams have a duo as dynamic as Drew Storen and Tyler Clippard. Rizzo flipped Colin Balester for Ryan Perry of the Tigers. That will be an interesting situation to watch. Most American League pitchers find the NL easier, so he could be another solid reliever.
Doug Slaten used to be one of the good young relievers, but he finds himself as a non-tender candidate. If he comes back, the Nationals will try to revive his career slowly. He is immensely talented, so that is always a possibility.
Henry Rodriguez was very good from the left side and should be again this season. Plus, the Nationals' farm system will throw in another good arm or two as well at some point this season.
Rest of the Offseason
The Nationals' to-do list is very simple and straightforward. They must first solve their center field problem. It might cost them some of their bullpen depth and if it does, they will have to address that.
Yet, the center field situation is just too important to ignore. If they get a quality player there, their everyday lineup will approach those of the other major players in the NL East.
Adding another quality starter would be priority number two. Their rotation should be good, but almost every team could use another quality starter and the Nationals are no different.
If the Nationals meet those two needs, they will be a dark horse team in the NL East.