Virginia Basketball: 10 Things We've Learned Through 11 Games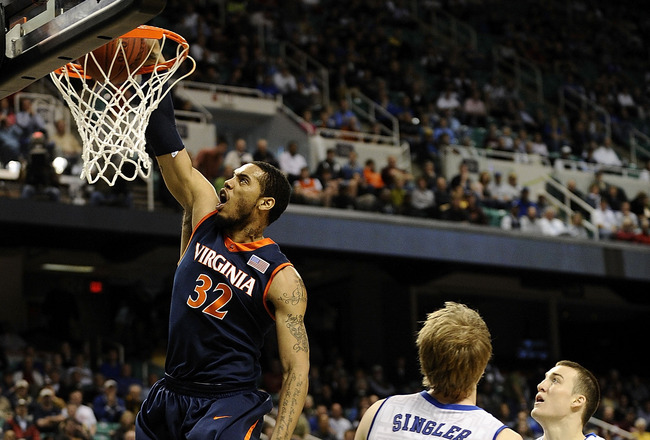 Jeff Zelevansky/Getty Images
Virginia basketball is ranked for the first time in seemingly forever and there is hope in the air.
The Cavaliers are 10-1 and looking to make some noise in the postseason.
Will this be the year that the orange and blue make it to the NCAA tournament for the first time since 2007?
It is hard to say what the next few months have in store, considering just how long a basketball season can be. Virginia has looked like one of the best teams in the country at certain points but have also looked dazed and confused for long stretches.
Virginia is a team on the rise but can they crest into the Big Dance?
Even with all these questions, we do have a few answers through the first 11 games. Let us take a look at lessons Virginia fans can take to heart.
Mike Scott Can Take over Games
Kevin C. Cox/Getty Images
Mike Scott missed all but ten games last year with an ankle injury that not only sidelined him but hopes for a Virginia upset berth into the NCAA tournament as well.
Scott was plagued by the injury all year and people wondered if he would ever be back at full strength.
Well, look no further than Seattle.
Last season, Scott's final game before taking the medical redshirt was an unimpressive bout against Seattle in which the Cavaliers lost 59-53. Scott shot just 3-of-7 and clearly looked hobbled.
Facing Seattle again this year, and on the road this time, the senior took over the game offensively when the Cavalier defense continued to break down. He scored a career-high 33 points and looked to be one of the best big men in the ACC.
As the active leader in career double-doubles in the conference, Scott's offensive ability is what gives Virginia its best chance at glory.
Against Michigan, the big man took the team on his back. With his shooting and his passing, he pulled the Cavaliers away and gave them their biggest victory of the season.
With an offense that is not exactly showtime, Scott must show up each and every night for Virginia to be successful. So far, it has been working.
KT Harrell Is Struggling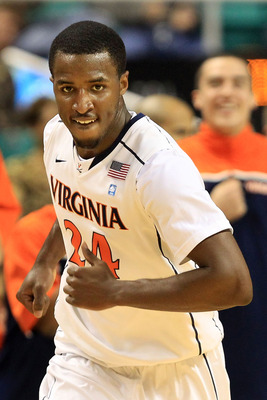 Streeter Lecka/Getty Images
When I first saw KT Harrell, I could not help but be impressed with his smooth jump shot.
The kid looked like he could make it from anywhere on the court.
Now that smooth shot is hitting rim and with each clang a bit of Harrell's confidence goes with it.
Lack of effort is not the problem—his hustle and energy are commendable. The young man is trying too much. His energy has become out of control to the point that he is fouling or making sloppy dribbles and passes.
Harrell is 17-of-50 for the year and only 4-of-20 from behind the arc. As a freshman, Harrell averaged 8.0 points per game last year but that has slipped to 5.8 so far in 2011-12.
Worse yet, his playing time is being challenged by other players.
Make no mistake, although the sophomore swing man may not be the first or second option on offense, his production will make or break Virginia's season.
He is one of those guys coach Bennett will look to in clutch situations to help a struggling offense and so far he has not been able to contribute when called upon.
While the season is early, you hope that Harrell is not going down the path of a previous Cavalier to wear No. 24—Mamadi Diane. Diane was good but horribly inconsistent, so much so that it may have eventually cost Dave Leitao his job as coach at Virginia.
Will Harrell break out of this slump in time for the ACC season?
Virginia's Free Throw Shooting Will Be Tested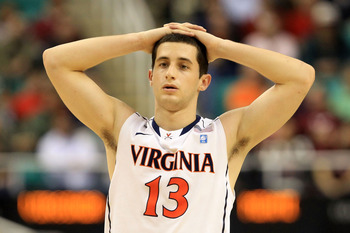 Streeter Lecka/Getty Images
Virginia fans remember all too well how the 2010-11 season ended. The Cavaliers coughed up a 10-point lead in less than 42 seconds before eventually losing to the Miami Hurricanes.
One reason for the epic collapse was a poor free-throw shooting stretch late. Virginia shot just 8-of-16 in that game at the line—and less than 70 percent for the season.
The Cavaliers simply did not have a go-to guy in crunch time without Scott since both point guards were a combined 47-of-80 at the line.
Virginia knew that, no matter the score, teams were going to make them earn it at the line.
Both Seattle and Miami used the same strategy: Trap Virginia in the corners to force turnovers and do not be afraid to foul.
Could Virginia handle the heat?
NCAA tournament teams win close games at the line and so far the Cavaliers are taking that message to heart.
Virginia is shooting nearly 75 percent at the line this season. More importantly, three of their top four scorers are shooting over 80 percent at the charity stripe.
They have also been able to convert with pressure on the line.
If Virginia plans on making noise this season, they better be prepared to deal with crucial free throws. Other teams will take the gamble and the Cavaliers cannot miss the opportunity.
Malcolm Brogdon Will Rise Up the Depth Chart Quickly
In 2010-2011, all of Charlottesville's attention was on the "Six Shooters"—the six freshmen Bennett brought in for his second year at Virginia.
Of course, the Six Shooters have turned into "Joe Harris and the Benchwarmer Trio".
There has also been plenty of hype around Justin Anderson, who is coming to Virginia next season after de-committing from Maryland.
Yet, this middle child recruiting class has at least one diamond in the rough: Malcolm Brogdon.
Brogdon was not even on my radar, even though he is a Mr. Basketball out of Georgia. Through eleven games, he has already proven that deserves to be the sixth man on Virginia's roster.
The true freshman has something neither of his point guard counterparts can boast: height.
At 6'5", Brogdon has ball-handling skills and confidence that few freshmen possess. His talent level reminds some of Sylven Landesberg, but the talent around him allows him to grow without the pressure of carrying a team.
Brogdon clearly knows his place on the court and, given Harrell's struggles, should be a factor throughout the season. In six games already he has played 20 minutes or more and looks to be rising up in everyone's expectations.
If Joe Harris And/Or Mike Scott Struggle, Virginia Is Impotent on Offense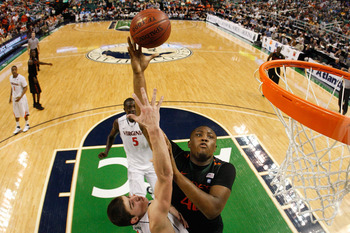 Streeter Lecka/Getty Images
Defense has been the calling card of coach Tony Bennett his entire career.
Virginia played stellar defense through ten games, not letting a single team score over 60 points.
Then that streak came crashing down with a poor performance at Seattle, where the Cavaliers had to rely on their offense to win a shootout. The feeling of every Virginia fan was fear because that is not what this team is built to do.
Mike Scott is a great front court player. He has decent range and is tough physically to bang around with opposing centers and can pass out of double teams.
Yet, if his shot is not falling, Virginia has almost zero post game.
Akil Mitchell is very raw offensively. And although Assane Sene has improved dramatically over the years, he is not reliable around the basket.
Joe Harris has become a more viable offensive threat, developing a mid-range game and improved ability to drive to the hole. Yet, he too can go through cold streaks that cause the Virginia offensive machine to putter to a halt.
If they are both out of the game, Virginia's offense is a comedy of errors.
Sammy Zeglinski is limited to long-range three-pointers and can be very streaky.
Jontel Evans has the speed to get to the basket but his height limits his effectiveness.
K.T. Harrell is struggling to make any shot. And the next best offensive weapon is a freshman.
And so Virginia has had some absolutely dreadful scoreless streaks, leaving them vulnerable to upsets.
Mike Scott and Joe Harris are very good players, thankfully. Their offense will make or break the team this season.
This Could Be the Best Defensive Unit in the Country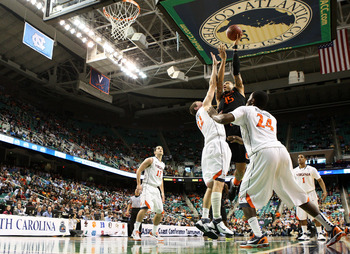 Streeter Lecka/Getty Images
Virginia's opponents had the second-lowest scoring average in all of the NCAA through the first ten games.
Critics will attribute that to tempo but that does a disservice to these young men.
If you watch a typical Cavalier game, Virginia simply wears the other team out on both ends. Teams may break down the coverage from time to time, but the pack-line defense makes them work for it.
When they are getting back in transition, opponents rarely have an easy shot and the collective pressure from so many difficult trips wears opponents out.
For proof, look at the stat sheet for Virginia through 11 games.
The Cavaliers are outscoring their opponents by 114 points in the second halves of games.
The Oregon Ducks went from shooting 46 percent in the first half to less than 40 percent in the second half in Virginia's first true road game.
Against the Michigan Wolverines, Virginia went on a 12-0 run over a nearly six minute stretch to take control of the game in the second half.
Virginia has size inside and they are being stingy on the boards. The Cavaliers have the best rebounding defense in the ACC and the third best rebounding margin.
Virginia knows how to limit opportunities for their opponents and that fact has made their defense all the more maddening.
Virginia Is Looking Better Than Most ACC Teams so Far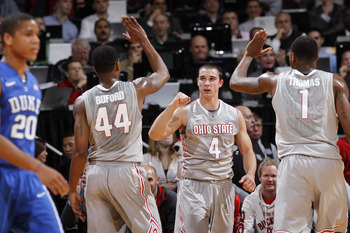 Joe Robbins/Getty Images
It looks like the ACC is not going to be the premier conference in basketball this season.
The Big Ten smacked around the ACC in 2011, winning 8-4.
In this week's AP Poll, Virginia is one of only three ACC teams (with North Carolina and Duke) currently ranked in the Top 25.
Six of the ACC teams already have at least four losses through ten games and many are still seeking that signature win.
But many do have signature losses.
Duke lost badly to Ohio State and North Carolina was edged out by Wisconsin. Boston College lost by nearly 40 to UMass and Maryland fell to Iona by nearly 30 points.
With the usual suspects at the top, Virginia could be battling Virginia Tech and Florida State for that third spot.
With weaknesses already exposed in the blue blood programs, however, Virginia may be able to set their sights even higher.
Sammy Zeglinski Is Tough but Is He Healthy?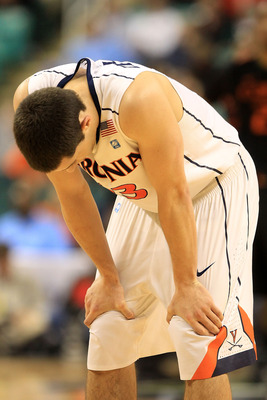 Streeter Lecka/Getty Images
Being an athlete means having to deal with pain.
Perhaps no one knows that more than senior Sammy Zeglinski, a young man who has spent plenty of time in the hot tub nursing injuries.
Zeglinski started slow last season with an injury, not really reaching form until ACC season.
This year he missed the first game with a rolled ankle but has since recaptured his role on the team, averaging the third-most minutes on the team behind Scott and Harris.
Zeglinski has been at Virginia six years now and faced two redshirt seasons. Yet, all of that experience has made him a valued member of this team.
He may not have the size or the versatility of other ACC starters but he has proven his ability to hit back-breaking threes and to hold on to the ball.
His aggressive defense is also a necessity in coach Bennett's system.
Yet, if Virginia is going to rely on Zeglinski, he has to stay healthy. Zeglinski's offense is predicated on his ability to get open behind the arc and go through his motion cleanly.
Any injury severely limits his ability to do that, depriving Virginia of one of its key sharpshooters.
While he has scored double digits in four of his last five games, Zeglinski started the season with just 20 points in his first four games while recovering.
Virginia cannot fault the toughness of the senior guard, but toughness can only go so far. A healthy Zeglinski gives Virginia the third scorer they desperately need.
An injured one makes Virginia vulnerable to disappointment.
Assane Sene Is Turning into More Jason Cain, Less Tunji Soroye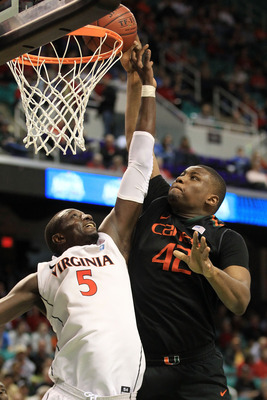 Streeter Lecka/Getty Images
When Assane Sene first arrived on Virginia's campus, he was not ready.
The 7'0" center from Senegal could barely hold on to the ball and had almost no clue what to do with it when he did.
Sene was all potential but virtually zero experience. Necessity thrust him in early, but his inability to make layups frustrated fans to the point that Sene was the butt of every joke.
Former Virginia center Tunji Soroye was another big man lacking experience. The Nigerian never had any offensive ability and truly made fans nervous whenever he touched the ball.
Sene was headed down that path but appears to have found a fork in the road.
Much like former-forward Jason Cain, a hyped up player who sputtered in his first two years to the point of ridicule, Sene looked like he would just be another Virginia big man that never lived up to expectations.
Well, just like Cain, Sene is proving his doubters wrong.
Now on one hand, Sene is never going to be the number one option on offense. However, when Mike Scott went down last year, Sene was the only man in the middle left.
That extra attention allowed him to surprise even himself.
In his first two years at Virginia, Sene scored 95 points in 697 minutes. In fact, he had more fouls than points.
In year three, Sene had 157 points and shot over 52 percent from the field.
In fact, he even went 39-of-70 from the line.
Sene looked comfortable in the paint for once and went from being the occasional shot-blocker to a better all-around player.
This season, Sene has Scott beside him and that means opposing defenses are going to lay off. That is why Sene has continued to improve offensively, scoring 62 points in just 11 games this season.
While he may not put up huge numbers, his contribution is an added bonus for the Cavaliers. His work ethic is obvious, having practiced for months catching footballs to work on his hands.
Sene is no longer king of the bricks. Now he just want to be king of the Big Dance!
Virginia Cannot Get Caught Playing to the Level of Their Competition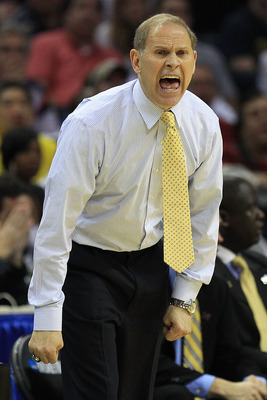 Streeter Lecka/Getty Images
Coach John Beilein is mad.
Maybe because he saw his Michigan Wolverines trounced by a team that had lost to TCU the week before.
Virginia has famously beaten teams and then failed to take care of business against lesser opponents and this year may be another great example.
One day the Cavaliers are beating Oregon on the road in convincing fashion. Then, a few days later, they are giving up 77 points to Seattle.
Virginia cannot expect teams to roll over and play dead for them.
Now that they are ranked, they must expect a spirited performance game in and game out.
NCAA tournament committees want to see a team that can take care of business and Virginia has not matured into that team yet.
Fortunately for them, the last Virginia team that went to the NCAA tournament learned how to win as well.
The 2006-07 team had an embarrassing performance at the San Juan Shootout, barely beating a D-II team on the third day.
That team used the poor performance as a rallying point and finished 11-5 in the ACC to tie for first in the regular season standings.
This team may be able to do one better—taking a close win and using it as a motivating factor.
Virginia has some talent and they have some experience. They also have a weak conference and a ravenous fan base waiting for March Madness.
If the pieces fall into place, Virginia can make everyone happy and live up to expectations.
However, that requires not just good play physically but mentally.
Keep Reading