Sidney Crosby Out: Is the NHL Doing Enough to Protect Players?
December 13, 2011
Jamie Sabau/Getty Images
While we all speculate what the latest news on Sydney Crosby means, we honestly do not know what the true implications are for one of the NHL's brightest stars. What we do know is, this is bad.
Sidney Crosby is out again with concussion symptoms. Any time you hear that, there is nothing comforting about the long-term prognosis—it's our biggest fear. Are we going to lose the game's best player to a head injury while he is in his early 20s? Then what?
Two stars have recently ended their careers due to head trauma. Paul Kariya retired last summer after a 15-year career. Because of his head injuries Marc Savard won't play in the 2011-2012 season. While Savard didn't officially retire, the writing is on the wall.
So, here we are before the holidays and Crosby's season is apparently in jeopardy. Questions linger. Could this have been avoided? Has the NHL been doing all it can to make sure that players are protected? 
The argument could be spun in 100 different directions.
Last summer the NHL appointed Brendan Shanahan as the new sheriff in town. To his credit he has been doing exactly what is expected of him—payers are being suspended and, under current rules, the punishments seem to fit the crimes. 
Shanny is has certainly been busy as suspect play is still a common thread in the NHL. Honestly, what can the NHL do to prevent head shots?
Every year, players are bigger, stronger and faster. The speed of the game is increasing and despite whatever technological advances can be made to equipment, nothing is going to stop hard, fast collisions.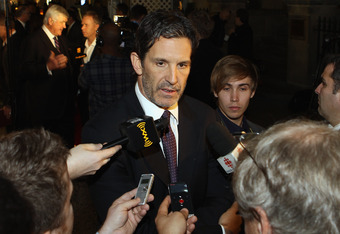 Bruce Bennett/Getty Images
Now the NHL and all contact sports find themselves in an era of protecting player safety. While Shanahan's recent punishments have reassured some hockey fans that he is cleaning the game up, it will never ultimately solve the problem.
Take for example the preseason suspension of the Philadelphia Flyers Jody Shelley. This was Shanahan's first crack at laying down the law and he did just that. Shelley was suspended 10 games for railroading Toronto Maple Leafs forward Darryl Boyce face-first into the glass. 
Truthfully, Shelley is an easy player to suspend. He is not an impact player. He's good for a sound-bite or two, but in 10 games, he has zero points and is a minus-two. So what difference does that make to the Flyers?
The reality is, Shanahan was probably doing the Flyers a favor. They could cry foul about an irrelevant player and maybe even get a "get out of jail free" card later in the season if a key player misbehaves. What happened to the Flyers? Nothing.
When Kariya retired over the summer, he had a lot to say about how the NHL handles head shots and concussion issues. Kariya suggested more liability be placed on NHL teams and ownership. If teams would be fined for their players' questionable play, it would mitigate these instances. Kariya may be onto something.
This is not suggesting that the Flyers be punished because of Shelley, but it may make sense for repeat offenders. Players like Matt Cooke and Daniel Carcillo who continue to misbehave and be suspended would literally become their teams' problem. If this was the case, players such as these would have an awfully difficult time finding employment. Eventually it could take a lot of this nonsense out of the game.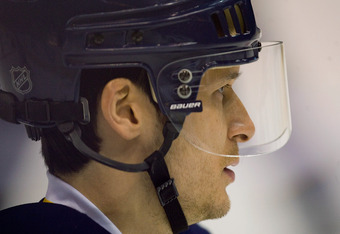 Dilip Vishwanat/Getty Images
What's more is that the NHL is trying to eliminate "head shots," yet fighting is still a welcome aspect in the game. That's an interesting paradox—a five-minute major is all you get while being encouraged to sock someone in the face with your bare fist.
Sure, one can argue that a head shot is dirty, cheap, a player is not ready for it and so on. Fighting is fair, as players square off mono y mono and settle a score to try to get their teams fired up. Fine, that's a decent argument and there is a lot of truth to that.
But what are we talking about here? We are talking about head injuries and player safety. How can we expect hockey players to be safe when there is still the role of the enforcer? All the player has to do is think it over for five minutes in the box and return to his next shift.
During the offseason, three NHL enforcers—Rick Rypien, Derek Boogard and Wade Belak—passed away. Many believe their off-ice troubles were due to their on-ice roles. Recently, it was discovered that Derek Boogaard had a degenerative brain disease linked to repeated hits to the head.
Was he protected as a hockey player?
What is to be done with fighting? Many feel it is a part of hockey and should stay. While that may be, why not institute a stiffer punishment for a gloves-off scrap? What would happen if the penalty was a minimum game misconduct? While the instigator rule was supposed to take care of this problem, it really hasn't in the least. Players still make their own decisions whether or not to drop the gloves.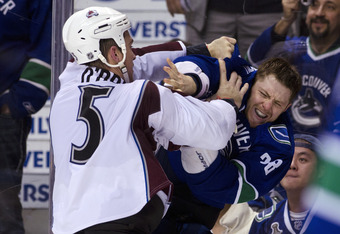 Rich Lam/Getty Images
So here we are. Crosby is out and who really knows for how long. Is his career over? Can that really be happening? 
So I ask you Gary Bettman: are you doing all you can to make sure that your employees are safe and protected? Derek Boogaard is gone. Paul Kariya was forced to retire. Marc Savard's career is all but over.
Now we are left wondering: will we ever experience the magic of "Sid of Kid" again? While we all hope not, clearly, we are not doing the best we can.
Thanks for reading.