NCAA Hoops: Iona Basketball Runs out of Gas at Marshall, Head to Richmond Next
December 12, 2011
Iona Gaels (7-2) ran out of gas Sunday on the fourth leg of their eight game December road trip and lost in Huntington, West Virginia to Marshall 82-63.
On the heels of a thrilling come-from-behind win at the University of Denver on Wednesday night, the Gaels went into the game on a seven game winning streak. 
Their RPI had risen all the way to 31st in the country.
Talk was heard of Iona attracting votes in the AP Top 25 Poll.
Mike Glover led the Gaels with 20 points and six rebounds.  Lamont "Momo" Jones had 13 points, and point guard Scott Machado had 12 points and eight assists. 
For Marshall, guard Damier Pitts led all scorers with 25 points and provided five assists. DeAndre Kane had 19 for the Thundering Herd.
Iona trailed 42-40 at the half, but Marshall went on a 19-9 run to start the second half and grabbed a lead that they would never relinquish.
The game was played before 5,918 at the Cam Henderson Center.
Iona now moves on to Richmond, Virginia Wednesday night to play the 6-3 Spiders of the Atlantic 10 Conference. 
Richmond is coming off a 73-51 loss at VCU.  They have wins over Wake Forest 70-62, William & Mary 92-61, and Rutgers 58-53. Two of their losses were to Illinois 70-61 and Davidson 74-61.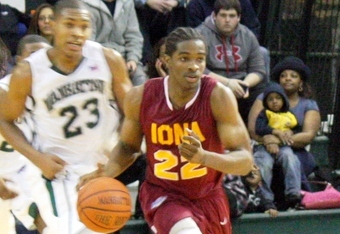 Later in the week, Iona travels north to play Vermont in Burlington on Saturday afternoon. 
The Catamounts are 4-6 on the season and have just lost four straight to Quinnipiac 62-58, at Saint Louis 62-43, at Yale 68-52, and 55-48 to Harvard.
Earlier in the year, Vermont defeated two MAAC teams-Siena and Marist.
Next week Iona heads back to Virginia to play at William and Mary before a short Christmas break and you guessed it, a bus trip to Hofstra before New Year's. 
I imagine the change in athletic directors last spring at Iona had something to do with a horrendous schedule like this.
Pat Lyons left in March for Seton Hall and Gene Marshall started in May.
Lyons left the program with a strong team but in a weak scheduling position. 
The Gaels play in the 2,700 seat Hynes Center in New Rochelle, New York which does not enable them to provide much compensation to opponents, simply scheduling home and homes at best. 
Very few teams from the BCS level conferences will come play at mid-major gym sites like Iona, so the Gaels have to play a lot of games at other campus sites or at tournaments and hope to catch a win against a top team.
The Gaels have a history at winning games at Big East sites such as Providence, so they don't receive that many invitations.
Hopefully, the Gaels can get through this tough road stretch with wins in 2 of these last three before Christmas.
Let's also hope that Gene Marshall can straighten out the scheduling and provide a few more home games for next year.
Ken Kraetzer covers Iona basketball and West Point football for WVOX 1460 AM in New Rochelle, NY and Sons of the American Legion Radio.  His Twitter address is SAL50NYRadio.