Tim Tebow's Leadership Qualities Should Be Model for All NFL QB's
December 12, 2011
Doug Pensinger/Getty Images
Tim Tebow isn't the best pure quarterback in the NFL, but he may be the best leader the league has ever seen. Even Ray Lewis has to be in awe of what the Denver Broncos are accomplishing.
While most people think of QBs as the on-field leaders that show up every Sunday, it's the actions that those players take behind the scenes that have their teammates trusting and respecting them.
It's true that some may not agree with Tebow's religious views or how he presents them, but I bet every man on that team and on that coaching staff would stand shoulder to shoulder with Tebow heading into battle.
Ever since his days at Florida, Tebow has embodied what it is to be a leader and nothing has changed in Denver. When there is success, he pushes it all towards his team and coaching staff, but when the chips are down and his team is playing poorly, Tebow will take the blame for any and all mistakes by his teammates.
Tebow told the Denver Post about his team's come-from-behind victory on Sunday, another example of his leadership and class:
"We had opportunities early and we didn't take advantage of them, so that kind of put us in a position where we were behind, which was disappointing. But guys kept encouraging one another, defense kept encouraging offense; the offense encouraging special teams. Just try to keep believing until the very end. It wasn't looking very good, but guys kept, shoot, encouraging me, at all times, believing in me, and we kept believing, and I think that's special when you have a team that believes and a team that's going to continually fight for 60 minutes, even though it's not looking good and even though it might be frustrating. We might have had opportunities and missed them, but we kept fighting and kept going, and the defense played phenomenal and came up with a bunch of huge stops, and we were finally able to get a drive there and score."
Everyone has to agree that through the first three quarters of almost every game Tebow has played at the NFL level, he has been as mediocre as you could get. Once that fourth quarter hits though, the magic happens and the Broncos win.
They just win.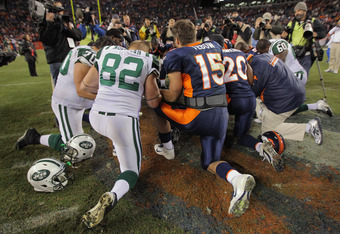 Doug Pensinger/Getty Images
It's not just Tim Tebow making them win either. It's the stellar play of the defense, the coaching staff for putting a plan in that Tebow can capitalize on, the running game for opening the holes up for Tebow and the offensive line for making everything work.
It truly is a group effort and there is no person in the Broncos organization that is more aware of that fact or more vocally supportive of that than Tim Tebow. Every reporter that says "Tebow Time" doesn't truly know this team or Tebow as a man.
The NFL should have their crack team of overpaid employees analyze what makes Tebow such a good leader and build a model to help other quarterbacks that don't know how to lead a team some idea on how it's done.
Maybe Tebow should teach a class. Leadership 101.
Check back for more on the National Football League as it comes, and check out Bleacher Report's NFL Page to get your fill of all things football.