Why to Genuinely Care About Every Bowl Game (Part One)
December 12, 2011
Otto Kitsinger III/Getty Images
Each year during college football's bowl season, as more and more 6-6 or 7-5 teams trickle into bowls with sponsors we may or may not be familiar with, we get sucked into games for the mere fact that (relatively) high-level football is being played as few other meaningful sporting events unfold (looking at you, NBA players playing themselves into shape). The following is your essential guide to everyone's secret goal (I'm assuming) of perfect exhibition season TV attendance.
Gildan New Mexico Bowl (Temple vs. Wyoming)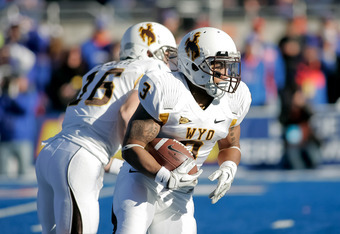 Otto Kitsinger III/Getty Images
On Temple's side, star RB Bernard Pierce will probably get the "Why haven't we noticed him until now?" treatment, even though he's quietly been a top-10 college football RB for multiple years.
On Wyoming's side, the Cowboys have started Brett Smith, a true freshman at QB, all year, and Smith may have actually had his best three-game stretch of the season against San Diego State (road win), TCU (home loss) and Air Force (road win).
Famous Idaho Potato Bowl (Ohio vs. Utah State)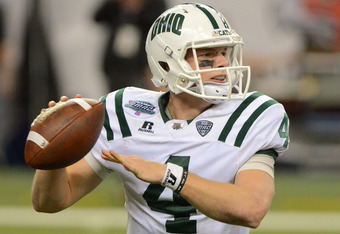 Mark A. Cunningham/Getty Images
Ohio's actually decent—it won the always volatile (I'm assuming) East division in the MAC (beating Temple late in the season, which we now care about!). Also, even though they ran more than they threw, the Bobcats easily have the most interestingly named elite WR in the game in LaVon Brazill.
Conversely, Utah State has the most interestingly named QB (Chuckie Keeton) in the game and, as a team, had the distinct pleasure of exposing Auburn's run defense earlier than most expected (Sept 3rd!).
R+L Carriers New Orleans Bowl (San Diego State vs. Louisiana-Lafayette)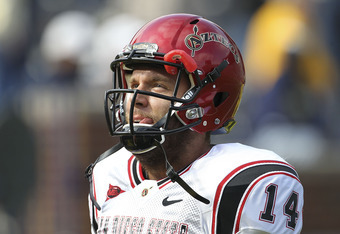 Leon Halip/Getty Images
San Diego State lost to three teams either in or good enough to be in a BCS bowl (Michigan, TCU, Boise State) and Wyoming. The Aztecs also trot out RB Ronnie Hillman each week, who's their own version of Bernard Pierce, or maybe Temple has its version of Ronnie Hillman—I can never remember.
Louisiana-Lafayette has one of the cooler nicknames (Ragin' Cajuns), appears to have a QB with a possibly Cajun name, at one point won eight of nine games and also ended all of the fun we had adding "...in a losing effort" after Nick Foles's name.
This feels like a high-scoring mid-December affair.
Beef 'O' Brady's St. Petersburg Bowl (Florida Int'l vs. Marshall)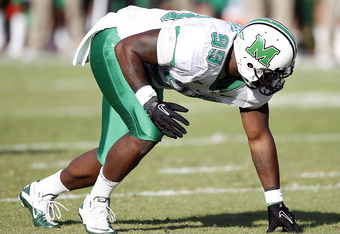 Bob Levey/Getty Images
It's very easy to root for Florida International because that means you get to root for electric WR T.Y. Hilton.
Marshall's a 6-6 Conference USA team. Outside of rooting for a leading rusher named "Tron," it's very difficult to root for a 6-6 Conference USA team.
San Diego County Credit Union Poinsettia Bowl (TCU vs. Louisiana Tech)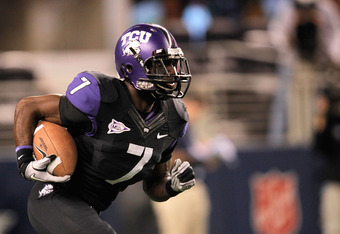 Sarah Glenn/Getty Images
TCU quickly went from being a team you couldn't score on to a team that you can't keep up with, and it did so with a QB who could cramp up just as quickly. Always exciting.
Louisiana Tech (note: different school than Louisiana-Lafayette) finished the year by winning seven straight (including a win over our new pal Chuckie!) and held opponents to the shortest average kickoffs in the WAC, so basically, you know I'm reaching...
MAACO Bowl Las Vegas (Arizona State vs. Boise State)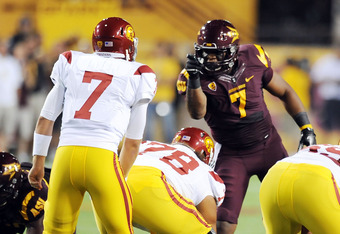 Norm Hall/Getty Images
Arizona State, a team with a SIX FOOT EIGHT QB, went from being ranked to firing its coach in about a four-week span. Funny how that works. They also have a linebacker that didn't decapitate nearly enough people this season.
Boise State proved itself again to be amongst the national elite and finished the season ranked in the Top 10, and all the Broncos have to show for it is a game against a lame-duck coach...and possibly a spine severed by an opposing linebacker. Thanks for playing. I guess.
Sheraton Hawaii Bowl (Southern Miss vs. Nevada)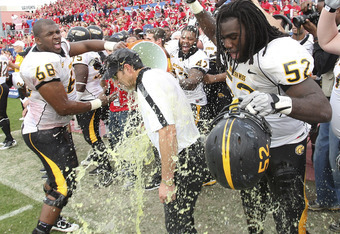 Bob Levey/Getty Images
Southern Miss won 10 of its last 11, beat BCS-bound Houston and won Conference USA and will get one more game with its departing coach and a trip to Hawaii for its troubles.
Unless you count Hawaii (dubious), Nevada didn't really have an impressive win. Please don't count Hawaii.
This game has "take the over" written all over it.
AdvoCare V100 Independence Bowl (North Carolina vs. Missouri)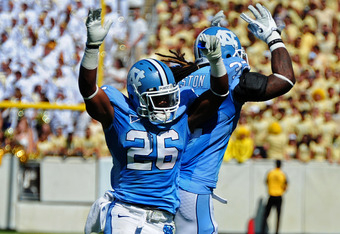 Scott Cunningham/Getty Images
North Carolina, soon after watching new coach Larry Fedora throw all over Nevada in Hawaii, will run the ball most of the time with Gio Bernard, a running back you'll primarily hear about next year, and line up a bunch of guys on its defensive front that, when they get drafted highly soon, you'll wonder why UNC hasn't been better recently.
Missouri made a habit of losing only to teams that range from good to very good to excellent. And Arizona State. It lost a wildly underrated RB to a knee explosion but will put up enough through the air with the always casual James Franklin (QB) to make you forget about the SEC over a long holiday weekend.
Little Caesars Pizza Bowl (Western Michigan vs. Purdue)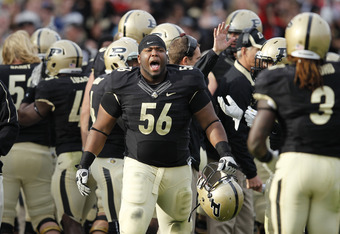 Joe Robbins/Getty Images
The reward Western Michigan gets for being a top national passing offense and, well, not really beating anyone—I was going to mention its win over UConn, but that'd imply that UConn is currently an "anyone"—is a three-hour drive across the state to Detroit. Seriously, though, Bronco QB Alex Carder will be thrilled to throw the ball 50 times on a fast Ford Field turf.
Purdue is located in West Lafayette, Ind.
Belk Bowl (Louisville vs. North Carolina State)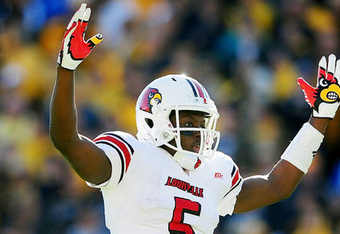 Louisville won five of its last six (including at West Virginia) and did so with a true freshman QB named Teddy Bridgewater. This means you'll get to hear the name "Teddy Bridgewater" more often than you would if you didn't watch the Belk Bowl. Irrefutable logic, I know.
NC State at first appeared to be incompetent, then it became decent, then hit rock bottom, then scrappy, surprisingly potent and then it came back and blew out a terrible Maryland team. What I'm trying to say is, they'll definitely mention Louisville QB Teddy Bridgewater's name a ton during this game.
Dan Rubenstein co-hosts The Solid Verbal college football podcast and can be followed on Twitter here.