Cleveland Indians: Why Success in 2012 and Beyond Starts with Justin Masterson
December 12, 2011
Jason Miller/Getty Images
The Cleveland Indians need to invest in Justin Masterson. In the wake of the steroid era, pitching has supplanted offense as the order of the day.
Batting averages are down, runs are more scarce, and home runs are no longer jumping out of the yard with the reckless abandon they did a decade ago.
Consider that in 2011, only two players slugged 40 or more home runs. In 2000, 16 players accomplished the feat.
While 51 players knocked in 100-plus RBIs in 2000, only 17 did so in 2011.
Lastly, while 48 players scored 100-plus runs in 2000, only 16 did so in 2011.
Needless to say, the league is becoming increasingly pitcher-friendly. While the Cleveland Indians are currently in search of a bat to upgrade their offense, they can't lose sight of the strengths they already possess.
The Texas Rangers are a prime example of how important good pitching is. It doesn't matter how good your offense is, winning a World Series title begins and ends with good pitching.
The last time the Tribe was in serious contention for the World Series, they had two Cy Young candidates in C.C. Sabathia and Fausto Carmona anchoring their rotation. During that fateful 2007 season, the Tribe faced the dilemma of resigning either Sabathia or slugging DH Travis Hafner.
Unfortunately for Cleveland fans, the front office threw the money at Hafner, only to trade Sabathia halfway through the 2008 season.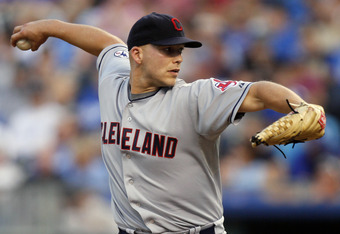 Ed Zurga/Getty Images
Since the trade, C.C. has gone 70-25 and won a World Series with the Yankees in 2009. Since receiving his six-year, $57 million extension, Hafner is half the player he used to be and has seen a significant drop in production and playing time while battling constant injuries.
In retrospect, there isn't a single Tribe fan who wouldn't have opted for Sabathia instead.
In playoff contention for the first time in four years, the Cleveland front office made a bold move last season when it dealt top pitching prospects (and successive first round draft picks) Alex White and Drew Pomeranz for Rockies ace Ubaldo Jimenez.
Although the 2011 returns on Jimenez weren't promising, the move showed that the front office is committed to winning now—something that hadn't been evident given the club's meager payroll and unwillingness to trade prospects for proven players.
With Jimenez under contract through 2013, the Tribe needs to cement the top of its starting rotation. They can do this by resigning Justin Masterson long-term.
At 6'6'' and 250 lbs., with a nasty sinking fastball that tops out around 97 MPH, a sweeping slider and a developing change-up, Masterson has "ace" written all over him. Still only 26, he has his best years ahead of him.
In 2011, Masterson produced a truly masterful season while pitching in a small market for an overachieving team void of household-name superstars.
Sporting a 3.21 ERA, .257 AVG against and a 1.28 WHIP, Masterson's 12-10 record was not a true indication of just how well he pitched for the Tribe. He allowed two or fewer earned runs in 22 of his 33 starts—tops in the AL.
Despite Masterson's consistency, the Tribe offense had relatively little to show for his efforts. In 13 of his 24 quality starts, Masterson went 0-5 with eight no-decisions in which he allowed only 19 earned runs over 92 innings pitched. That equates to a 2.07 ERA.
Hypothetically speaking, say Masterson wins half of those eight no-decisions (factor in the five losses), and he's 16-10 and at least in the conversation for the AL Cy Young with Justin Verlander and Jered Weaver.
Furthermore, Masterson doesn't give up home runs. In 33 starts, he gave up only 11, which is easily the fewest in the league amongst pitchers with at least 25 starts. In 216 innings pitched for the season, Masterson gave up a home run (on average) once every 20 innings.
Masterson is now arbitration eligible and only made $468,000 for his impressive 2011 campaign. Tribe management will undoubtedly have to rework his contract if they hope to retain him in an Indians uniform long-term.
Rather than rushing to re-sign offensive stars Asdrubal Cabrera or Shin-Soo Choo, the front office needs to prioritize its spending around pitching. Although management has three arbitration years to resign Masterson, the move should be made sooner rather than later.
Yes, the Tribe could squeeze another couple good years from Masterson on his rookie contract. Continued success, however, will only raise his stock. And when he becomes a free agent after the 2014 season, he'd be much more likely to walk.
It would be much more advantageous to commit to Masterson while he is still under the radar. If Justin continues to pitch well in the first half of 2012, serious discussions should be held with his agent concerning a long-term deal.
Unless the Tribe wants to continue to breed great starting pitching for big market teams, they need to make a serious, long-term financial commitment to Masterson.