UCLA's Future Depends on the Staff, Not Jim Mora Jr.
December 12, 2011
UCLA will take their 6-7 record into the Kraft Fight Hunger Bowl on Saturday, December 31st to face 6-6 Illinois. Neither team had a winning record or a head coach last week, but only UCLA needed a waiver to play.
Rick Neuheisel was fired at UCLA after going 21-28 in four seasons. Jim Mora Jr., who last coached the Seattle Seahawks to a 5-11 record in 2009, was hired December 10th. Mora has no college coaching experience, but he has been an excellent analyst on the NFL network.
Ron Zook got the hatchet at Illinois after going 34-51 in seven seasons. Tim Beckman was hired away from Toledo on December 9th to replace Zook. Beckman has 23 years of college coaching experience.
UCLA began practicing for the New Year's Eve contest on Sunday, December 11th. UCLA's interim coach, Mike Johnson, who served as the offensive coordinator/wide receivers coach this year, will lead the Bruins in San Francisco versus the Fighting Illini.
Johnson has been contacted about the head coaching position at the University of Akron, although he is under contract at UCLA through 2012.
Mora is defense-minded and will need recruiting help. Maybe that should be Johnson, but Mora fired Johnson in Atlanta. "We have both matured in terms of our relationships with each other and I think we're on very good terms right now," Mora said Saturday. We will see what Akron can do for their relationship.
UCLA has applied to the NCAA to get one of those new "Ohio State Dual-Coaching-Staff Waivers" that was allowed this year for Urban Meyer. If approved, and with Johnson leading the Bruins in the bowl game, Mora will be able to focus on putting the UCLA coaching staff together.
Mora, who plans on meeting with the UCLA coaches starting December 12th, said that "he is not required to keep any current assistant coaches."
The NCAA's dead period, which disallows contact with recruits, comes at an unfortunate time for coach Mora. The dead period starts December 20th and lasts through January 3rd. Mora could have been ready to hit the recruiting trail about the time the dead period starts if he has his whole coaching staff organized.
That might be a challenge considering how long it took Rick Neuheisel to find just two coaches a year ago. It is a safe assumption that Mora will begin his recruiting visits on January 4th.
In addition to Johnson, run-game master Jim Mastro and defensive coordinator Joe Tresey are on contract at UCLA for another year; however, Mastro will join Washington State's staff after the bowl game.
Inoke Breckterfield (D-Line), Tim Hundley (secondary), Clark Lea (linebackers), Angus McClure (special teams), Bob Palcic (offense) and Wayne Moses (running backs) will all be interviewing this week with coach Mora.
Mora hired Casey Bradley to be the DC at Seattle. Bradley still has that job and probably wouldn't leave the NFL for Mora. Mora's defensive line coach, Dan Quinn, is now the defensive coordinator at the Florida Gators, so his addition is also unlikely.
On the other hand, Greg Knapp, who worked with Mora in Atlanta and was his offensive coordinator at the Seahawks, might be a consideration. Knapp was let go by Pete Carroll and went on to be the quarterbacks coach at the Houston Texans.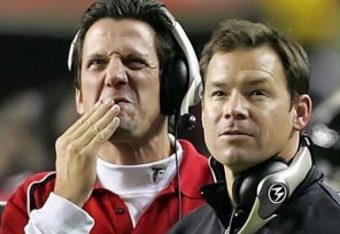 This could spell Akron for coach Johnson, but either way, the focus on January 4th has to be recruiting.
UCLA already has 18 recruits in their fold as Mora takes over. Their highest ranked recruit, Morgan Breslin, a 4-star defensive end out of a northern California JC, is leaning away from his verbal since Neuheisel was fired.
He visited the beautiful Boulder campus in Colorado and signing with another school wouldn't be a surprise. That would leave UCLA with only two 4-star verbals (Westbrook and Porter) and a heck of a lot of players who will really need to be coached up.
The challenge that lies ahead for UCLA is, first and foremost, putting together a great coaching staff. A staff who can recruit well to help Mora since he has no experience at it. Recruiting success can make or break a team.
Talented recruits alone won't win championships. A staff that can coach well and teach young players will greatly help coach Mora since he has no experience at it.
A savvy staff that coach Mora can rely on to manage games well since his coaching record seems to have records that deflate over time.
There are thousands of unhappy Bruin fans right now, many that can be read at bruinsnation.com, but there is always a chance that Mora might turn out to be as successful as Pete Carroll was.
If you look deeply enough, you'll find that Pete had a successful staff. Many who went on to become head coaches or find work in the NFL.
So, in a way, UCLA's future success depends on the staff that coach Mora selects, rather than coach Mora himself.