Philadelphia Eagles Week 14 Report Card: Grading Every Offensive Position
Mike Ehrmann/Getty Images
The Eagles got their fourth road win of the season in Miami this Sunday, beating the Dolphins 26-10. The offense struggled at times, but capitalized off turnovers, putting 17 points on the board off Miami miscues in route to the win.
While the defense shined, this slideshow will grade every offensive position and player. How did the offensive line fare? How did the running game fare? Let's take a look as we go in depth into the Eagles offensive effort against the Dolphins.
Wide Receivers and Tight Ends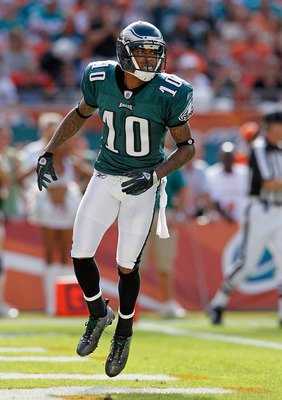 Mike Ehrmann/Getty Images
Desean Jackson: Jackson had his best game in nearly two months, grabbing four balls for 59 yards and a touchdown. He also did not muff any punts. While we have seen Jackson better, this game was a solid effort from D-Jax. Grade: B+
Jeremy Maclin: After missing three games, Maclin came back and played, but was not really a factor. He caught only one pass and was largely invisible. He gets a bit of a rain check since it was his first game back and no receiver really shined, but here, this performance had to be disappointing for Maclin. Grade: D+
Jason Avant: Avant caught two passes for 35 yards. Avant struggled to get open and was not the reliable target he has been at times this season for Michael Vick. On the other hand, he was second among WRs in catches. Grade: C
Riley Cooper: Cooper caught one pass, but it was a big catch when he made it. It was also after Vick amazing got out of trouble and then fired a ball down the field. As a fourth wideout, I'll take what Cooper did, although you would like more. Grade: C-
Brent Celek: Celek had four catches for 39 yards. His four catches tied for the team lead. On the one Eagles scoring drive, Celek made two big plays. He had a solid game. Grade: A-
Offensive Line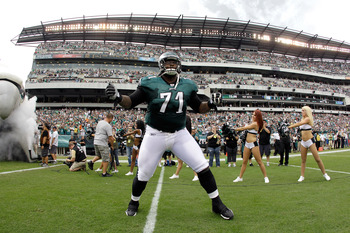 Rob Carr/Getty Images
After the game, Andy Reid said the offensive line got better as the game went along. That might have been true, but the line gave up four sacks, which was a lot considering they were only averaging about two a game before this game. The Dolphins got a lot of pressure on Michael Vick and seemed to really bottle up LeSean McCoy. So I am not quite sure why Reid thought the line got better as the game went along.
I saw an offensive line that seemed to get pushed around most of the afternoon, but Vick escaped at times and the Dolphins turnovers gave the Eagles a short field a few times which led to most of their points.
Overall, I did not think the offensive line played a very good game. They had some penalties like always, but I thought Jason Taylor really gave them problems. Danny Watkins also had trouble, and the line struggled in both pass and run blocking throughout most of the day.
Grade: D
Running Backs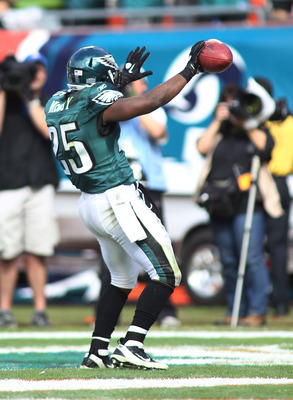 Marc Serota/Getty Images
On one hand, LeSean McCoy had a bad day, rushing 27 times for only 38 yards and catching three passes for 33 yards. On the other hand, McCoy got into the end zone twice and did not turn the ball over. So there were positive and negatives.
Overall, McCoy has had better days, but I thought he did what he needed to do. The short yardage touchdowns were a nice change for the Eagles offense that has struggled in that situation. Still, he averaged less than two yards a carry, so I don't see how he could get a high grade.
Other than McCoy, Ronnie Brown had three carries for four yards. Owen Schmitt did not do anything at all. Vick had two carries for nine yards, but the Eagles running game was not effective. Still, they had a lead and they stuck with the run, which was a pleasant change.
Grade: C
Quarterback Michael Vick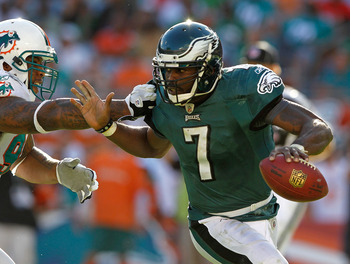 Mike Ehrmann/Getty Images
In Vick's first game in a month, he showed some rust, overthrowing his receivers on deep balls a couple times. He also showed some of the elusiveness that makes him great.
Overall, Vick had an average day. He only ran twice for nine yards, but he did end up throwing 30 times and completed 15 passes for 208 yards with one touchdown. For his first game back, Vick was OK, but he was not great by any means. He gets a bit of a bonus in the grading system because they won the game.
Grade: B-
Offensive Playcalling and Intangibles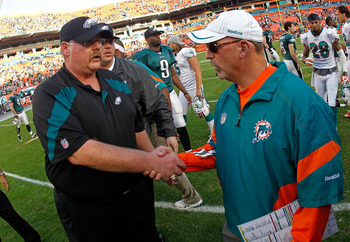 Mike Ehrmann/Getty Images
I think Andy and Marty deserve some credit for this victory. Even though the running game wasn't working, they stuck with it because they had a lead. They showed they were willing to run the ball even when it was ineffective and use the clock.
In the past, the Eagles would have resorted to throwing the ball every play with a lead, but this time, they stuck with McCoy and gave him the ball 27 times, which is something many fans have been calling for each week. For that reason, the coaching staff gets props in my book.
Grade: A-
Keep Reading

Philadelphia Eagles: Like this team?