BCS Championship Debate: What a 12-Team Playoff Might Look Like
December 12, 2011
Ronald Martinez/Getty Images
This year's BCS matchups have certainly met the annual expectation of controversy and scrutiny.  From the BCS National Championship matchup to the Sugar Bowl featuring two at-large teams outside the Top 10, lines in the sand have been drawn for and against certain teams belonging.
Now that the dust has settled on this year's matchups—and the various publications criticizing or supporting them—it's a good opportunity to explore the much preferred hypothetical playoff possibilities.
Proponents of a playoff system have varying degrees to which they think it should be carried out.  Some favor a simple four-team model, others prefer six, eight, or even 16 teams.
After some deliberation, I decided on a system that falls a bit toward the higher end: 12 teams.  This system would accommodate three different groups of qualifying teams:
It would maintain the sanctity of the BCS-conference automatic-qualifier (AQ) status, allowing all six BCS-conference champions to be included.
It would allow any non-AQ conference champion to qualify for the playoff, provided it is ranked inside the BCS Top 20 and has at least 10 wins. (These are arbitrary criteria, and are not used in actual BCS eligibility requirements).  This year, two non-AQ champions would qualify.
It would allow room for deserving at-large teams, most notably Alabama.  This year, there would be four at-large teams included to round out the 12-team field. 
The at-large teams would be selected simply in order of their BCS rankings. 
Under this format, with the criteria applied, the following teams would make my playoff.  Teams are are listed in order of BCS ranking.  Conference champions listed in parentheses.  At-large selections are in bold.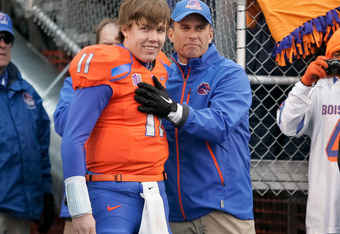 Otto Kitsinger III/Getty Images
1 LSU (SEC), 2 Alabama, 3 Oklahoma State (Big 12), 4 Stanford, 5 Oregon (Pac-12), 6 Arkansas, 7 Boise State, 8 Wisconsin (Big Ten), 9 Clemson (ACC), 10 TCU (MWC), 11 Southern Miss (C-USA), 12 West Virginia (Big East)
In order to prevent early round rematches of teams from the same conferences, an at-large qualifier is bumped down a seed or two where necessary. 
Stanford, which would be a No. 4 seed, is bumped down to No. 6 in order to favor Oregon, the Pac-12 champion who beat Stanford head-to-head.  Oregon moves up to No. 4, and Arkansas up to No. 5.  Boise State, an at-large qualifier from the MWC, is bumped down to No. 8 to prevent a first-round matchup with No. 10 TCU, which beat Boise to claim the conference title. 
In a 12-team playoff, the No. 5 through 12 teams would each play in the first round, giving the top four teams a bye to the quarterfinal round.
Here's what the first round matchups would look like, along with potential bowl games that would be a logical outfit, based on locations of the two teams, for these games:
                12 West Virginia vs. 5 Arkansas        MUSIC CITY BOWL (Nashville, Tenn.)
                11 Southern Miss vs. 6 Stanford       INSIGHT BOWL (Tempe, Ariz.)
                10 TCU vs. 7 Wisconsin                   CHAMPS SPORTS BOWL (Orlando, Fla.)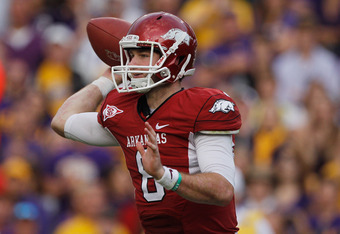 Chris Graythen/Getty Images
                9 Clemson vs. 8 Boise State             ALAMO BOWL (San Antonio, Texas)
The quarterfinal round would include the winners of the above four games, along with the top four teams, which had byes in the first round.  These could all be played on Jan. 2 (when all normal New Year's Day bowl games are being played).  It would look like this:
                12 W. Virginia / 5 Arkansas vs. 4 Oregon
                11 So. Miss / 6 Stanford vs. 3 Oklahoma State
                10 TCU / 7 Wisconsin vs. 2 Alabama
                9 Clemson / 8 Boise St. vs. 1 LSU
The bowl games for the quarterfinal games could be the Capital One Bowl (Orlando, Fla.), Cotton Bowl (Dallas), Fiesta Bowl (Tempe, Ariz.) and Rose Bowl (Pasadena, Calif.).  The bowl game for each matchup would be assigned depending on the results of the quarterfinal round.
Look at the potential matchups you could have in this round. 
Arkansas-Oregon—The great passing attack of Arkansas against the spread offense of Oregon.  Oregon would have a chance to prove it can beat a top-five SEC team after losing to Auburn and LSU in the 2011 calendar year. 
Stanford-Oklahoma State—The much anticipated Fiesta Bowl matchup, featuring Andrew Luck and Brandon Weeden.  Unlike the Fiesta Bowl, an Oklahoma State win would still give it a chance to play for a championship. 
Wisconsin-Alabama—A matchup of probably the two best running backs in the nation in Montee Ball and Trent Richardson; how would Wisconsin's incredible offensive line do against Alabama's outstanding defensive front?  Wisconsin was two miraculous pass plays—or perhaps only one—away from playing in the BCS Championship Game.
Boise State-LSU—The ultimate challenge for the BCS-busters from Boise who beat a Georgia team that made the SEC Championship Game.
The semifinals could include the Orange and Sugar Bowls, played a week after the Jan. 2 matchups. 
An Oregon-LSU rematch in one semifinal would obviously be very appealing.  Would Oregon fare better than it did four months prior?  Does LSU yet again prove it is clearly the nation's top team? 
A possible Oklahoma State-Alabama matchup in the other semifinal could settle the "who's No. 2?" debate once and for all.  How would the Cowboys' explosive offense handle the nation's top defense?  This would be quite a treat for a Sugar Bowl matchup.
Would we end up with an LSU-Alabama championship matchup after all?  Would we see just one of those teams, or neither?  The possibilities, even in a 12-team format, are almost endless.
Could a lower-seeded team, such as Wisconsin, make a run to the championship?  A win over Alabama, along with a possible Oregon win over LSU, would suddenly create a scenario where neither team in the actual BCS Championship plays for the title in this playoff scenario.  All of a sudden, those teams have dispelled the notion that LSU and Alabama are clearly the nation's two best teams by beating them on the field. 
A playoff provides the opportunity for a team to win a title that nobody would even discuss when talking about teams who should play in the BCS Championship.  It also provides the opportunity for a team like Alabama to go out and quiet everyone's criticisms about where they stand relative to other BCS Championship Game contenders. 
Although logistically improbable, it's fun to think about.  Maybe someday, college football will have its own version of "January Madness."