Ben Roethlisberger's Ankle Injury Could Be an Advantage for the Steelers
December 12, 2011
Jared Wickerham/Getty Images
It is not unusual for Ben Roethlisberger to get sacked, he has been 309 times in his career. What is unusual is for him to not get up.
Admittedly, there was some fear that his season was over last Thursday night after being sacked and having Roethlisberger's ankle bent in ways it should not move. As the trainers were working on him, he was clearly in pain and not the type of pain that you can just shake off.
Then there was the limp. Roethlisberger could barely put an ounce of weight on his leg let alone his 250 pound body. There was not way he was coming back.
Ben Roethlisberger is not your ordinary quarterback. He is not your ordinary football player. In fact, you could say "he's a hockey player," and he came back.
Simply put, Roethlisberger is tough as nails. Some may call him a "drama queen" for playing up his injuries, but this guy has played through broken fingers, toes, nose and now a high ankle sprain.
At full health, Roethlisberger was 8-of-9 for 102 yards and a touchdown pass and was nearly as good after his injury completing 8-of-12 passes for 178 yards with a touchdown and an interception.
But that was against the Cleveland Browns. If he can play next Monday night he will be facing a much tougher opponent when the Steelers travel to San Francisco to match up against the 49ers.
This will be a tough game for the Steelers if they were at full health, let alone having their franchise quarterback slowed with a high ankle sprain.
While there is question as to whether or not he will play, I would personally place my money on him being under center.
As long as he is medically cleared there is no doubt that Roethlisberger will be on the field for Pittsburgh's final regular season prime time game of the season.
Though slowed, Roethlisberger could be just as, if not more dangerous than usual.
Earlier in the season the Steelers went to a quick passing offense and their offense was hitting on all cylinders. Bruce Arians has been forced in the past to alter his offensive scheme because of a hobbled Roethlisberger or for backup Charlie Batch. This should be no exception.
Roethlisberger is the best quarterback in the league at improvising and making big plays, but with very limited mobility he will be reduced to a pocket passer.
Taking the strength of a player away is usually a detriment, but not for Roethlisberger. He can play just as well staying in the pocket. It would not be the first time that he has done so and likely not the last.
Mike Wallace and Antonio Brown are both excellent in a short passing attack with their speed and quickness and should be able to beat defenders to get open on quick outs, slants and yes, even screens.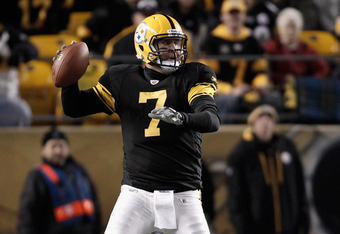 Jared Wickerham/Getty Images
Roethlisberger will often overlook his receivers on short routes as well as his tight ends and backs as outlet receivers as he wants to make a big play downfield. When he cannot move in the pocket his game plan changes and he makes safer throws.
Given the state of Pittsburgh's offensive line, a return to the quick attack offense could be a nice advantage going up against a tough 49ers defense.
Pittsburgh has struggled in road night games this season with crowd noise and pass pressure and their deep passing attack was not a good strategy. With Roethlisberger getting the ball out quickly, the Steelers can beat the pass rush and potentially get big plays from Brown and Wallace getting yards after the catch.
When it comes to Roethlisberger, he wants to win and will do so however possible, style points or not. If he plays next Monday, he may not be the same run and gun quarterback that we have been accustomed to seeing, but he will still be the quarterback with a winning mentality.
Arians' offense with a clear plan to get the ball out of Roethlisberger's hands quickly could be a very dangerous Steelers offense and give them an edge this week.
Follow me on Twitter @ChrisG_FC