Braun's Positive Test Opens Up Questions for MLB's Testing Program
December 12, 2011
Jonathan Daniel/Getty Images
Baseball fans are about to learn a lot more about Major League Baseball's drug testing program over the next few days. Most baseball fans, experts and casual observers reacted to news of Ryan Braun's positive Banned Substance test with jaw-dropping disbelief on Saturday night. 
After all, Braun isn't some sort of muscle-bound behemoth blasting tape measure home runs every time he makes contact. Braun was the proverbial " five-tool" guy. He hit, he hit for power, he had speed, he could field, he could throw. Juiced up players aren't fast or agile, are they?
The problem here is that for all we know Braun wasn't "juiced" the substance he tested positive for wasn't a Performance Enhancing Drug. It was a "banned substance." What that exactly means is yet to be determined. Many have speculated that means it was a substance commonly used to mask the presence of a performance enhancing drug in one's system while others speculate it was just a stimulant. 
Baseball fans and the media are going to have to exercise something not often found in modern society. "Patience," because while the results of this test are in dispute via Braun's formal filing the results and the details of the result can't be publicly discussed.
The problem here is two-fold.
Baseball desperately needs to insure that it's fans are under the impression that the sport is committed to running a clean ship. Fans, at least rational ones, know that there will always be a few individuals that will break the rules. It's important that baseball catch those and punish them, though.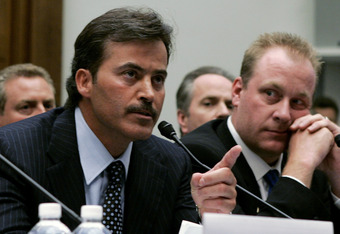 Mark Wilson/Getty Images
The previous era's steroid issues were exacerbated by the very valid claims by critics and fans that the hierarchy of the sport was willingly negligent in exposing so many of their players as potential cheaters and drug users. It was that very inaction that triggered the ugly 2005 congressional hearings in which players such as Mark McGwire, Sammy Sosa, and Rafael Palmeiro all ruined their public images by offering up evasive answers to easy questions or in Palmeiro's case arrogantly declaring himself "clean" only to test positive for a steroid less than five months later.
Since then baseball has enacted a fairly strict testing policy and it stands to get much tougher next season under the new Collective Bargaining Agreement which allows for testing of Human Growth Hormone.
Make no mistake about it: Those players who take steroids or other performance enhancing drugs should be weeded out and punished as well. You can't have it in the sport or you risk compromising the game's integrity.
The sport also can't have ambiguity or incessant leaks with regards to test results. Ryan Braun rightfully deserves the mountains of criticism he will receive should these test results (the exact results of which are as of now unknown) reveal that he was juicing or the like.
Ryan Braun doesn't deserve to have his MVP award prematurely stripped nor does he deserve to have his medical records or private medical history revealed to the world. If Braun did in fact test positive for a stimulant then for all we know he could have adult attention deficit disorder. We don't really know anything as of yet and that's a problem.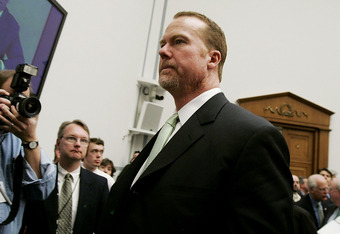 Mark Wilson/Getty Images
Players who cheat deserve punishment but in spite of the sky-high major league salaries baseball players are deserving of a modicum of the same privacy rights that all of us are. The leak here is a problem because the entire media world is caught up not reporting on a concrete story but merely speculating. That's not always a problem but in this case it is. Ryan Braun is still innocent even in the court of Major League Baseball. They've yet to issue a suspension. All they've said is that the case is under appeal.
If the test turns out to be positive then yes, it would be a huge step backwards for baseball. If not then baseball still must figure out a way to insure player privacy until the results, not the initial ones, but the final ones are revealed. That way fans and the media won't have to speculate on what exactly a player has tested positive for and players won't have to wage a potentially unnecessary PR battle to clear their names of acts they aren't even guilty of or sacrifice their private personal medial records to do so. 
Baseball has taken plenty of steps in the right direction to clean up their sport. No system will ever be perfect but the current Ryan Braun situation has shed light on some of the problems with baseball's current system. Here's hoping they continue to take steps to improve the testing system.