MLB Trade Rumors: Carlos Quentin Deal Must Bring Chicago White Sox a Young Bat
December 12, 2011
Greg Fiume/Getty Images
The Chicago White Sox are entertaining offers for Carlos Quentin, among other players.  With the White Sox in full rebuilding mode and Quentin possibly set to gain more money through arbitration, Kenny Williams might deal the 28-year-old outfielder.  Quentin's departure would require Williams to find new run production.
The interest in Quentin is significant.  The Toronto Blue Jays had shown interest in Quentin, although talks between Alex Anthopolous and Williams have died down in recent days, according to Sports Illustrated's Jon Heyman.  Also, the Boston Red Sox inquired about Quentin, but Ben Cherrington didn't give Williams anything concrete, according to the Boston Globe.
The Baltimore Orioles are also possible suitors for Quentin, according to the Chicago Tribune.  However, Dan Duquette didn't mention Quentin specifically, leaving the possibility open to other White Sox players that might pique his interest.
All of this talk may be intriguing, but the deal must come at a price.  Besides, the White Sox would lose significant run production and on-base appearances without Quentin.  Losing Quentin would mean losing their second-leading player in RBI and OPS. 
Paul Konerko, who will be 36 when the 2012 season begins, can't be relied upon to drive in 100 runs forever.  Adam Dunn might not return to his old self.
Whether the White Sox can get more run production from Alex Rios, Alejandro De Aza or Brent Morel is questionable.  For the White Sox, which placed 11th in the AL in scoring and on-base-plus-slugging, help needs to come in any trade involving Quentin.
Which Players Would Possible Suitors Need to Provide?
Each of the three teams interested in Quentin have players who could serve as a viable replacement. 
The Toronto Blue Jays could give the White Sox J.P. Arencibia, their power hitting catcher.  Arencibia hit 23 home runs and drove in 78 runs in 2011.  While he struggled to reach base, finishing his rookie campaign with a .282 on-base percentage, his .720 on-base-plus-slugging is good enough.
That Arencibia could improve on reaching base is quite possible.  He hit .301 in Triple-A in 2010.
Also, Brett Lawrie is a good idea.  The third baseman put up a .953 on-base-plus-slugging along with nine home runs and 25 RBI in 43 games at the end of the season.  Besides that, Baseball America named him to its minor league All-Star team.
Williams should be pleased if the Red Sox offer Ryan Lavarnway for Quentin.  Lavarnway hit 32 home runs and had a .376 on-base percentage this season at Triple-A Pawtucket.  Lavarnway also appeared on the Baseball America Minor League All-Star Team.
Adam Jones seems like a reasonable swap if Duquette is serious about doing business with Williams.  After hitting 25 home runs and posting a .785 on-base-plus-slugging rate in his fourth full season, Jones is on his way to a strong career.
Finding good sluggers in the Orioles minor league system is tough.  Brandon Waring has knocked the ball out of the park 20 times in each of his five minor league seasons, but since he's about to hit 26 and hasn't hit the majors, he probably won't be a major run producer in the major leagues.
No one among the Baseball America Top 10 for the Orioles heading into 2011 had 20 home runs.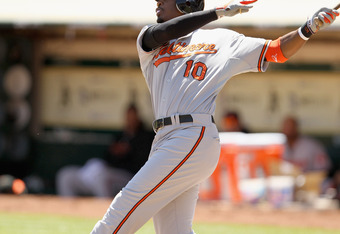 Ezra Shaw/Getty Images
Thus, the Orioles would have to be willing to give the White Sox someone at the major league club in return for Quentin.
Conclusion:  White Sox Couldn't Pin Run Scoring Hopes on Current Prospects
The White Sox need to boost scoring if they want to pretend to be competitive.  Trading Quentin could leave the burden of run production up to the young bats of the White Sox if Williams doesn't make the right deal.
That wouldn't be a good idea.  Brett Lillibridge might have hit 13 home runs in 2011, but, at 28, his ceiling isn't very high.  Whether Brent Morel can smack the ball for a full season is anyone's guess.  Only the most daring would make strong bets on Dayan Viciedo's slugging ability.
Ergo, the White Sox need a bat if Williams is headed towards dealing Quentin.  Trotting a team out next season with worse scoring ability would not be a happy sight.