Cincinnati Reds General Manager Jocketty Knows What He Is Doing
December 12, 2011
Andy Lyons/Getty Images
As we watched the National League Central implode this offseason, it is easy for Cincinnati Reds fans to get impatient. The biggest question for Cincinnati faithful is, why hasn't General Manager Walt Jocketty made a move in the free agent market or at least pulled off a trade?
As the dust from the Winter Meetings has cleared—no one in the Central has so far been a major player in the offseason. As a matter of fact, the Central Division clubs lost mightily as far as talent is concerned.
No more Albert Pujols. 
Prince Fielder (Milwaukee Brewers) has his bags packed and will likely sign out of the division.
The Houston Astros had the biggest move in the offseason, announcing after this year they were moving to the American League.
So why wreck the train?
The Reds have a solid nucleus of young players and look to be on top for years to come. Yes, they have problems. Some of those problems, most clubs would love to have.
Examples? The Reds are three deep at catcher. They have a highly touted prospect at first base (Yonder Alonso) backing up 2010's National League MVP Joey Votto. Maybe the Reds should move to the American League—ya think?
Jokes aside, the Reds do need to find a closer with the departure of Francisco Cordero. Nick Masset (3-6, 3.71 ERA, 1 save) has been called by local media types a closer in waiting. Logan Ondrusek (5-5, 3.23 ERA, 3 saves) has served a set up man in the past.
Both may have been overused last season pitching in 141 games between them, but it is hard to argue with their numbers over the past two years. You would hope a closer could emerge from the two.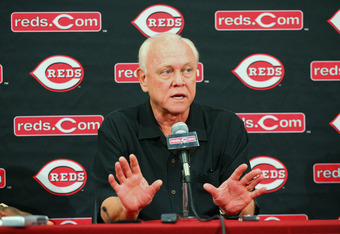 Hunter Martin/Getty Images
The Reds starting pitchers were a huge disappointment last year and contributed to the wear and tear on the bullpen. With left-hander Adrolis Chapman (71 strikeouts in 50 innings) moving from the pen to a starter's role and ace Johnny Cueto (9-5, 2.31 ERA) making a healthy return, it shouldn't be too hard to find a No. 1 and No. 2 starter in the rotation. Then there is Mike Leake (12-9, 3.86 ERA), who has been brilliant at times the past two seasons.
Bounceback seasons by Bronson Arroyo, Homer Bailey, Edison Volquez and Travis Wood would make the Reds strong contenders. 
If Jocketty errs, it will be bringing on board over-the-hill guys to bump this young talent out of playing time. Why tempt Manager Dusty Baker who has shown his preference to giving older veteran players playing time?
Trade rumors involving Josh Willingham or Cody Ross ready don't make sense. Chris Heisey, the Reds fourth outfielder, has put up comparable numbers to those players.
Michael Cuddyer with his versatility (OF-3B-1B) would make more sense. 
Veteran third baseman Scott Rolen is still a big part of this team. Adding a player like Cuddyer would be an option when Rolen is not healthy enough to play.
As it stands, the Reds have enough to win the Central Division. The Cardinals and the Brewers have not stood pat this offseason, but neither has landed a player that would be considered game-changing.
By virtue of subtraction in the Central, the Reds just staying with what they have look pretty good for a run at the title.