MLB Free Agency 2012: For Texas Rangers, Will It Be Yu Darvish or Prince Fielder
December 12, 2011
The 2011 MLB Winter Meetings were pretty lame for the Texas Rangers.
They allowed their number one pitcher to walk—casually stroll, really, while his over-sized sunglasses reflected the cool California sun—over to the team's number one divisional rival, the Los Angeles Angels of Anaheim.
Ugh.
And oh yeah, the Angels also signed some guy who's supposed to be a pretty good hitter too.  
The money they threw to Pujols (10-years, $254MM) will certainly help to blot out bitter Halo tears. Tears spilt the last two years when the Rangers dominated them in most aspects of baseball, on their way to two-straight AL West Division championships.
As an ardent C.J. Wilson supporter (well, at least when he was a Ranger) it seems silly to me that the Rangers couldn't come up with the same offer the Angels had. 
Love C.J. Wilson or hate him, his 16 wins from a year ago will be tough to replace.
Pujols—regressing or not—is a game changer and one that will undoubtedly help out the Halos. But, Wilson is the one that, to my mind, will hurt the Rangers the most.  People liken his loss to the Rangers acquiring Napoli last year (via the Blue Jays) from the Angels.
To say Mike Napoli has worked out well for the Rangers is like saying that arsenic tastes bitter. However, Napoli ending up in Texas isn't the same as Wilson landing in the "Big A."  
Remember, the Angels thought Naps was headed to Canada.  The Rangers essentially let Wilson wander back to his homeland in California—without a truly significant offer.  
Ouch.
My initial reaction to last Thursday's news was to turn my full attention to the rumors/speculations/half-truths/full-on lies surrounding Yu Darvish and Prince Fielder; in full hope of the Rangers somehow snagging both.
That's probably not likely, but it does raise the question: which of these two should the Rangers pursue?
Yu Darvish
The same day that Pujols dampened some spirits in St. Louis, Yu Darvish was posted.  Darvish, a 25-year-old Japanese pitching phenom, is definitely the most intriguing pitcher left on the free agent market.
With a classic power-pitcher's build, at 6'5" tall, he has a plus fastball and several secondary pitches that scouts continuously rave about.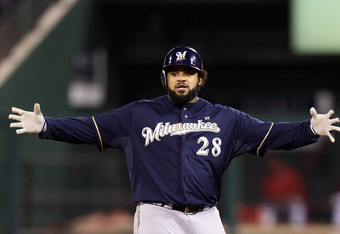 Christian Petersen/Getty Images
With his large frame and well developed arsenal, the only thing greater than Darvish's ceiling in terms of potential is the salary that he can command.  
That's the problem with acquiring Japanese free agents, you're not just paying for the player, you're paying the player's former team.  It's an odd system and one that essentially doubles your investment, and you're really not 100 percent sure what it is you're getting.  Aside from the 2009 World Baseball Classic, Darvish hasn't really proved he can get Major Leaguers out.  
Regardless, if the Rangers are to outbid every other team in the Yu Darvish sweepstakes and then successfully negotiate a contract, there would be much rejoicing in Rangers Nation.
That dream could become a reality according to recent industry insider musings.  
Most suspect that it will take upwards of $50MM dollars to win the bid and secure the rights for negotiating, plus another $50MM dollars for Darvish's contract.  
That's a significant investment for someone that could end up being the next Daisuke Matsuzaka. Then again, if Darvish ends up being the next Hideo Nomo, the investment is a shrewd one.
It looks like Yu Darvish could become a more than acceptable replacement for the departed Wilson atop the Rangers rotation.  How he'll handle Major League hitters—not to mention the Texas heat—does produce a query or two.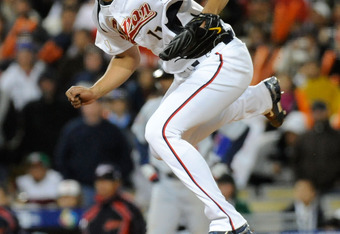 Kevork Djansezian/Getty Images
The question marks surrounding Darvish are what make Prince Fielder a fascinating potential addition to the Rangers formidable offense.
Prince Fielder
I'm saddened but not shocked by C.J. Wilson's signing with the Los Angeles Angels of Anaheim.  The Albert Pujols signing though—whoa daddy—I'm pretty sure that one took the entire industry by surprise.  
So if Darvish is an answer to Wilson, then Fielder certainly would seem to be a trump move for the Pujols signing.  
Fielder is going to cost some coin, he's got quite a good deal of leverage now.  He's a Scott Boras client, and he's definitely the best power hitter remaining in the free agent market.
If Fielder would be willing to take a contract of five-to-seven years rather than the ten-year deal that Pujols inked, the Rangers could become players in the fight for his services.
Really, the only knock on him is his sizable frame...and the weight attached to it. However, he's young—27-years-old—and entering his prime.  Plus, the way the Rangers' Ballpark plays, he could easily smash 50 home runs annually.
Hey, and if Fielder hits his weight, he might just win a batting title.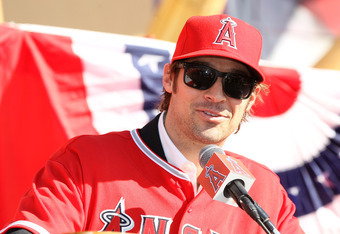 Stephen Dunn/Getty Images
Purely speculation here, but I think a 5-year deal in the range of $100MM might bring Fielder to Texas.
All things being equal, wouldn't you rather spend the big bucks on the proven Major League quantity?
Should the Rangers land Fielder, the assumption is that Wilson's wins will be replaced by an even more bludgeoning offense and Feliz, the former closer-turned-starter.
That makes me a little nervous.  
If I was the GM/Owner...
Well, I'd sign both.  Heck, it's not my money, right?  I also wouldn't have let Wilson walk.  And I'd drop beer prices down to a dollar, and parking to two dollars...I'd also add in a complimentary helicopter ride to a Ranger game on your birthday.    
I'd be a really bad GM/Owner. Maybe even worse than Jerry Jones.
Too soon. 
Blowing big bucks as a reactionary move is a bad idea.  Remember when the Angels panicked last year and traded for Vernon Wells?  Well that didn't work out so well.
Obviously, signing either Darvish or Fielder is different from the Wells trade, but the point is the Rangers don't need to freak out just to "match" the Angels.
The Texas Rangers are still an extremely talented ball club.  No need to flip our collective lids.  In other words, we don't need to buy a thousand dollar toupee just because our hair might be getting a little thinner...relax, it's probably just the lighting anyways.
The bottom line is that the Angels know the Rangers are stacked, it's why they've spent one trillion dollars on two guys in their early 30s. Two exceptionally talented players in their early 30s. 
Rangers' GM Jon Daniels has spoken publicly about the team's intentions on restructuring and/or extending the players that constitute the Rangers' core—Josh Hamilton, Ian Kinsler, Mike Napoli, etc. 
Like many Rangers fans, I fully trust in Jon Daniels. He's arguably the best GM in Major League Baseball.  And who knows? He might have a trick or two up his sleeve yet.  In fact, I'm even willing to gamble on it.
I wouldn't wager on the dollar beers and b-day helicopter rides though.
Follow Timothy on Twitter @TMurrayHowell—he follows back, but not in a creepy way. Or hit him up on Facebook —you know you have an account.