NCAA Basketball: 10 Must-See Games of the Week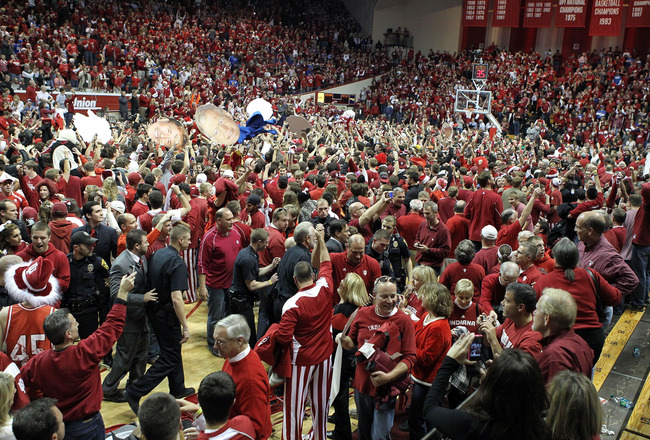 Andy Lyons/Getty Images
Finals week for most colleges makes for a pretty boring week of College Basketball. With still two weeks until the NBA tips off, it may be a long week for sports fans.
Of the 10 games I have listed, only two of them are not played on Saturday. As I said, it is going to be a long week.
As long as you can make it until Saturday, then you will be treated to a lot of outstanding games.
After a wild weekend in college basketball, let's look forward to what we can see next week.
Cincinnati @ Wright State (12/14, 8:00 PM ET)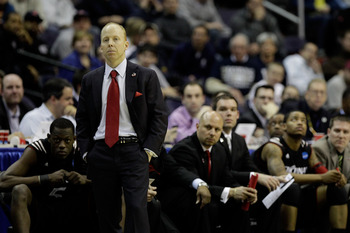 Rob Carr/Getty Images
This will be Cincinnati's first game after the Saturday brawl against Xavier. What a scene it was on Saturday. If my 14-year-old sister asks me about something sports-related, I know it is national news. The Cincinnati-Xavier game turned into national news.
Cincinnati announced today they are suspending Yancy Gates, Octavius Ellis and Cheikh Mbodj for six games each and Ge'Lawn Guyn for a game. Gates is the biggie, as he is averaging 13.5 ppg and 9.5 rpg for the Bearcats.
Cincinnati's leading scorer, Sean Kilpatrick, will likely have to carry the load to avoid an upset Wednesday night.
Wright State is no real bracket-buster threat, but with losses to Florida by 12, Charlotte by four and Cleveland State by two, Wright State is no pushover.
Cincinnati better realize they have painted themselves into a corner for this upcoming game.
Baylor @ BYU (12/17, 2:00 PM ET)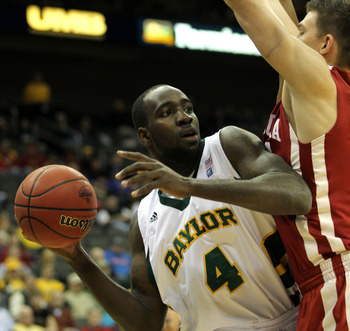 Jamie Squire/Getty Images
Baylor looks for real. The Bears went into Evanston last week to play a pretty good Northwestern team and dismantled them.
At 7-0, the Bears have moved into the top 10 and continue to rise. Perry Jones has looked great since coming back, putting up 19.5 ppg, while Quincy Miller is scoring 13.2 ppg. Qunicy Acy continues to be a do-everything for the Bears as well.
BYU is not the same team as last year, but they are still tough. BYU is 8-2 with recent wins over Oregon and Utah. Noah Hartsock has been the star for BYU, averaging 17.3 ppg and 6.9 rpg.
Texas A&M @ Florida (12/17, 2:30 PM ET)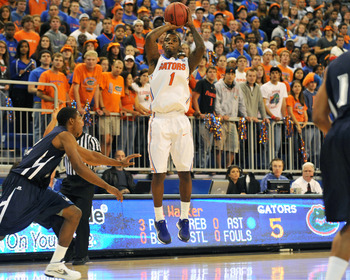 Al Messerschmidt/Getty Images
Florida continues to be an enigma. Their two losses are about as forgivable as losses can be (to Ohio State and Syracuse), but they continue to be unimpressive in wins. They just beat Arizona last week in overtime at home.
Kenny Boynton is scoring18.7 ppg, and Bradley Beal is at 15.1 ppg.
Texas A&M comes in at 8-1 with their only loss coming to a hot-at-the-time Mississippi State team. A&M's best win has been against St. John's by one point.
Neither team has looked especially impressive. Needless to say, this is a big one for both teams.
Memphis @ Louisville (12/17, 4:00 PM ET)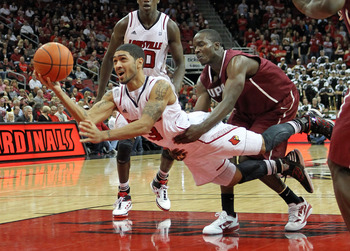 Andy Lyons/Getty Images
Rick Pitino is right back where he is comfortable: at the top of the polls. Louisville will likely be ranked No. 2 after this weekend.
The Cardinals are 9-0 with their best win coming over Vanderbilt 62-60 in OT. Last week they won big over IUPU and FDU.
Peyton Siva is the guy who makes Louisville go. Siva is averaging 10.3 ppg and 6.4 apg, and continues to make everybody else around him better.
Memphis is still looking for their signature win. Their losses have been to Michigan, Georgetown and Murray State. Their most impressive win to date was over Miami.
I put Memphis and Murray State as a must-see game last week, and it lived up to the billing. Memphis has some pride to win back in Louisville.
Arizona @ Gonzaga (12/17, 4:00 PM ET)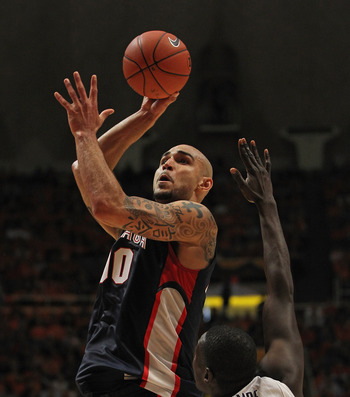 Jonathan Daniel/Getty Images
Gonzaga hasn't started the year as well as they would have liked. After losing to Illinois on the road, the Zags lost Saturday night at home to Michigan State.
Robert Sacre continues to be a force for the Zags, putting up 16.4 ppg and 7.1 rpg. The 7'0'' senior better get some help if the Zags want to knock off Arizona.
Arizona has been another tricky team. Their schedule has been brutal so far. Last week, they lost to Florida in overtime and routed Clemson.
Solomon Hill has been the Wildcats' best player so far, averaging 11.7 ppg, 7.6 rpg and 3.4 apg.
Notre Dame @ Indiana (12/17, 4:30 PM ET)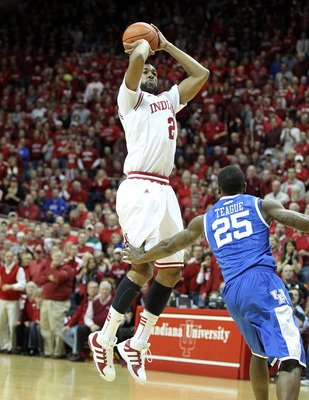 Andy Lyons/Getty Images
What a game it was on Saturday in Bloomington. A lot of people who have historically disliked Indiana basketball found themselves cheering for the Hoosiers against top-ranked Kentucky. The crowd was great and it was 40 minutes of entertaining basketball.
The Hoosiers have obviously been led by freshman Cody Zeller, but Victor Oladipo (12.3 ppg/5.2 apg) and Christian Watford (11.4 ppg/5.0 rpg) have been fantastic as well.
Notre Dame is hurting, after losing leading scorer Tim Abromaitis for the season and having Scott Martin sidelined with a concussion. The Irish will have to find points from somewhere.
Indiana is on the rise in a big way. Notre Dame will try to knock their in-state rivals down a notch.
UNLV @ No. 21 Illinois (12/17, 5:00 PM ET)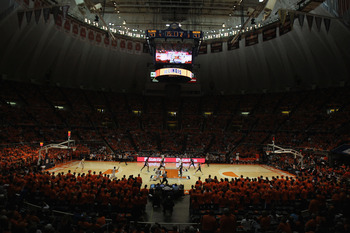 Jonathan Daniel/Getty Images
Back in my article about the Big Ten freshmen classes, I ranked Illinois as having the best recruiting class in the Big Ten. The freshmen for Illinois haven't been breathtaking, but the team as a whole has played great.
The Illini are at 9-0 following their huge comeback to beat St. Bonaventure at home 48-43. Illinois also had a big win over Gonzaga recently. Meyers Leonard has been a force inside for the Illini, putting up 12.9 ppg and 6.8 rpg.
UNLV has come down from their upset of North Carolina by losing at Wichita State and at Wisconsin. The Rebels need to get back on track, and a win in Champaign would do just that.
No. 3 Syracuse @ N.C. State (12/17, 6:30 PM ET)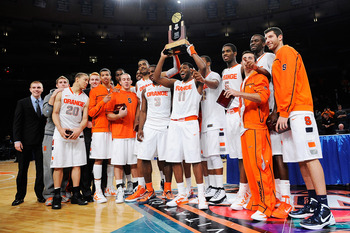 Patrick McDermott/Getty Images
This will probably be Syracuse's first game this season as the number one team in the country. Following losses by Kentucky and Ohio State, the Orange are in prime position to take over the top spot.
Kris Joseph has been a monster for Syracuse so far, putting up 13.7 ppg and 6.1 rpg.
The Orange haven't been tested too much, however. They squeaked by Florida by four and then got past Marshall by six. They rebounded nicely in their last game against George Washington, winning 85-50.
N.C. State welcomes Syracuse Saturday. The Wolfpack are 6-3, but all three losses are quality losses. Their losses have come to Vanderbilt by seven, Indiana by 11 and Stanford by four.
Syracuse will likely have a huge target on their back. The Wolfpack are the first to take their shot.
Kansas State @ No. 15 Alabama (12/17, 10:00 PM ET)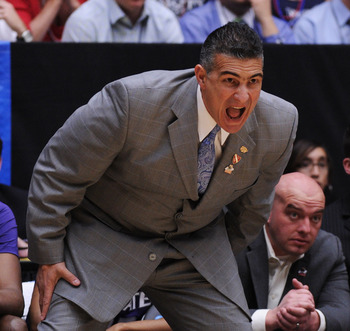 Harry How/Getty Images
If you are not terrified of Frank Martin, then more power to you.
Martin has Kansas State back to 6-1, following a loss to West Virginia. As if Martin wasn't enough to give the Wildcats an aura of toughness, their leading scorer is named Rodney McGruber. If the Kansas State student section isn't dressing up like McGruber yet, they will be soon.
Alabama is 7-2 and has lost two straight contests: to Georgetown by two and Dayton by 12. The Tide have not looked especially good their last two games.
Alabama needs this game to get back on track.
Kansas State needs this game as well, to build some momentum before playing Southern Illinois and Howard. No, they don't need the momentum for SIU or Howard, they need it for the three-game stretch following that: at Kansas, home for Missouri and at Baylor. Yikes.
Virginia @ Oregon (12/18, 5:30 PM ET)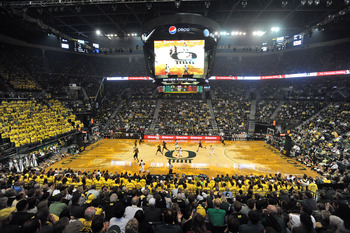 Steve Dykes/Getty Images
Oregon has the wildest playing surface in the country. There is not much disputing that. It finally appears that they may have a decent team in Eugene to play on that court.
Oregon welcomes Virginia Sunday night. The Ducks are 5-2, with losses coming to Vanderbilt and BYU. Their best win was a 74-70 contest against Fresno State.
Virginia is off to their best start in a long time. They are 8-1, which includes a very impressive win over Michigan. A two-point loss to TCU is their only blemish. Mike Scott has been very good for the Cavaliers, averaging 15.3 ppg and 9.1 rpg.
This is a big game for two programs on the rise.
Keep Reading