St Louis Cardinals: Winter Meetings Review According to TPR
December 11, 2011
Stephen Dunn/Getty Images
It's a popular sentiment these days to consider the Cardinals one of the losers of the Winter Meetings. Their franchise player left town and people are still talking.
In the end, Albert Pujols' departure doesn't rate with Lebron James in terms of raw emotion, but many Cardinals fans have an empty feeling these days. Others are vowing to burn their Pujols jerseys.
Then again, a few have realized the truth: this is probably a good thing for the Cardinals. No player can live up to a contract of that length and Pujols in particular will struggle at the end because he will be 32 in the first year of the contract.
While they won't get to see his 500th or 600th home runs, the Cardinals dodged a bullet.
Infield
The Cardinals did about as good a job preparing for this moment as they could. They signed Lance Berkman last offseason and re-signed him before the end of the season to a one year deal. So, Berkman slides to first.
His move creates an interesting situation under TPR. He had a very poor fielding mark, but that was based in right field. So, the Cardinals overall will likely come out better than what the overall TPR says.
The same should be true behind the plate and at second base. Yadier Molina had a down year defensively according to the numbers, but there is no reason to think that will continue.
At the moment, Daniel Descalso is being penciled in at second. He played most of his time at third last year, so it is likely his defensive numbers will improve. Give them neutral ratings overall (not out of the question) and the Cardinals game nearly 20 runs.
The club re-signed Rafael Furcal yesterday. He is yet another player where more is expected in 2012. He brings solid defense and good speed to the equation. Offensively, he is probably not what he once was in his prime, but he is certainly better than average.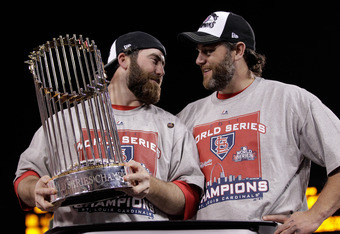 Pool/Getty Images
Finally, there is David Freese. Based on his playoff performance you would think he is the second coming of Mike Schmidt. Reality has a way of getting in the way of day dreams like that. However, he could improve their lot simply by lasting through a whole season. If he does that then the Cardinals will be in good shape.
Outfield
The second key to the loss of Pujols is that it allows Allen Craig to play full-time. Most of the time, when you lose a player of that caliber, you end up replacing them with someone average or below. Both Berkman and Craig are well above average. So, when you combine Craig's production with Berkman's improvement on defense, the Cardinals losses will actually be fairly minimal.
Jon Jay took over full-time in center field after the trade deadline. Different sabermetric sources rate him differently defensively. The ones used for TPR rate him around average, but John Dewan's Fielding Bible rates him as excellent. One thing is for sure, he is better than Colby Rasmus was in all of them.
The Cardinals still have Matt Holliday locked up long term. He still hit last year when he wasn't on the shelf. For a team that won a World Series, the Cardinals certainly had their fair share of injuries. Holliday was one of those.
Rotation
The rotation is yet another area where the Cardinals have some optimism. Adam Wainright returns from a season on the shelf. Even if he returns to half of what he was the last few seasons he will be a positive addition to the staff. In realistic terms, he takes Edwin Jackson's spot in the rotation. Almost everyone in baseball will take that trade.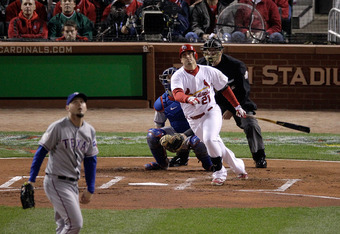 Rob Carr/Getty Images
Otherwise, the Cardinals have Chris Carpenter coming back. He was brilliant in the playoffs proving that he hasn't lost anything. The question is how long he will be able to maintain this level of production. Yet, a repeat in 2012 is not too much to expect. Jake Westbrook, Kyle Lohse and Jaime Garcia are coming back as well. All of them are above average performers.
Bullpen
The Cardinals are yet another example at the relative overvaluing of closers. They began the season with Ryan Franklin as the closer, but he was pushed aside in April by Fernando Salas.
Franklin was eventually released and is still looking for work. Salas was good the whole season, but Jason Motte took over the closer's duties in the playoffs. Going with the hot hand served them well.
It was the depth of the Cardinals bullpen that told the tale. Octavio Dotel came with Marc Rzepcynski in the Rasmus trade. Dotel signed with the Tigers this offseason, but provided a steady hand in the 7th and 8th inning for the final two months. Scrabble, as he is sometimes called, gave them a quality lefty in the pen and he is returning.
Eduardo Sanchez and Lance Lynn were both average pitchers this past season, but average is certainly good enough in middle relief. In fact, the only shaky performer was Kyle McClellan and he is really more of a long reliever/emergency starter. Those are nice to have around and their struggles don't have a dramatic impact on the final result.
Rest of the Offseason
With Furcal's signing yesterday, the Cardinals really don't have any pressing needs to attend to. So, they can listen to trade proposals and flirt with free agents at their leisure. Another solid reliever wouldn't kill them and they might consider an upgrade at second base, but they will be fine either way.