Angels Revive Magic of Years Past with Albert Pujols, C.J. Wilson Press Event
December 11, 2011
Stephen Dunn/Getty Images
Last week, the Los Angeles Angels of Anaheim shocked the baseball world with the unprecedented signings of Albert Pujols and C.J. Wilson on the same day of MLB's annual winter meetings.
On Saturday, the Angels brought their newest players back to the Big A for a feel-good press conference. It was televised live on the Angels' cable television home and fans were invited to meet the newest Angels at the stadium.
For a few short hours on a crisp Saturday morning in Anaheim, the Angels threw an inaugural party for Pujols and Wilson that bore great similarities to the pep rallies of years past that had been thrown prior to playoff appearances in early October.
Saturday's press conference was a return to mid-2000s normalcy.
Angels broadcaster Victor Rojas played emcee and host of the uplifting event similar to how former broadcasters Rex Hudler and Steve Physioc had hosted those pre-postseason prep rallies in years past, when getting to the playoffs was a routine event in Anaheim.
You remember the ones.
The players would speak to the crowd, conduct interviews with the media and the fans would cheer, applaud and take photographs and videos to document the enchanting experience.
On Saturday, Pujols addressed the crowd, chuckled a bit, gleamed and happily announced, "I'm really excited...I can't wait to play in front of you guys," to thunderous applause, cheers and approval from the Angels faithful.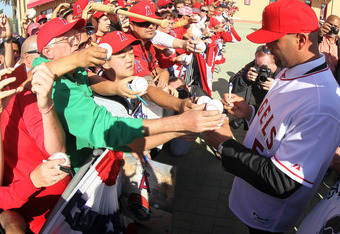 Stephen Dunn/Getty Images
Fans chanted owner Arte Moreno's name and lavished him and GM Jerry Dipoto with praise for bringing Pujols and Wilson to southern California.
As manager Mike Scioscia addressed the fans, outfielder Torii Hunter expressed his excitement about the Halos' newest arrivals. From top to bottom, the Angels were out in full force to celebrate this most magnificent of occasions.
Later on with a slew of excited Angels fans serving as his backdrop, Wilson spoke with MLB Network, summing up the day as, "Pretty cool... I knew it was going to be nuts, but I had no idea it was going to be like this... The fans here are pretty legendary."
If anyone needed a reminder of the enchanting franchise that is LAA, Saturday was exactly that.
The Walt Disney Company might have sold the Angels to Moreno almost a decade ago, but the magic never left this Angels franchise.
In conventional Disney fashion, Moreno must have wished upon a star because in his own words, "It's like a dream come true."
For fans, the Pujols and Wilson signings may be an event that ranks behind just one other in recent franchise history: winning the 2002 World Series.
If the glamor and allure of Saturday's press conference has anything to do with it, the Angels may already be on the path towards another fairy-tale ride to baseball's ultimate happily ever after.