Detroit Red Wings: Why 12 Goals in Last 2 Games Don't Matter
December 10, 2011
Gregory Shamus/Getty Images
The Detroit Red Wings finished their 7-1 spanking of the Winnipeg Jets tonight at home.
The game saw 14 different Red Wings players with points, and six of those players had multi-point games.
Although the Red Wings now ride a nine-game home winning streak with a 12-2-1 home record, they have nothing to hang their hats on, as they are only 6-7 on the road. Detroit has been outscored 34-29 in those 13 road games, and they must get better as 18 of their next 26 games are on the road.
Although it was nice to see 14 players chip in offensively tonight, the fact that Detroit is outscoring their opponents 60-28 does nothing to ameliorate the fact that Detroit faces an extensive amount of road games over the next two months.
To stress how important winning on the road is, the Red Wings need look no further than the fact that there is only one other team in the top half of the NHL with a losing record on the road.
Needless to say, Detroit plays an equal number of road and home games, and as of right now, their home record means nothing, as their offense on the road has been anemic compared to their offense at home.
With their 29 goals in 13 road games, Detroit is averaging just 2.23 goals per game on the road, while putting up 4.00 goals per game at home.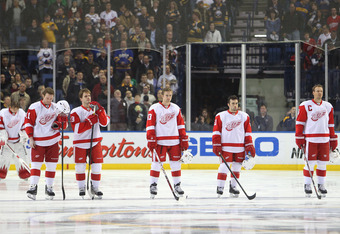 Tom Szczerbowski/Getty Images
The home goals per game have been exaggerated a little bit by the previously mentioned 12 goals in the past two home games, but they still tell a startling story of the Red Wings' season on the road: they cannot score.
The Red Wings have been held to two goals or less in eight of their 13 road games, and on average that will likely not put them in prime position to win many contests.
If they cannot find their groove on the road, it could make for a very long couple months in the standings.