Boston Celtics Rumors: Jermaine O'Neal Should Retire If Traded for David West
December 11, 2011
Nick Laham/Getty Images
Jermaine O'Neal's time as a basketball player in the NBA is quickly coming to an end.
If the Celtics are able to pull off a trade to bring current New Orleans Hornet power forward David West to Boston, I have a feeling it will usher in the end of O'Neal's long career.
O'Neal boast average career stats of 14 points 3.7 rebounds and 1.3 blocks, but those numbers barely represent how good he has been in the NBA.
There was a point in time when O'Neal was heralded as one of the best big men in the NBA, and he terrorized the Eastern Conference with his dynamic play with the Indiana Pacers.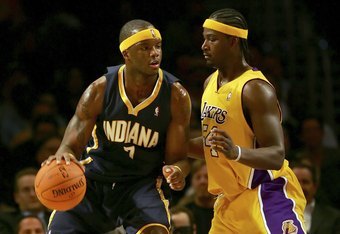 Lisa Blumenfeld/Getty Images
He spent eight years with the Pacers, his best coming in 2004 when he averaged 24.3 points, two blocks, 1.8 assists and 8.8 rebounds a game.
In 16 years in the NBA he's made the postseason 13 times, racking up a total of 1,082 points,164 blocks, 98 assist and 678 rebounds in 90 games.
O'Neal has had a long and good career, and it would be truly unfair to remember him as the aging and oft-injured player he has become towards the end of it.
While at one point O'Neal was a star, he has become more trade bait than anything in the past few years, and according to Adrian Wojnarowski and Marc J. Spears of Yahoo! Sports, the Celtics are looking to use him as part of a trade to bring in West from New Orleans.
This is just part of the business, so it's nothing for O'Neal to take personally. At this point in his career, though, I have to wonder if enough is enough.
According to Tom Lakin of ESPN Boston, O'Neal is apparently thinking the same thing, as he has said he will retire if he's not traded to a contender:
If he does get dealt, O'Neal stressed that he wants to end up on a winning team. If he doesn't, he said he'll retire. 

"There are really only three scenarios [in play]," O'Neal said. "Either I stay here, I go to another contender, or I stop playing…If I go somewhere else, it won't be to a losing team." 
According to Yahoo! Sports, the Hornets are a third team in the West trade that would be willing to take on O'Neal.
By his own admission, if this third party isn't a contending team, O'Neal will end his career.
It's been a long road for the big man and it would be sad to see him waste his time banging down low for a losing franchise, or even worse, sitting on the bench.
To be frank, I don't see a contender being on the other end of that phone line.
O'Neal needs to retire.
For his sake, I hope he can get traded to a contender and end his career with a ring on his finger.
If not, there's no shame in leaving the game you love with your head held high.