Heisman Trophy: Remembering Army's Mr. Inside and Mr. Outside Winners
December 10, 2011
Jeff Zelevansky/Getty Images
Back in the mid-1940s, the Army football team had an outstanding backfield.
From 1944-46, the Black Knights went 27-0-1 and won three national championships behind Glenn Davis and Felix "Doc" Blanchard.
Blanchard won the Heisman Trophy in 1945, and Davis won the award the following year. Together, they were given the nickname "Mr. Inside and Mr. Outside."
Blanchard, "Mr. Inside," ran for 38 touchdowns and 1,908 yards in his college career. Davis, "Mr. Outside," ran for nearly 3,000 yards, had 850 receiving yards and even passed for 1,172 yards during his time at Army.
Davis and Blanchard were also the last set of teammates to win the Heisman Trophy in back-to-back years.
Though the numbers aren't that eye-popping, you have to keep in mind that what these two men accomplished in the mid-'40s was nothing short of amazing given the college football landscape at the time.
Back in this era of Army dominance, the forward pass was still regarded as a gimmick, much like the Tim Tebow-led Denver Broncos' option attack is now seen as a gimmick in the NFL today (though Army and Navy still run this offense pretty well in the college game).
Blanchard's 718 yards and 19 touchdowns were outstanding back in 1945, but in today's game, it wouldn't even register on the Heisman Trophy watch list.
That's more of a testament to the offensive shift we have seen over the past few decades than anything else. In 1945, Army's defense allowed only 46 points the entire season.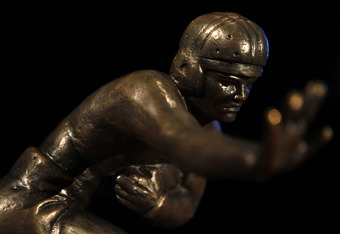 Jeff Zelevansky/Getty Images
I'll say that again. In 1945, Army's defense allowed only 46 points the entire season. They allowed zero points in five of their nine games, an outstanding show of force.
So, the fact that Blanchard and Davis were able to put up huge offensive numbers in an era where points were very hard to come by speaks volumes for just how good they really were.
In the history of college football, there haven't been very many backfields that can consider themselves as equals to "Mr. Inside and Mr. Outside."
On the night of the 2011 Heisman Trophy presentation, it's important to take a look back and remember some of the other great players who have won the most prestigious award in college football.
A record of 27-0-1 is a three-year stretch of dominance that today's college football teams can only dream of accomplishing.