Chicago Bulls: New Free Agent Targets from the Scrap Pile and a New Plan
December 10, 2011
Mike Ehrmann/Getty Images
Now that free agents have begun signing with teams around the league and the dominoes are beginning to fall, its time for Chicago management to make its move. This 2011 offseason has seen the Bulls meeting with players, making calls about trades and seemingly doing their homework on everyone, but so far there has been no action to be excited about.
I would love for Chicago to go out and make a big move, but I just don't honestly expect it to happen. I, like many Bulls fans, have grown comfortable knowing that the Bulls are simply going to do something ordinary. Maybe that's not a bad thing. Maybe it wouldn't be bad for management to play it safe and not swing for the fences with a trade for OJ Mayo, Arron Afflalo or Nick Young. Maybe, just maybe, Chicago's dormancy is about to pay off.
First, let me say that I think a Jason Richardson would be a solid addition. He is a bigger guard who traditionally shoots a strong percentage from behind the arc and is still able to create his own shots if necessary. Is defense isn't great, but his offensive skills make up for negatives defensively. However, that being said, I think he follows in line with Caron Butler and signs for a team with a little more money available, like $7 million or $8 million.
Second, I don't agree with and hope that Chicago is unable to work something out for Jamal Crawford as its primary target. Particularly, if that pursuit means the Bulls have to trade away their best defending guard in Ronnie Brewer to make a deal happen.

Sure, Crawford can score in bunches and provide that extra punch offensively, but at what cost to the chemistry of the team and defensive prowess? If we could work out a trade for Crawford to be the sixth man after we sign a more complete player to be the starter, then I would be completely on board with bringing Crawford back to the Windy City.
Who is this player I am thinking of? None other than the recently bought-out former Detroit Piston Richard Hamilton. He is a player that Chicago has reportedly coveted going back all the way to before last year's trade deadline.

Although Hamilton isn't quite the player he once was, he is still a vast upgrade on what the Bulls currently have at shooting guard. Hamilton is an excellent defender, moves very well in a swinging offense with lots of cuts and picks (think how Kyle Korver operates in Chicago's offense) and has better ability to create his own shot than Korver, Brewer and Keith Bogans.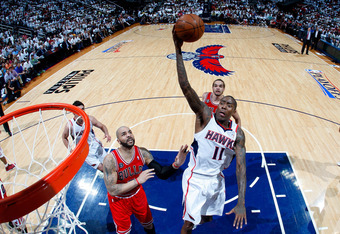 Kevin C. Cox/Getty Images
The signing of a complete player such as Hamilton to be the starter would allow the Bulls to go after a larger array of players to be the bench scorer. As discussed above, a trade for Crawford would be the next best move if Chicago landed Hamilton. If a didn't work out or even if it did, the Bulls would be wise to investigate the possibility of getting Vince Carter to sign a veteran minimum contract.
Would Carter take a veteran minimum contract? Probably not, but hopefully he would at least take less compensation to play for a contender. Though I haven't been a big fan of Carter in the past (especially the last five years), if he is willing to come off the bench and take a secondary role he could be a great addition. Carter would provide Chicago with another offensive weapon who could create his own shot and help take pressure off of Derrick Rose.
With the addition of Hamilton as the new starting shooting guard and by bringing in Crawford or Carter to be the sixth man and another wing scorer, Chicago could make the most out of a seemingly unexciting offseason.

The additions of Hamilton and Crawford or Carter may not be the big moves for long-term success that Bulls fans desire, but it would put Chicago in the thick of the title hunt for at least the next few seasons. Hamilton, Crawford and Carter all have a couple very productive years left in their careers and could be the missing pieces to put Chicago over the top.