Robert Griffin III and the Most Overpriced & Overhyped Heisman Items on eBay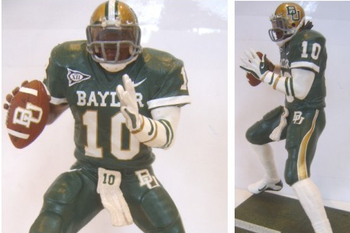 Ohhhh, eBay. We have you to thank for so many things in life. We thank you for inexpensive electronics, used video games and fake designer clothing and hand bags, but most of all we have you to thank for a ridiculous amount of fake sports memorabilia.
Whenever there is a special event like the Super Bowl, NBA Finals or All-Star games the price of sports memorabilia associated with players in those events skyrockets. Surprisingly enough, the same can be said for the Heisman Trophy presentation.
It's been wild to watch the price of Robert Griffin III, Montee Ball, Andrew Luck, Tyrann Mathieu and Trent Richardson memorabilia go through the roof in the past week.
I figured it was only appropriate to compile a list of the most overpriced, and most likely fake, Heisman finalist-inspired items on eBay. Some items are on the list because they are probably fake and some are on the list because they are just ridiculous.
Either way, here's the list of eBay's most overpriced Heisman items.
Montee Ball and Russell Wilson Signed Mini-Helmet: $102.50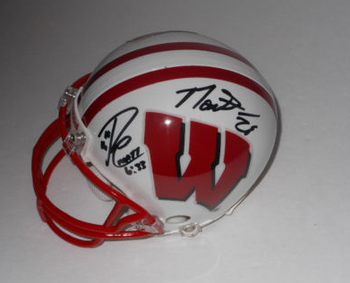 Montee Ball and Russell Wilson signed mini-helmet.
This item is on the list because it doesn't come with a certificate of authenticity from a major sports memorabilia authenticator. Sure the buyer says he will refund your money if it doesn't pass authenticating, but the process of authenticating an item costs as much as $49.99, just to find out your item is fake.
Who knows? Maybe it is as real as this article, but if not whoever bought this just paid $102.50 for a Badger's mini-helmet.
Tyrann 'Honey Badger' Mathieu Signed Mini-Helmet: $102.50+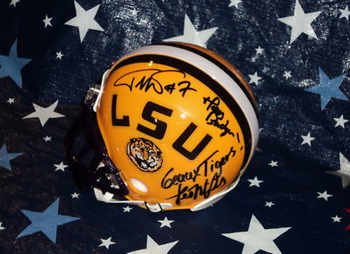 This listing isn't even over and it's already up to $102.50.
What is bothering about this item is that the certificate of authenticity looks like it was made on a 4x6 note card by a 10-year-old.
Sure Tyrann Mathieu could have walked into these guys offices and signed the heck out of this mini-helmet, but the likelihood of that actually happening is slim to none.
What is even worse is that there isn't even a "we'll refund your money if it doesn't pass authentication" disclaimer. Someone will surely overpay for this.
Andrew Luck Signed NFL Replica Football: $149.99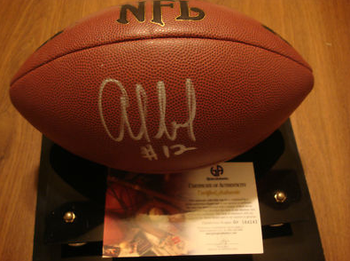 $149.99 isn't a terrible price to pay for a signed football, as long as it is a high quality "The Duke" replica or something like that. This football is literally a $15 football you can buy at Walmart that looks cheap and tacky in a display case.
The other part of this that makes this item way overpriced is the fact that it is listed on eBay about five times: Luck football #1, Luck football #2, Luck football #3, Luck football #4, Luck football #5 and the list goes on...
Who knows? Maybe this guy knows Andrew Luck and is just going crazy having him sign cheap footballs for him, but I highly doubt it.
Montee Ball and Team Signed Wisconsin Football: $175.00+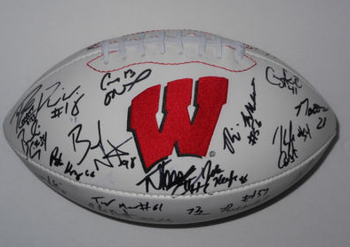 With more than two days left on this listing, it is amazing that it already is up to $175.00. What stands out about this piece of sports memorabilia is that it has over 30 signatures on it.
A majority of those players on the ball, aside from Montee Ball and Russell Wilson, have no way to be verified because they aren't high profile enough. Having all those signatures on the ball takes away the attention placed on whether or not Montee Ball's signature is actually real.
I don't know if this is authentic or not, I mean it comes with GAI certification (not on ball though), but I do know that there will be a ton of these popping up on eBay over the next few weeks before the 2012 Rose Bowl. The ones that pop up within the next few weeks will be a lot cheaper than this one.
Trent Richardson and Mark Ingram Signed Photo: $240.00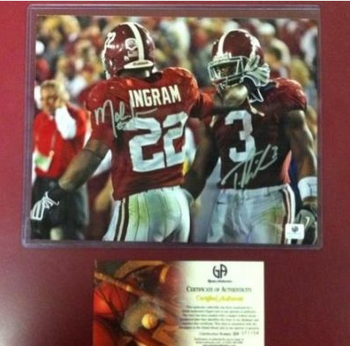 This photo is most likely authentic, based on the GAI authentication on the actual photo along with the certificate of authenticity.
What I am questioning here is why someone paid $240.00 for an 8x10 picture of a former Heisman winner and a now Heisman finalist. Sure this would be a nice item if Trent Richardson won the Heisman, but if he doesn't it will just be an overpriced picture of two great Alabama running backs.
If I'm paying $240.00 for a photo, it better be bigger than 8x10, and it would be after I know for sure that Trent Richardson is actually the 2011 Heisman winner.
Robert Griffin III Custom Mcfarlane Figure: $240.99
This Heisman eBay item wins the title of "most ridiculously overpriced item of all time."
There is still some time left on the clock for this item and it is already well over the $240 mark. If I'm paying $240.00+ for a six-inch figure, a dinner with the player better come with it.
I am impressed by the amazing detail on the figure, but what people don't know is that in the next few weeks a ton of these will pop up on eBay, especially after sellers see this one go for so much.
There isn't much more to say about this crazily overpriced item. I'm absolutely amazed that someone is going to fork over close to $250 or more for this.
Robert Griffin III Signed Baylor Bears Mini-Helmet: $249.99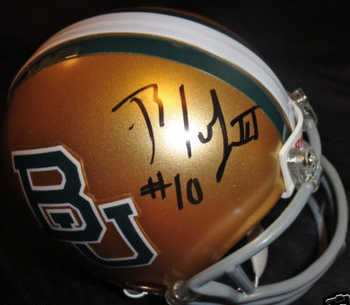 $249.99 for a mini-helmet signed by a guy who hadn't even won the Heisman yet?
Whoever bought this definitely overpaid for the helmet, because even now that Griffin has won the Heisman, the price of his memorabilia will plummet after bowl season is over.
A rule for buying sports memorabilia: Only buy it when the player isn't doing well or in an offseason, or you'll pay way too much.
Andrew Luck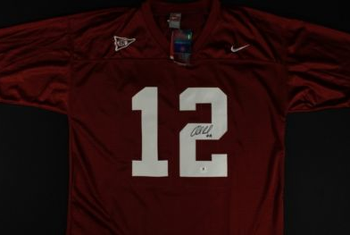 That jersey is definitely not an actual on-field jersey, let's clear that up really quick. The numbers are stitched on and there is a Nike swoosh as well as an outdated Pac-10 logo, but that doesn't mean it's an on-field jersey.
While this jersey might actually be authentic, $299.99 is still a very high price to pay for a jersey of a guy who hasn't even won the Heisman award. In the Heisman aftermath in the coming weeks, you'll see jerseys like this on eBay for around $139.99.
Whoever bought this paid almost double of what he/she should have.
Have you been paying attention to all the GAI authentication that is popping up? Interesting, isn't it?
Robert Griffin III Signed Replica NCAA Football: $310.00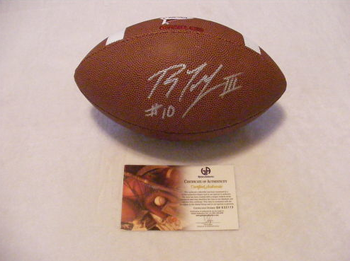 What?! Someone paid $310.00 for a cheep $20 football that you can buy at Dick's Sporting Goods?
There are quite a few problems I have with this one. First of all there is not authentication sticker on the actual item, which throws up some red flags. Secondly the ball that is signed is a super-cheep replica ball that will be a huge letdown to whoever gets this in the mail.
I'm not saying it is 100 percent fake, but there is a high likelihood that it could be and that is why it's such a shame that someone paid $310.00 for something that will be on eBay post-Heisman presentation for around $120.00.
2011 LSU Team Signed Helmet with Tyrann Mathieu Auto: $799.99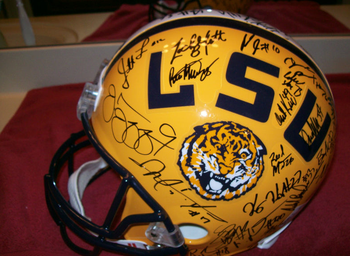 Well there goes a whole month's rent on a football helmet that won't be worth nearly as much if the LSU Tigers lose the BCS National Championship game.
I know this item has a lot more than Heisman candidate Tyrann Mathieu's signature on it, but aside from his signature the others on the helmet would be hard to verify. When you buy a helmet like this you really want to believe it's true, but without photographic proof of the players signing the helmet it's hard to believe in it's validity.
A lot of sellers sell these items, but include photos of the players signing it, which would have helped this item not make this list. Without a disclaimer of "if this doesn't pass verification I will refund your money," throwing $799.99 at this helmet is a shot in the dark.
Here's hoping the LSU Tigers win the BCS championship so this helmet is close to worth the $799.99 price tag.
After the BCS title there will be a lot of helmets like this popping up on eBay for a price of $250.00 or close to it.
Keep Reading