AHL East: Wilkes-Barre/Scranton Penguins News and Notes
December 10, 2011
While last week was a little quieter for the Wilkes-Barre/Scranton Penguins, there was still some player movement to report and a few games to be played.
In this edition, find out about the Penguins' two newest signings and how they are faring in the East Division race.
Get caught up on all the latest AHL Penguins news on this rare Friday night off for the team.
Penguins Defeat Portland at Home, Binghamton on the Road
Last Friday night, the Penguins defeated the visiting Portland Pirates by a score of 4-1.
Portland took a 1-0 lead in the first period thanks to Brett MacLean, but just under eight minutes later, Ben Street evened the score.  Joey Mormina gave the Penguins a 2-1 lead at 16:03 of the first with a power-play goal.
Eric Tangradi increased the Penguins' lead to 3-1 at 16:38 of the second, and defenseman Alex Grant picked up his second assist of the night. 
Geoff Walker finished things off with an empty-net goal with 22 seconds left in the game, and  Alexandre Picard tallied a second helper.
Goalie Brad Thiessen took the win with 19 saves on 20 shots.
On Wednesday, the Penguins traveled up Interstate 81 to take on the Binghamton Senators, where they won by a score of 1-0.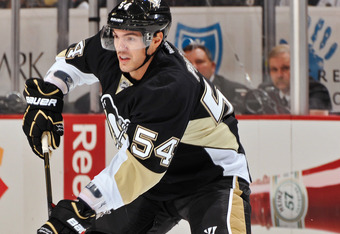 Jamie Sabau/Getty Images
Matt Rust scored his first professional goal; Scott Munroe picked up his second shutout of the season with 25 saves.
Penguins Stumble Against Syracuse
In between games with Portland and Binghamton, the Penguins headed to New York to take on the Syracuse Crunch, losing 5-2.
Syracuse took a 2-0 lead with goals from Brandon McMillan and Patrick Maroon. 
Walker scored at 12:18 of the second to cut the lead in half, but Kyle Palmieri scored with 21 seconds left in the middle frame to put the Crunch up 3-1. 
Troy Bodie added a goal at 2:54 of the third, making it 4-1.
Brian Gibbons scored at the 13-minute mark of the third to pull the Penguins within two, but Syracuse's Peter Holland put up a goal 1:35 later, making the final score 5-2.
Thiessen was the losing goalie with 24 saves on 29 shots.
Alexandre Picard Called Up…Again
Defenseman Alexandre Picard was once again recalled by the Pittsburgh Penguins earlier in the week after Deryk Engelland sustained a lower-body injury.
Picard has a plus-five rating in nine NHL games this year and is averaging 12:57 of ice time.  He has seven points and is plus-eight in 14 games for Wilkes-Barre/Scranton.
WBS Penguins Sign Dan Henningson and Chris Barton
The Baby Penguins attempted to make up for their defensive corps being deleted by signing Dan Henningson out of the ECHL's Chicago Express.
Henningson spent last season with the Wheeling Nailers, the Penguins' ECHL affiliate, where he earned 18 points and a plus-19 in 68 games.  In 18 games with the Express this year, he has three points and a plus-four in 18 games.
Barton, a first-year forward out of Merrimack College, is leading ECHL rookies with 24 points through 18 games.  He also has a plus-10.
Current Record and Upcoming Schedule
The Penguins are currently in first place in the AHL's East Division with a record of 13-7-5 for 31 points.  They are in third place in the Eastern Conference.
Their next five games are as follows:
Saturday, Dec. 10: vs. Hershey Bears, 7 p.m.
Tuesday, Dec. 13: vs. Binghamton Senators, 7:05 p.m.
Friday, Dec. 16: vs. Syracuse Crunch, 7:30 p.m.
Saturday, Dec. 17: vs. Norfolk Admirals, 7:05 p.m.
Monday, Dec. 19: vs. Albany Devils, 7:05 p.m.
Watch and Listen
All WBS Penguins games can be heard on their flagship radio station, 102.3 the Mountain.  Tom Grace will call the action with Mike O'Brien as color commentator.
The games can also be viewed on AHL Live for $6 per game.  A variety of season packages are also available.