San Diego Padres: Winter Meetings Review According to Total Player Rating
December 9, 2011
Doug Pensinger/Getty Images
Josh Byrnes is getting a second crack at being a general manager and he must be grateful for the mess that was dropped in his lap. Coming into the Winter Meetings, he was without a closer, much of an offense and his pitching staff was thinner. Well, he got a closer, but that is pretty much it as he prepares for the rest of the offseason.
Yet, with the improvements in Chavez Ravine, it is unlikely the Padres will be much of a factor this year anyway. So, it is time to rebuild and evaluate the young players there. If they are lucky, they may jump up and surprise some people.
Infield
Byrnes predecessor brought in Jason Bartlett and Orlando Hudson to solidify the infield. Hudson and Bartlett solidified in the sense that they remained healthy and in the lineup, but neither was the solid fielder that we remember. Funny, but they are flanked by solid contributors at every side.
Jesus Guzman stepped up to hold down first base. Neither Brad Hawpe nor Anthony Rizzo were prepared for that particular job. Guzman quietly became one of the better first basemen in the league.
On the other side, Chase Headley continued his solid play. He is not a prototypical third baseman, but he gets the job done. He is one of those players that would put up solid numbers at a neutral park.
Behind the dish, the Padres have Nick Hundley behind the dish. He is another player who put surprisingly strong TPR numbers last year. Then, Byrnes added John Baker in a trade with the Marlins. Baker is a year removed from a very impressive rookie season. He is an OBP machine, so he will be solid insurance in case Hundley struggles.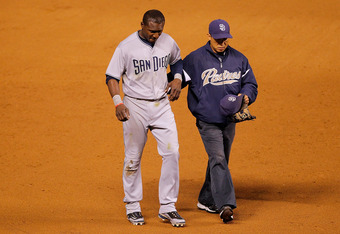 Justin Edmonds/Getty Images
Outfield
The Padres outfield isn't going to make anyone forget anyone else's outfield. Still, they have some solid contributors and depth. Kyle Blanks is penciled in left field, but Chris Denorfia might be the more logical choice. Plus, the club signed Mark Kotsay to play the corners and first base.
Cameron Maybin was born to play center field. He has blazing speed and developing power. In any other ballpark he would be a star on the rise. Petco Park is hard to hit in, but he was definitely a positive impact performer last season.
Finally, there is Will Venable. He is also a solid performer, but he is one of those guys that managers want to upgrade. They have Denorfia and Kotsay if they really want to give it try. All three regulars were positive impact performers last year, so I would leave well enough alone.
Starting Rotation
Mat Latos finally returned to health in the second half last season, so finally the Padres get some good news. The Padres continued their tradition of reclamation projects with Aaron Harang last season. He was good enough to sign a deal with the Dodgers this offseason. Cory Luebke is poised to be the second starter this go around.
Other than that, the Padres have a trio pitchers that have been good in the past and could be good again. Tim Stauffer will be the best of that group initially, but watch out for Clayton Richard. If he has a bounce back the Padres could finish as high as third place in the West. Dustin Moseley is a fifth starter and likely always will be. Of course, another reclamation project could be on the way.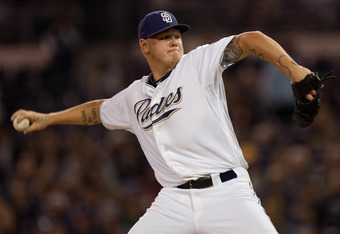 Kent Horner/Getty Images
Bullpen
This time last year the Padres bullpen was the envy of most of baseball. What a difference a year makes. Heath Bell has signed with the Marlins, Mike Adams was traded to the Rangers and Chad Qualls is likely to leave as well. That leaves the recently acquired Huston Street to pick up the pieces. In that spacious ballpark he could have the best season of his young career.
Ernesto Frieri and Anthony Bass had solid seasons in middle relief. They will be expected to do more this season. Luke Gregorson has been dominant in the past, but he struggled most of last season. If he returns to pre 2011 form the bullpen will be okay. It certainly won't be the overwhelming strength it used to be.
The Rest of the Offseason
The Padres are set at every position except the mound, so look for Byrnes to sit around until late January. When you get there you usually find a few pitchers that have slipped through the cracks. You can sign them for fractions of their normal value and simply allow them to build up their value for another team in 2013.
It's not an exciting way to do business since you are always developing someone else's talent, but you usually get good performance out of it and you get it at a cheap rate. Thus is the life of a mid-market team.