Detroit Lions vs Minnesota Vikings: With Fairley Injured, Subs Need to Step Up
December 9, 2011
Chris Graythen/Getty Images
The worst possible scenario for the Detroit Lions defense is unfolding before their eyes. With a Minnesota Viking offense that looked pretty good against Denver coming to town, fans should be concerned.
When the Lions first learned that Ndamukong Suh was going to miss two games, they could at least breath a sigh of relief knowing that a healthy Nick Fairley was waiting in the wings.
Fairley certainly put on a show against the New Orleans Saints in the first half. He was a one man, run stopping, wrecking crew. Then he re-injured his left foot and missed the rest of the game.
This week he's made appearances at practice in a walking boot. It is very unlikely that he plays on Sunday against the 2-10 Vikings.
The Lions' once deep defensive line, is now very thin. They have serviceable backups in Sammie Hill and Andre Fluellen, but there was a noticeable lack of pressure on Brees when Fairley went out last week.
Hill and Fluellen are nice guys to plug in when Suh or Fairley need breathers. Unfortunately they are not starters for a reason. They don't command double teams for a reason. 
Fans should expect an overall drop off if Fairley does not play.
This is particularly a bad scenario because there is a good chance Adrian Peterson will be back.  He practiced on Thursday.
It's also worrisome given the other injuries Detroit's defense has suffered. Louis Delmas and Chris Houston are also ruled out of Sundays game leaving the secondary depleted as well.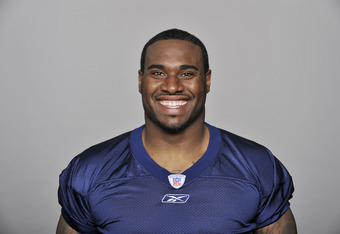 Handout/Getty Images
Detroit is trying to plug holes as best they can. According to an article on MLive.com by Anwar Richardson, the Lions have signed defensive tackle Jovan Haye, who is another former Tennessee Titan.
Haye is a bit of a journeyman, having played with Carolina, Tampa Bay and Tennessee. Despite being released by the Titans before the season started, Haye's had some Fairley productive seasons including 97 tackles and 6 sacks while starting all 16 games in 2007.
It's unclear how much of an impact Haye can make, or how much he'll play for that matter. But any help is good help at this point.
The Vikings are not without their own injury woes. Adrian Peterson's status is still up in the air.  As is rookie quarterback Christian Ponder. Joe Webb could get the start.
The defensive concerns could be a moot point because the game could easily turn into an offensive onslaught by both sides. The Vikings and Broncos combined for seven touchdowns last week and we all know what Detroit's offense can do. 
If it's an offensive shoot-out the edge would have to go to Detroit.
With Jared Allen slamming Detroit on the radio earlier this week, I'm sure the Lions would like nothing more than to have a record setting offensive output on Sunday.
Despite their injury woes, the Lions are the better team. They should win the game convincingly and keep their playoff hopes alive. 
At least for another week.