Boxing 2012: Top Nine Must-See Fights of the First Three Months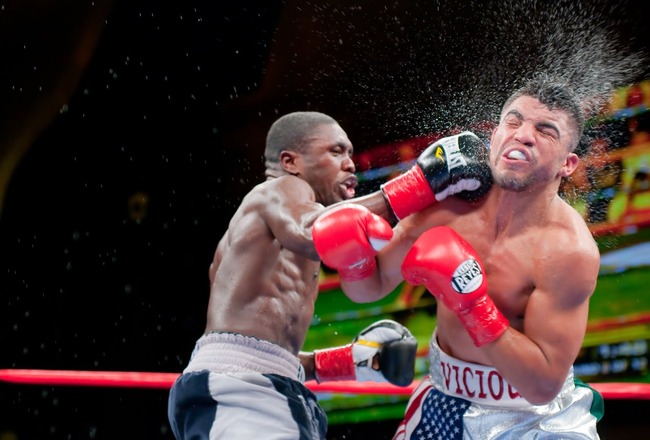 Berto Delivers a Hard Right to Ortiz, Photo by Cathlin Daley of Daleyphotography.net

Boxing is bringing the thrills early in the new year. Fighters are hungry and willing to put in work against the best to achieve greater feats.
Promoters are realizing that pitting the best against the best is profitable, as exhibited in April's Andre Berto vs. Victor Ortiz.
The fans are watching, excited about what has came, and hoping for another dose of the adrenaline-shot that only boxing can deliver.
Now here are top Nine fights of the first three months of 2012.
09. Paul Williams vs. Nobuhiro Ishida on Showtime January 21

Here's ringside fan-footage of Ishida's first-round knockout victory against James Kirkland

Paul Williams (40-2, 27 KO) is set to return on Showtime January 21 seeking redemption. He's damaged goods in the eyes of many after his second-round TKO loss to Sergio Martinez (48-2-2, 27 KO) last year.
Williams gave his critics even more ammunition by taking a series of flush left hands to the face against 28-year-old Cuban fighter Erislandy Lara (15-1-1, 10 KO).
Unfortunately, Williams still won the majority decision on the judges' scorecards. Many believed Williams should have lost. Now Williams has his last shot at staying relevant in boxing.
Nobuhiro Ishida (24-6-2, 9 KO) at age 36, shocked the world this past April by knocking out James Kirkland (30-1, 27 KO) in the first round. Ishida hopes to pull off yet another upset against Williams.
Ishida knocked out yet another fighter in the first round to keep himself busy, though he was only a young fighter making his professional debut. This string of knockouts does make this fight intriguing.
Will 30-year-old Williams be able to revive the magic that made him the most avoided boxer of the past few years or will Ishida ride on his path to sudden boxing glory found late in his career?
No matter who wins, this promises to be an action-packed fight. Williams knows nothing about defense. Ishida's growing confidence in his own power will encourage him to keep bringing the fight to his foes.
08. Adrien Broner vs. Eloy Perez on HBO for February 25

In the video, Adrien Broner knocks out Rodriguez for his first world championship in the third round and then asks for his dad to brush his hair while he is interviewed by HBO's Max Kellerman.

Adrien Broner (22-0, 18 KO), the 22-year-old kid from Cincinnati, Ohio, became WBO super featherweight (130 lbs) world champ by knocking out Vicente Martin Rodriguez (34-3-1, 19 KO) in Round three.
Now he faces undefeated Mexican Eloy Perez (23-2, 7 KO) in what is sure to be a blazing hot match on HBO, February 25.
Broner bubbles with personality, style and great speed and power for his division. Though Broner is the clear favorite to win, he is incredibly fun to watch in the ring.
07. Erik Morales vs. Danny Garcia on HBO January 28

Here's a full replay of Morales vs. Garcia.

Erik Morales (52-7, 36 KO) will put his WBC junior welterweight (140 lbs) against 23-year-old undefeated standout Danny Garcia (22-0, 14 KO).
Garcia is coming off a great split decision win against former world champ Kendall Holt (27-5, 15 KO), proving his youth was too much for the experienced warrior.
Morales won his championship from undefeated Pablo Cesar Cano (21-1-1, 16 KO) on the undercard of Mayweather vs. Ortiz, using his experience to out-think and knockout Cano.
In a battle where both participants like to mix it up, which will be the deciding factor, experience or youth?
06. Andy Lee vs. Martin Murray on HBO March 17

The highlights of a big win for Andy Lee who comes from behind to finish Craig McEwan in Round 10.

Andy Lee (27-1, 19 KO) is a 27-year-old Irishman with a lot of fight in him, who can't be counted out until the fight is over.
This is exemplified in his come-from-behind knockout win against previously unbeaten Craig McEwan (19-2, 10 KO). It occurred in the tenth and final round with McEwan ahead on all scorecards.
Lee, after dusting off former world contender Alex Bunema (31-9-2, 17 KO) avenging his only loss to Brian Vera (19-6, 12 KO). Now, Lee faces undefeated middleweight contender Martin Murray (23-0-1, 10 KO).
HBO wants Lee-Murray to co-headline with Martinez-Macklin on St. Patrick's Day on March 17. Both fights promise action with this one delivering just as much as the other.
Murray participated in one of 2011's fight of the year contenders against WBA world champ Felix Sturm (36-2-2, 15 KO), earning a highly contested draw. Many felt the British warrior beat Sturn.
Though Murray wants a rematch against Sturm very badly, a fight against Lee instead will might have to suffice.
Lee is a tough fighter though so Murray will have to be careful not to slip up or he could become the next top-notch undefeated fighter to suddenly lose his "0".
05. Nonito Donaire vs. Wilfredo Vazquez Jr. on February 11 or 18 on Pay-Per-View

Here's the highlight of Nonito Donaire vs. Fernando Montiel.

Nonito Donaire (27-1, 18 KO) is the next great Filipino sensation. Now he's moving up to super bantamweight (122 lbs) to challenge Wilfredo Vazquez Jr. (21-1-1, 18 KO) for the vacant WBO world title.
Vazquez Jr. was the WBO world champion until this past May, when he engaged Mexican living legend Jorge Arce in a battle that stole the show on the undercard of Pacquiao vs. Mosley.
After accumulating far too much punishment against Arce, Vazquez's corner threw in the towel in the 12th and final round.
Vazquez has since rebounded with a third round knockout victory over a journeyman. Meanwhile Donaire has destroyed former Bantamweight champion Fernando Montiel (44-3-2, 34 KO) by second round TKO.
Then Donaire gave Omar Narvaez his first loss while headlining a fight card in Madison Square Garden. Both men are young. Donaire is in his prime at 29. Vazquez is 27 and growing stronger every day.
While the date has not been decided yet, both February 11 or 18 are being considered. Whenever the two blazing youthful fighters finally come together in the squared circle, great things will happen.
04. Devon Alexander vs. Marcos Maidana on HBO February 25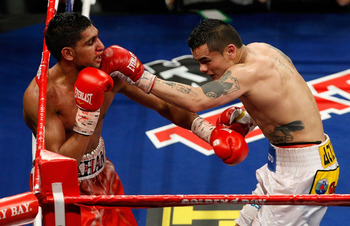 Here's Marcos Maidana (right) giving Amir Khan hell.
Ethan Miller/Getty Images
Devon Alexander (22-1, 13 KO) vs. Marcos Maidana (31-2, 28 KO) is being planned by HBO to co-headline with AdrienBroner vs. Eloy Perez in a welterweight (147 lbs) division debut for both young athletes.
Maidana and Alexander both debut at the 147lbs division in what will be a classic boxer vs. brawler match. Alexander is a slick evasive boxer and Maidana is the powerful knockout-seeking brawler.
Both men have shown a great deal of heart. Alexander was forced to show it after getting knocked down by Lucas Matthysse (28-2, 26 KO) only to rise up and come back to win by a split decision.
Maidana rose from a first round knockdown against Amir Khan (26-1, 18 KO) to deliver the comeback performance of a lifetime by nearly knocking Khan out as he pounded him during the closing rounds.
Both men will be looking to make a strong statement as the bigger names loom for the winner to call out such as Floyd Mayweather (42-0, 26 KO) and Manny Pacquiao (54-3-2, 38 KO).
03. James Kirkland vs. Carlos Molina on HBO January 28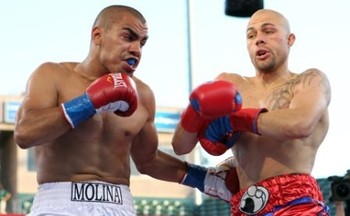 Carlos Molina (left) delivers a bodyshot en route to shattering Kermit Cintron's career. Photo by: SHOWTIME BOXING
James Kirkland (30-1, 27 KO) will challenge Carlos Molina (19-4-2, 6 KO) in a junior middleweight (154 lbs) clash that will be fiery, and produce some knockdowns.
The fight is being paired with Morales-Garcia to co-headline on January 28, but this fight will certainly steal the show completely.
Morales-Garcia will produce great action, but this is a classic slug fest in the making. Both fighters love to brawl with Kirkland being the more powerful fighter and Molina being the more polished and crafty fighter.
Kirkland (27 years old) and Molina (29 years old) are in their primes. Both are in one of the hottest divisions in boxing right now. Saul Alvarez (39-0-1, 29 KO) awaits the winner with his WBC world title.
Erislandy Lara (15-1-1,10 KO), 28-year-old Cuban warrior, awaits the winner along with many others. Molina and Lara battled in an amazing fight that ended in a draw.
Kirkland produced arguably the knockout and upset of the year when he knocked out tough Mexican warrior Alfredo Angulo (20-2, 17 KO) in Round six.
Kirkland and Molina are ready for a world championship. They're ready to get their just due, but they first have to go through one another. That is much easier said than done.
02. Sergio Martinez vs. Matthew Macklin on HBO March 17
Matthew Macklin (If you think this is bad. You should see the other guy.)
Dean Mouhtaropoulos/Getty Images
Sergio Martinez (48-2-2, 27 KO) returns to HBO March 17 on Saint Paddy's Day against—who? An Irishman of course.
And boy is he a talented one for sure. Matthew Macklin (28-3, 19 KO) is a top-rated middleweight (160 lbs) who could have been champion if not for beating a German in Germany.
Macklin dropped a split decision loss to WBA middleweight world champ and German great Felix Sturm (36-2, 15 KO) in a fight many fans felt Sturm had clearly lost.
Now Macklin gets a bigger chance to prove his talent against the undisputed best middleweight in the world, Martinez. Macklin's talent is without question, but this will be the 29-year-old's toughest fight yet.
Knocking out of Paul Williams (40-2, 27 KO) made him king and his reign continued with two more knockouts. Macklin could become the fourth in a row or he could be the man who ends his reign.
Regardless of the victor, this'll be fun to watch.
01. Andre Berto vs. Victor Ortiz II on Showtime February 11

Here are the greatest highlights of one of the best fights of the past ten years.

Andre Berto (28-1, 22 KO) will be seeking revenge against Victor Ortiz (29-3-2, 22 KO) in the sequel of the 2011 fight of the year classic that was Berto vs. Ortiz.
While HBO was able to host the first fight with no problem, HBO got into a bidding war with Showtime over the rematch with Showtime ultimately winning, and now broadcasting the fight February 11.
Berto vs. Ortiz II is highly anticipated for a reason. Ortiz wanted to show the world he had heart after quitting in the sixth round of his first high profile match against Maidana in 2009.
To prove his naysayers wrong for questioning his heart, Ortiz moved up from junior welterweight (140 lbs) to welterweight (147 lbs) to challenge Berto for his WBC world title.
Ortiz knocked Berto down twice including once in the first round. Berto's resume had been questioned, because of his lack of decent opposition. Berto didn't back down from his biggest challenge to date.
Berto would go on to knock Ortiz down twice. Both men traded hard thudding shots all night that got the crowd excited and jumping on their feet, including Floyd Mayweather and rapper 50 Cent who were ringside.
This is without a doubt the biggest fight of the New Year that's signed and ready to go. Whatever follows will have a hell of a time trying to top it.
More Fights Coming?

Paulie Malignaggi talks about a potential match with Senchenko for his WBA world title belt.

These fights are not the only fights coming. They are the biggest fights that are done or close to being finalized during the negotiation process.
Paulie Malignaggi (30-4, 6 KO) is still in the beginning stages of negotiations between his promoter Golden Boy Promotions and WBA welterweight world champ Vyacheslav Senchenko (32-0, 21 KO).
Also in the works is Mike Jones (26-0, 18 KO), a good young welterweight (147 lbs) contender who just won an eliminator. He is currently negotiating to meet veteran Randall Bailey (42-7, 36 KO) for the vacant IBF belt.
A lot of great fights are in the works. This is just the first three months of 2012. Imagine what the year is going to be like. Super fights are brewing with every passing week.
News of fighters wanting to challenge themselves are flowing in from all sources. Boxing is back ladies and gentlemen, and you won't want to miss what it's bringing home.
Keep Reading