New Orleans Saints: What the Loss of WR Coach Curtis Johnson Means
December 9, 2011
Doug Benc/Getty Images
The New Orleans Saints are known for Drew Brees and their high-powered offense. People know of Sean Payton as the gusty play caller and head coach of the Saints. They recognize Gregg Williams and his high-octane aggressive defense. The media knows about Jimmy Graham, Marques Colston, Darren Sproles, Mark Ingram, Lance Moore and all of the weapons in the Saints' offense.
However, what most people don't know about is wide receivers coach Curtis Johnson.
Johnson started his coaching career in 1987 as the receivers coach for his alma mater, the University of Idaho. He slowly worked his wake up the ranks as a wide receivers coach until he was hired to join Payton's staff in 2006. Before joining the Saints, Johnson coached receivers at Miami University. There he coached up guys like Andre Johnson, Reggie Wayne, Santana Moss and Roscoe Parrish.
While with the Saints, Johnson has worked with many different receivers, most notably Marques Colston, Devery Henderson, Lance Moore and Robert Meachem. The only one of these receivers that was a Saint when Johnson arrived was Henderson.
For the early part of Henderson's career, he was known for dropping the football. Johnson has been able to turn the LSU second-round pick into a reliable receiver and great deep threat. Drops have not been nearly as much of a problem for Henderson the last few years, and he is still one of the best deep threats in all of football.
Johnson coached up a seventh-round pick out of Hofstra in Colston. Coaches told Colston that he may have to play tight end in the NFL because of his size, but Johnson was able to take this big kid from Hofstra and turn him into a very good No. 1 receiver for the Saints.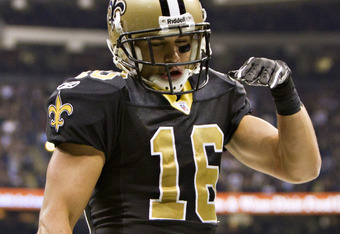 Wesley Hitt/Getty Images
In 2006, the Saints had a receiver on their practice squad by the name of Lance Moore. Moore was an undrafted free agent out of Toledo, and for most of the year he watch the Saints play from the sidelines. However, Moore got his chance in 2007 and played well. Johnson taught Moore and helped him to become the guy Saints fans love and adore. We know that Moore will almost never drop a ball, and he definitely runs some of the best routes in the National Football League.
Lastly, Johnson has worked with Robert Meachem, a first-round pick out of Tennessee in 2007. Meachem has been a disappointment to some, but I would have to say that Johnson has obviously done a great job coaching this player as well. Meachem does not get many targets, and that has to be tough for a former first-round draft pick. Meachem is probably the best deep threat that the Saints have and makes some unbelievable catches in the end zone, all thanks to Johnson and his coaching.
The Saints are losing one of the best receiver coaches in the NFL, and the impact may not be noticeable right away. They still have four very good receivers that will be playing in the league for years to come. Payton will find a replacement that will step in and do Johnson's job nearly as well as he has since 2006.
Payton, Brees and the Saints will finish the year out with Johnson as the wide receiver coach, but after this year he will head down the road to Tulane. The Saints will be losing a great coach and family member. They will move on and more than likely not miss a beat. They will continue to play great football and their receivers will continue to be one of the best corps in the NFL. 
As Johnson moves on to coach the Green Wave, we know one thing for sure: Tulane will probably have the best coached receivers in all of college football.