Virender Sehwag: 'The Dominator' of the Cricket World
December 9, 2011
On 8, Dec, 2011 at the MPCA Stadium in Indore, history repeated and updated itself—the most feared batsman of all time broke the record of the most worshiped cricketer.
Virender Sehwag passed that illusive number of 200 and went on to make one more magic number for the future generations—219. The ease at which he was scoring the runs reminded everyone of the great Sir Viv Richards. Such was Sehwag's audacious stroke play that the West Indies team found it a herculean task to get even few dot balls in his classy innings.
The talk had been going on for long that Viru should break the 200 run barrier with ease. His style is best suited for the ODI format but still he was not able to justify it with huge scores like he did in the Test arena.
But at the start of this year's world cup, he showed us a glimpse of what he can do when he bats till the final few overs of the innings. His innings of 175 against Bangladesh left his fans craving for a much higher score.
Finally he fulfilled their dreams by scoring 219 runs in 149 balls at a strike rate of 146.97 studded with 25 fours and seven towering sixes. He batted with daring and immense power, giving only one technical chance, on 170, in the 38th over, Sehwag spooned Rampaul towards cover, where Sammy dropped a dolly, leaving the bowler frustrated.
In the last few innings, Sehwag was not at all looking comfortable while he batted on the ground. His hand eye coordination showed certain signs of  weakness. Though he scored a few runs but they were not with his characteristic free flowing stroke play.
But in his innings on Thursday, every stroke he played was filled with the flavour of perfection. He totally dominated the opposition bowlers taking them on from the first delivery of their spells.  The best shot of his innings came when he easily upper cut pacer Kemar Roach for a magnificent six.
None of the other batsman in the Indian innings could hit a six throughout the 50 overs while Sehwag cleared the ropes seven times. When he was hitting fours, Sehwag preferred to go square of the wicket, flicking and glancing the numerous deliveries he received on the pads, and opening the face to pepper the backward-point boundary.
When he wanted six, he usually went straighter, targeting the arc between midwicket and long-on. It was looking possible at one stage that he might raise the 200 run barrier to 250 runs and he would have done that if he had stayed there for the full 50 overs.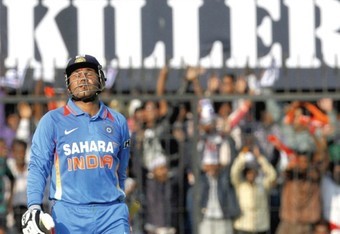 Once Sehwag gets to his 50, it's just next to impossible to stop him to get a hundred. His previous seven 50-plus ODI scores: 125*, 146, 99*, 110, 175, 73, 219. When he scores good he tries to raise the bar higher for himself. In his innings of 219 he bagged a host of records to his credit. A few are:
He became the highest scorer in an innings in One Day International scoring 219 in 149 deliveries.
He hit the fastest double hundred in ODI cricket.
He became the only cricketer in the world to score a triple hundred in Tests and a double hundred in ODIs.
With his score of 219, he became the highest scoring captain in any match in the history of ODI cricket.
He became the first cricketer to score 3 hundreds in scores of 400+ in ODI cricket, each against Bermuda, Sri Lanka and West Indies.
He struck the maximum number of fours in an innings in ODIs i.e. 25. He shares this record with Tendulkar.
It's been time to replace the 'Nawab of Nazafgarh' title for Viru with a new one. I propose 'The Dominator' which will be more appropriate and suited for his stature and style of play. In the times to come his record will be under a constant threat from only one person i.e. himself !