Maple Leaf Sports and Entertainment Purchased by Rogers, Bell
December 9, 2011
Brad White/Getty Images
Acorrding to CityTV.com, Maple Leaf Sports and Entertainment Ltd. is about to take a new shape, as the majority shareholder, Ontario Teachers' Pension Plan, has agreed to sell the company. This comes as shocking news since recently the company went on record stating the Teachers' Pension Plan was not planing to sell.  
The buyer is almost as puzzling. Rogers Communications Inc. had been rumoured to be interested in the acquisition, as they currently own the Toronto Blue Jays. But there is a twist. Rogers has teamed up with BCE Inc., which is Bell Canada, to purchase the 79.53 percent majority of the company. Bell and Rogers are rival communications companies who both have broadcast investments in sports (Sportsnet, TSN).
This deal is as insane as it gets. The deal is estimated to be around $1.4 billion. MLSE holds the power of the Toronto sports scene, owning the Toronto Maple Leafs, Toronto FC, Toronto Raptors and the Toronto Marlies. They also hold power through real estate and the entertainment industry— being responsible for much of the talent that comes through Toronto.
Owning MLSE is a lucrative opportunity for the the two companies as they would hold the broadcasting rights of all the franchises. Communications companies have risen to be the most-interested sports franchise buyers as of late, because they stand to hold the most to win in the acquisition. 
The current chairman of MLSE is Larry Tanenbaum, and he plans on keeping his almost 25 percent share of the company. As it is proposed, he would have the first right of refusal and become the swing vote between the two new owners.
That is the last position I would want to be in. He is literally sitting between two rivals. Apparently, for what its worth, Tanenbaum will receive a larger ownership stake as part of the deal. This is clearly a "thank you for helping" (agreeing to the purchase). He has played a major role in the acquisition and will continue to be a major part in the future of the privately-owned company.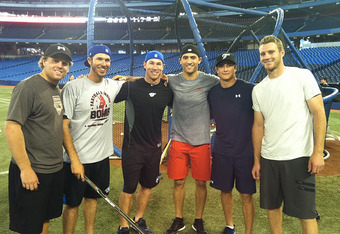 "It really means we're moving for those championship teams, the Stanley Cup, that NBA championship," Tanenbaum said. As, he feels its an extremely good move for MLSE to stay within Canadian roots. 
Both Rogers and Bell are obviously interested in the broadcasting and Internet rights of the sports teams, and it will be interesting to see how the partnership plays out. It does not make sense as to why Rogers did not just buy all the shares.
Also, Bell holds stakes in the Montreal Canadiens of the NHL, which is a conflicting interest of the Toronto Maple Leafs. The company would have to differ its interests in Montreal for the deal to pass. 
Side Note: #TeamUnit is now going to officially be united as far as legality goes (Blue Jays and Leafs). 
The deal is now official.
More to come!